Kentucky women's basketball defeated Eastern Tennessee State (ETSU) 74-66 at the Clive M. Beck Center on the campus of Transylvania on Tuesday.
The game marked Kentucky Head Coach Kyra Elzy's 50th win to kick off the teams 50th season of varsity basketball.
The Wildcats' starting lineup included Brooklynn Miles, Saniah Tyler, Amiya Jenkins, Maddie Scherr and Ajae Petty. Jenkins replaced Zennia Thomas from the season's opening exhibition.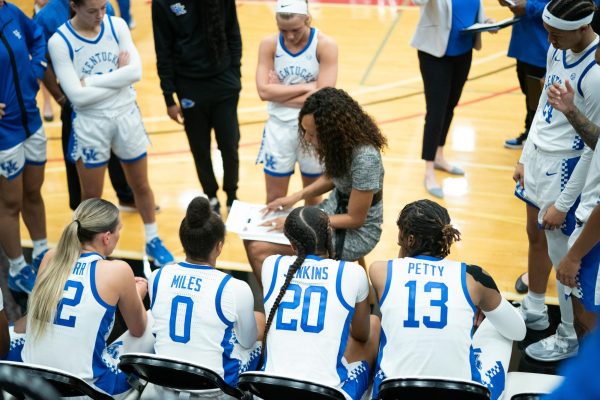 The Wildcats lost the opening tip off, leading to the first points of the game going to Eastern Tennessee.
The first six points came from the paint for the Wildcats, with Tyler hitting the first 3-pointer of the season for the 11-6 lead.
Shortly after, the Cat's went on a two-minute, six-point scoring run to grab a 19-12 lead.
At the end of the first period Kentucky held a 21-16 lead while Petty held a team-high six points.
The start of the second period brought trouble for Kentucky as a shot clock violation and two made 3-pointers for the Buccaneers saw the Cat's trailing for the first time of the night 22-21.
The Buccaneers would go on to dominate most of the second period after switching to a zone defense.
With just 3:30 remaining in the first half, the Wildcats scored their first bucket of the second period to cut down on the ETSU lead, making it 28-23.
Emma King would score the first points off the bench for the night on a two-point buzzer beater to send the game into halftime with Kentucky down 30-28.
Entering the second half, each team would trade blows, with ETSU maintaining a five-point lead halfway through the third period.
A scoring run led by Scherr with buckets added from Tyler and Jenkins led the game to be tied at 50 entering the fourth period.
The Buccaneers' Courtney Moore would add three points at the start of the fourth to keep ETSU in it.
Scherr then sank a long jumper to give Kentucky the 60-55 lead with a little over five minutes left.
Scherr would also prove important defensively at the end of the game, grabbing a steal that led to a foul and more Kentucky points.
A Russell layup and made free throws from Petty would cushion the lead for the Wildcats at 66-57 with just a few minutes left on the clock.
An onslaught of fouls and made free throws would fill out the remaining two minutes to give Kentucky the 74-66 win.
The Wildcats will be back in action on Saturday, Nov. 11, to take on USC Upstate for its first regular season game inside Rupp Arena of the season at 6 p.m. ET.