Kentucky Men's Soccer Head Coach Johan Cedergren has no fear in missing the conference championship.
After winning the Sun Belt last year, Kentucky was projected to have an elite year in 2023. It was picked to win the Sun Belt in the preseason and ranked third in the country in the United Soccer Coaches Top 25 preseason poll.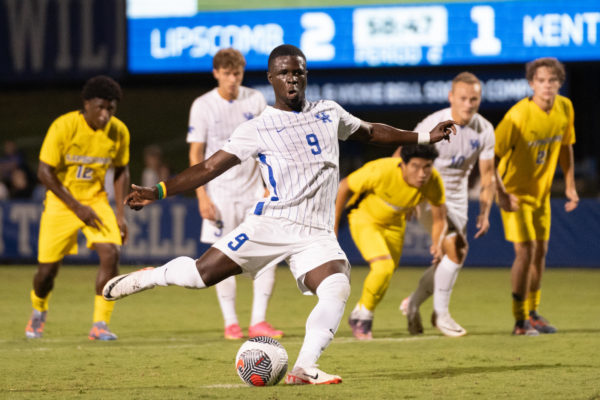 The Wildcats have not come close to meeting these expectations, however.
Kentucky is 3-6-3 overall and tied for dead last in the Sun Belt with Georgia Southern, holding a conference record of 0-3-2. This year, with Central Florida (UCF) being added to the conference, only eight of the ten teams will make the conference tournament. 
Kentucky has four conference games remaining and will need to go on a late run to make the top eight and qualify for the conference tournament.
Unfortunately for the Cats, they also have the toughest part of their schedule coming up, playing Georgia State, Marshall and West Virginia in their next three games, all of whom are ranked top three in the Sun Belt.
Even with all of these factors against his team, Cedergren reiterated that he has no fear of missing the conference tournament.
"I'm not considering the possibility that we're not making the conference tournament, you can put that in writing," he said.
Coach Cedergren spoke about how he thinks the team just needs to keep believing in itself  and that it can make a late run so long as it begins to show more confidence and take advantage of key moments.
"I thought (Aboubacar Camara) was in a really good position and he decided to pull it back," he said. "Where (if Camara was) being confident, he would shoot the first one."
Kentucky seemed to be the better team against James Madison in the second half of play, recording strong chances including a header from Isaiah Chisolm that hit off the post, but couldn't capitalize.
Coach Cedergren still believes his team is playing well, but it needs to get a much-needed conference win.
"You have to look at how we played and I think that the last couple of games we played really well," he said. "We just got to stay the course and believe in what we are doing, and hopefully we get a result on Wednesday."
Still looking for a conference win, Kentucky will face Georgia State at home on Wednesday, Oct. 18, at 7 p.m. ET.