No. 14 Kentucky womens basketball puts up notable fight before finishing postseason in South Carolina
No. 14 Kentucky womens basketball (12-19) saw their 2022-2023 campaign conclude on Friday after falling in the SEC Tournament quarterfinals to No. 3 Tennessee (22-10) 80-71 inside Bon Secours Wellness Arena in Greenville, South Carolina.
The Wildcats faced off against the Volunteers earlier this season on Feb. 26 where Kentucky met a similar fate, losing 83-63 behind Tennessee senior Rickea Jackson's team high 21 points.
Jackson would improve on her performance in Greenville, scoring a season-high 34 points after going 10-15 from the field and sinking all 14 of her free throw attempts.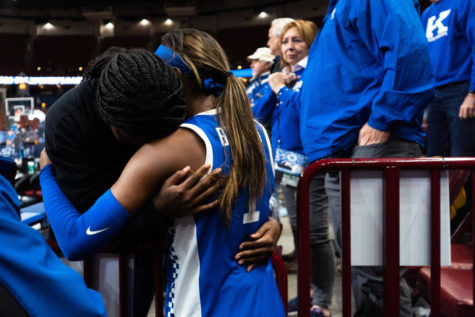 Free throws would prove fatal for the Wildcats, sending the Volunteers to the line 13 times from which they would complete 24 of their 26 attempts.
Volunteer senior Jordan Horston would also prove to be an issue for Kentucky, tallying 21 points after going 9-18 from the field and leading Tennessee with seven rebounds.
Despite never holding a lead, the Wildcats refused to go away in the second half, drawing within four points halfway through the final quarter.
"We came really close," Wildcat graduate student Robyn Benton said. "We weren't thinking let's hang on, we were thinking let's go win this game."
Benton would lead the Wildcats in scoring, recording 20 points after going 8-21 from the field and 2-7 from three, improving on her 17-point performance she had in the previous matchup with Tennessee.
Benton saw a return to form after not appearing much in Kentucky's second round win over No. 6 Alabama on Thursday when Benton recorded her fourth foul in the third quarter.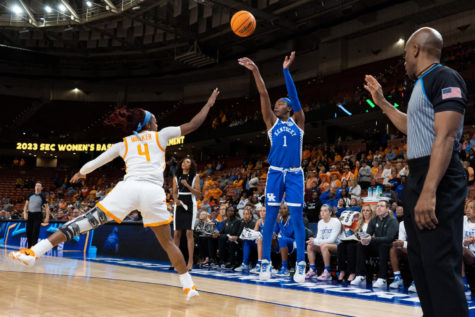 Despite Benton's heroics, things would start to go south for Kentucky when junior center Ajae Petty was ejected after a tie up with a Volunteer defender, leaving the game with a team high five rebounds.
Despite the ejection occurring late, lack of height played a role all game for Kentucky as the Wildcats were outrebounded by 19 and saw 38 of Tennessee's points come from the paint.
The heartbreaking loss saw the end of the Wildcat's Cinderella story after Kentucky became the lowest seed in history to advance to the quarterfinals of the SEC tournament.
With little hope of having their name called on Selection Sunday, the Wildcats will go back to the drawing board and prepare for the 2023-2024 season.
The Wildcats ended the season with an overall record of 12-19 and a conference record of 2-14, winning as many conference games in the postseason as they did in the regular season.