Kentucky men's soccer (3-6-4) failed to register a win for an eight straight game, notching a late equalizer in a closely contested 2-2 battle against conference rivals Georgia State.
The opening thirty minutes of the encounter were devoid of much chance creation as neither team threatened their opponent's goal.
The visitors broke the deadlock around the thirty-six-minute mark thanks to a tidy finish from senior Simon Carlson, who found himself one-on-one with Wildcat goalkeeper Casper Mols.  
Things went from bad to worse for Kentucky as it took no longer than nine minutes into the second half for the Panthers to double their lead.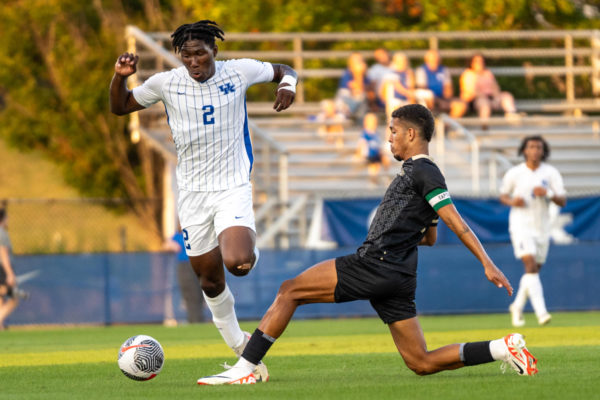 A mix-up in a crowded six-yard box created confusion for the defending Wildcats, which allowed forward Ethan Sassine to squeeze the ball over the line, giving his side a comfortable 2-0 cushion.
That cushion lasted less than a minute as Kentucky fired back straight away with a powerful left-footed strike from fifth-year senior Mason Visconti.
The Wildcats dominated the remainder of the proceedings as they probed to find an equalizer that eventually came with just five minutes to spare.
A layoff from Isaiah Chisolm found Aboubacar Camara, who made no mistake with his finish, finding the bottom right corner.
The two goals to salvage a result came from an attack that had been struggling to find the back of the net recently, scoring in only two in its previous seven games coming into the match.
Kentucky Head Coach Johan Cedergren was pleased with the efforts of his team and especially his forwards, who stepped up to keep their tournament hopes alive.
"I think we have quality," he said. "We just have to find a way to put a couple more of these chances away. Yes, over the whole season so far we need to score more but I would say today to score two, I was happy with that."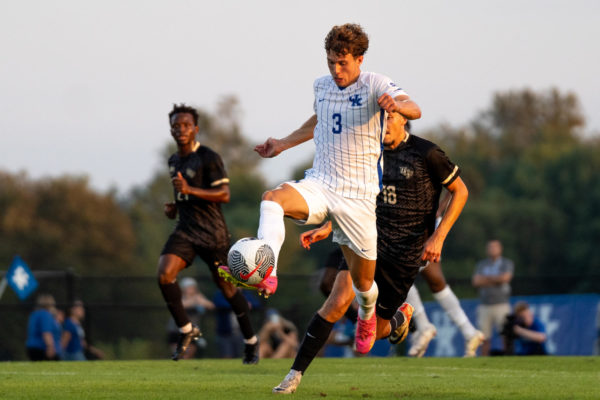 With the result, the Wildcats temporarily vacated the bottom spot of the Sun Belt conference with a singular loss separating them and eighth place Coastal Carolina.
Sophomore Max Miller spoke on the mindset his team needed to carry to finish off the season strong and hopefully secure a place in the tournament.
"I think the main thing right now is just to reassure them that there's still enough games left to make it," he said. "Once we're there we can be successful, so you just have to keep everyone confident and just keep trying to get better."
The journey to the conference tournament gets even more grueling for the Wildcats as their next encounter sees them hit the road to take on conference leaders Marshall (12-1), who have only suffered a singular defeat all season.
The game against Marshall is scheduled to kickoff at 4:30 p.m. ET and can be streamed live on ESPN+.