'He's not gonna make it to serenades.' The missing details of the Hazelwood investigation
They left him alone, on a couch, his blood alcohol concentration almost five times the legal limit.
Just a few hours before, he had been hanging out with his pledge brothers, drinking bourbon, playing "Madden Football" and getting ready for that evening's serenades with his fraternity.
Now, his life was slipping away in an empty second floor bedroom.
"He's not gonna make it to serenades," a fellow pledge had joked on Snapchat.
They were right.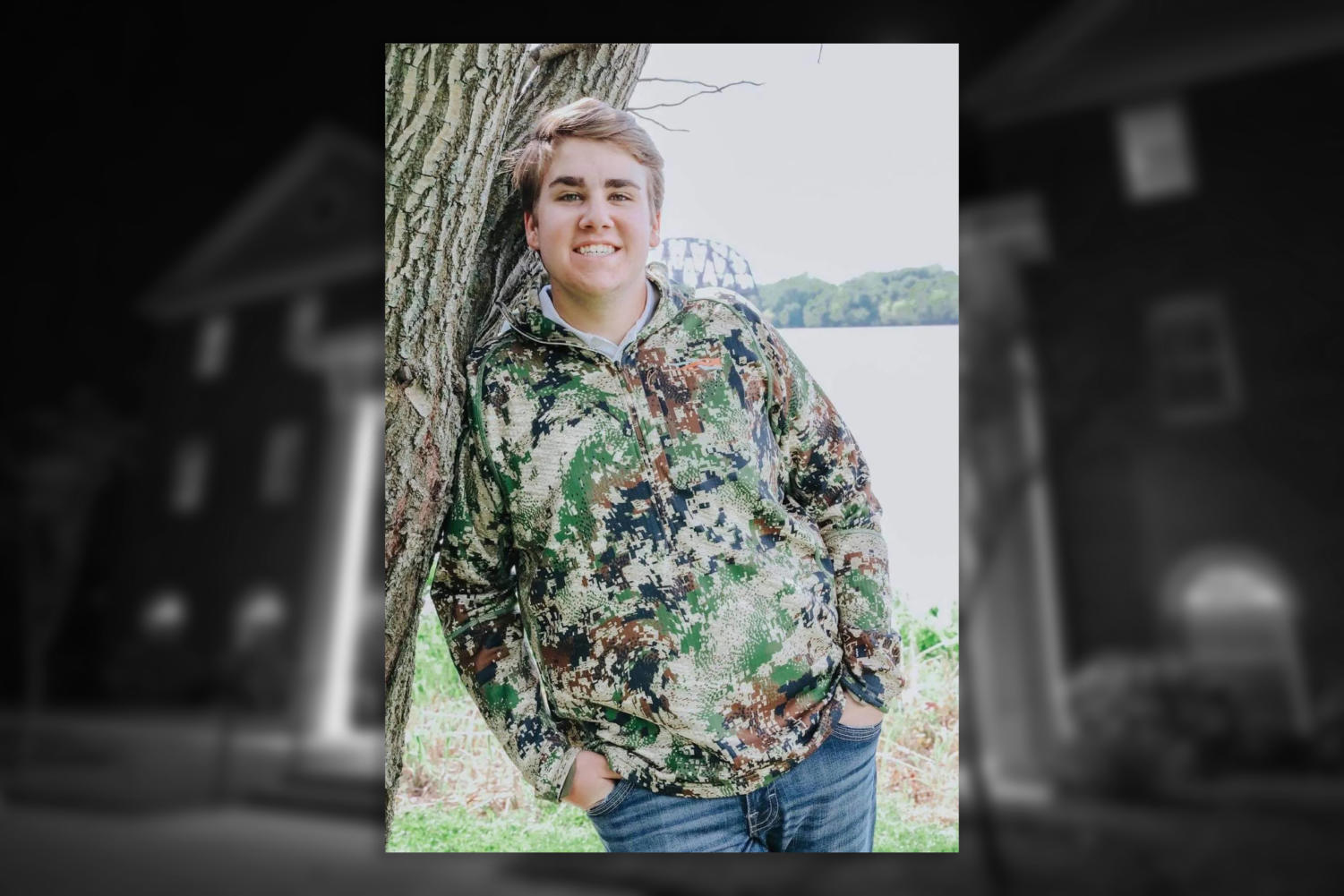 Thomas "Lofton" Hazelwood, a first-year UK student, was pronounced dead at 7:06 p.m. on Oct. 18, 2021. Hazelwood, 18, was an agricultural economics major and member of the pledge class of UK's FarmHouse Fraternity chapter, and according to previous reporting, he died from alcohol toxicity. UK's FarmHouse chapter has since left the campus and is no longer a registered student organization.
Hazelwood's death happened over a year ago, but until recently, the Kernel did not have access to the complete investigation file from the University of Kentucky Police Department and the Office of Student Conduct.
On Oct. 12, 2022, the Kernel received copies of the UKPD report and the student conduct report with identifying information of witnesses and individuals under the age of 18 redacted, under the provision of the Family Educational Rights and Privacy Act (FERPA). 
This is the story of Hazelwood's death, according to witness testimonies, police reports and student conduct investigations.
Investigation background
According to the UKPD report, officers were dispatched at 6:22 p.m. on Monday, Oct. 18, 2021, after receiving a call notifying them of an incident at the FarmHouse Fraternity house. The house is located on Rose Lane on the University of Kentucky's campus, and according to the report, the fraternity usually had chapter meetings on Monday nights. 
John Harder, the police officer who completed the report, said he was called in around 7 p.m. and had a body worn camera running throughout his investigation.
Upon arrival at the fraternity house, he went upstairs to a second floor room where Hazelwood had been before EMS transported him to the hospital.
Harder noticed alcohol in the room, including "Multiple liquor bottles on the countertop in the shared bathroom, a wine bottle in the window seal of room (redacted), two white Styrofoam cups with a small amount of brown liquor … multiple alcohol containers (beer, Styrofoam cups) … as well as an empty 'handle' of Wild Turkey 101 in a backpack located to the TV stand."
Harder collected 13 witness statements and issued seven search warrants to Snapchat, Venmo, GroupMe and for access to Hazelwood's iPhone, as well as obtaining security footage from Big Daddy Liquor. The UK police investigation was closed March 8, 2022.
Timeline 
The UKPD police report included a timeline of events from witness testimony, as recorded with a body worn recording device. Throughout the report, full fraternity members were called "actives," while new members were referred to as "pledges."
Sunday, Oct. 17, 2021
7:30 p.m. 
On Sunday evening, nine members of FarmHouse, including Hazelwood, sent $7 each to another member via Venmo to pay for alcohol for the next day's serenades, during which members of the pledge class and several active members would visit sorority houses around campus and sing for sorority members.

Harder said that store footage from a local liquor store from 1:32 p.m. on Oct. 18 shows an unnamed individual purchasing a handle of Wild Turkey 101 and a fifth of Burnett's vodka using a fake ID.
Monday, Oct. 18, 2021
Noon-3 p.m.
At noon on Monday, Hazelwood and an unnamed female ate lunch at Chick-fil-A for approximately 45 minutes, after which Hazelwood went back to his dorm room in Lewis Hall. 
At 2 p.m., an unidentified person asked him to purchase a bottle of wine, knowing that Hazelwood had a fake ID, "and had used it to purchase alcohol in the past," the police report said.
3-3:30 p.m.
Around 3 p.m., Hazelwood and an unnamed witness left the chapter house and walked to Big Daddy Liquor on the corner of Euclid and Woodland avenues.
Another witness reported seeing Hazelwood around 3 p.m. at the intersection of Euclid and Woodland.
Security footage from the liquor store shows Hazelwood purchasing a bottle of wine at 3:13 p.m. using a fake ID.
3:30-4 p.m.
Hazelwood arrived back at FarmHouse before 3:30 p.m., where he met up with some active members and reportedly "hung out" with them in the first floor chapel. 
4 p.m.
Around 4 p.m., some members of the pledge class went to a spare bedroom. According to the student conduct report, the room was "unoccupied and typically left unlocked" and connects to a bathroom shared with an active member's room.
Hazelwood reportedly played "Madden Football" with an active member for around 45 minutes, and the bottle of Wild Turkey was opened. 
"The new members consumed the purchased alcohol in the chapter facility prior to each of the three serenade events," the student conduct report said, adding that drinking before serenades was called "liquid courage."
The serenade on Oct. 18 was the third such event FarmHouse pledges participated in during the fall 2021 semester.
However, according to interviews included in the student conduct report, "It is common knowledge" that FarmHouse does not allow alcohol to be consumed in the house, and "active members are expected to refer those who do so to the chapter's judicial board." 
The report said at the time of writing, there had been no such reports made by active members.
According to witnesses, there were originally between five and eight people in the room, but around 4:30 p.m. most of the pledge class participating in the serenades had arrived.
4-4:45 p.m.
Hazelwood reportedly drank Wild Turkey 101 from a white Styrofoam cup; according to witnesses, he did not pour his own drinks. He asked other pledges in the room to "pour him a double," which interviewees described as unmeasured shots of alcohol "filling approximately half of the Styrofoam cup full." Hazelwood reportedly drank the alcohol straight and chased it with root beer.
4:30-4:45 p.m.
By the third quarter of the "Madden Football" game, one witness reported that Hazelwood had consumed around six or seven pours of Wild Turkey. Other witnesses said the number was between four and six pours, although they said they were not watching closely or had been coming in and out of the room.
The student conduct report said Hazelwood consumed the equivalent of 18 one-ounce shots in approximately a one hour window. 
According to the report, "Around the third quarter of the video game, (name redacted) advised that based on his mannerisms and statements, he could tell that Hazelwood was 'starting to feel' the alcohol." 
The interviewee said Hazelwood had slurred speech and grew more animated and louder while playing the video game.
One witness reportedly told Hazelwood, "You're drinking way too much, entirely way too fast." 
Hazelwood responded, "Man, you know me. I don't have any confidence. I need to be buzzed," talking about the serenades.

"New members consuming alcohol prior to serenades was not uncommon but there does not appear to be a directive given to new members that consumption is required," the student conduct report said. 
The report said at least one active member did not consume alcohol in the room, which the report pointed to as why the incident was not considered hazing.
During the fourth quarter of the video game, Hazelwood reportedly got another drink, but the witness did not see him consume it.
Around this time, an active member arrived in the room and told everyone present to make their way to the second floor lounge to practice for the serenades. "He (the active member) could tell that Hazelwood 'appeared to have been drinking,'" the report said. 
Hazelwood and the fraternity member he was playing Madden with told the active member they would finish their match before going to the lounge. 
Another witness left the room to change clothes but returned after the rest of the pledges had left for the lounge. 
According to the report, a witness told investigators, "Hazelwood appeared to be fairly intoxicated at this point, citing an example of how Hazelwood stumbled and fell off the couch after the video game had ended, before making his way to the lounge area."
4:45-5:15 p.m.
After he arrived in the lounge, witnesses said Hazelwood appeared intoxicated, saying his speech was slurred, and he had to be supported by other pledges during the serenade practice.
"A collective decision was made by the group that Hazelwood should not participate in the serenades that night. They voiced concerns with Hazelwood either getting himself or the fraternity in trouble or causing an issue by being drunk during the serenades," the report said.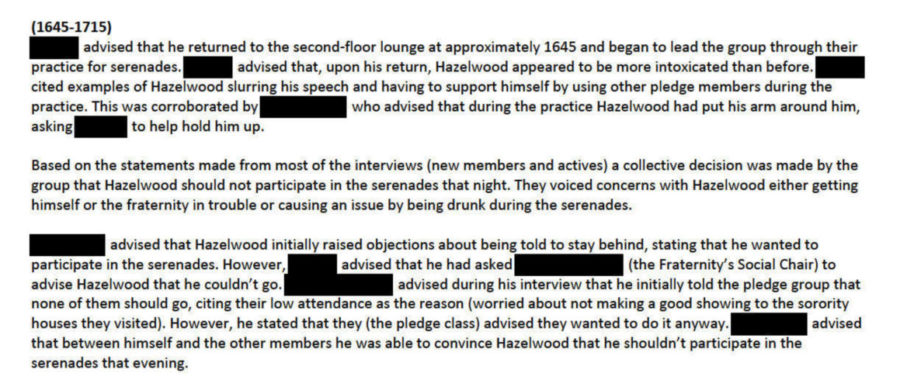 Hazelwood reportedly objected, but interviewees said that someone had asked the FarmHouse Social Chair to tell him that he could not go.
Another unnamed interviewee said someone should stay behind and watch Hazelwood. According to the student conduct report, "it is unclear if this did occur."


Hazelwood was helped back to the bedroom, and members laid him down on a couch in the room, making sure he was on his side with a pillow "under his head or on his back," according to the report. The student conduct report says a backpack was placed on Hazelwood to keep him from rolling onto his back.
"When assisting Hazelwood back to the room, he didn't think Hazelwood appeared to be dangerously intoxicated, stating Hazelwood was 'pretty drunk but talking to me' and that he had seen him this intoxicated before," one unnamed member told Harder.
Other interviewees described Hazelwood as being intoxicated but not dangerously so.
The members left Hazelwood in the room and heard him snoring as they exited.
5:15-6:15 p.m.
Pledges and active members left the house for the serenades around 5:10-5:15 p.m.
Kathryn Jackson, the fraternity's house director, saw the group leave while sitting on the building's front porch. She left to join them between 10-15 minutes later.
The reporting officer said they were not able to find anyone who was on the second floor or was in contact with Hazelwood during this hour.
5:45-6:15 p.m.
The group returned to the house around 6:05-6:15 p.m., and one interviewee went upstairs to change clothes.
"As he went to change, he noted Hazelwood on his side on the couch appearing unresponsive. (Name redacted) advised that he attempted to check for a pulse and look in his mouth, but quickly assessed that this was outside his ability to handle and needed to get help immediately," the report said.

According to the student conduct report, the individual went downstairs to the kitchen, where the chapter president, other active members, Jackson and chapter adviser Wayne Logan were eating with alumni corporation board members Nick Carter and Dennis Liptrap.
In an interview, Jackson told police that she had had "no interaction" with Hazelwood that day and "was not aware" that he was intoxicated or left alone upstairs.
The group went to the room where Hazelwood was lying down, and someone called 911, who advised them to move Hazelwood off the couch and perform CPR.
An active member with experience in performing CPR was called; he reportedly ran upstairs and began giving CPR until EMS arrived.
According to the police report, Lexington police received the call around 6:16 p.m., and EMS arrived approximately four minutes later at 6:19 p.m. UKPD arrived at 6:24 p.m.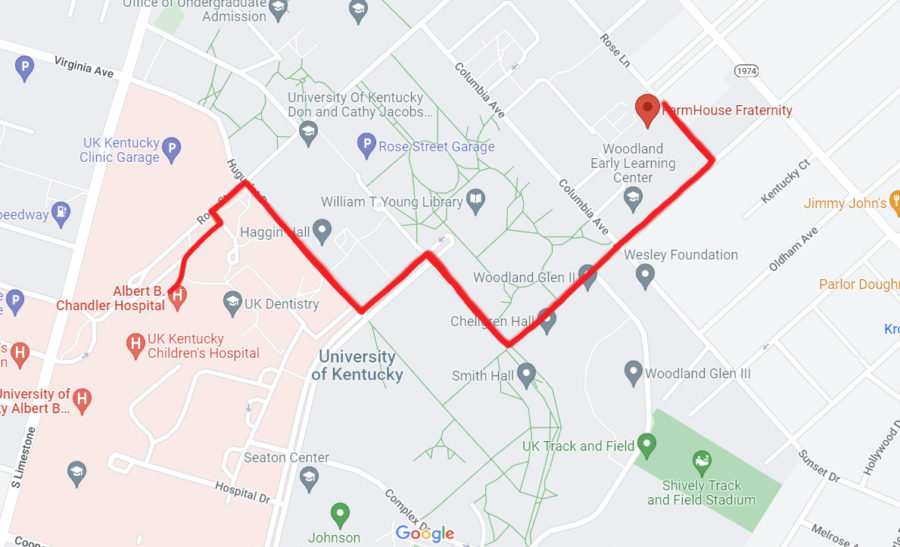 6:15-7:06 p.m.
The student conduct reports said that Hazelwood was transported to UK's Albert B. Chandler Hospital, located just over a mile away from the fraternity house. According to prior reporting, after unsuccessful attempts to revive him at the hospital, Hazelwood was pronounced dead at 7:06 p.m.
Hazelwood's toxicology report found a blood alcohol concentration (BAC) of .354%, "almost 4.5 times the 'legal' per se limit of .08," according to the police report. The police report described Hazelwood as weighing 210 and being 5'11, which places him well within the "legally intoxicated" category, according to the American Addiction Centers (AAC).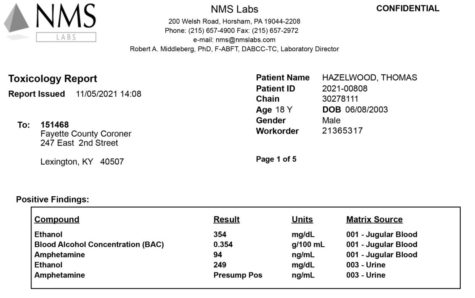 The AAC says a BAC of .3% has significant impacts on the body, including unconsciousness, loss of understanding, increased heart rate, irregular breathing, possible loss of bladder control and risk of death.
"Mr. Hazelwood also tested positive for 94 ng/mL or amphetamine … which is consistent with statements made by witnesses and family that Hazelwood habitually took a prescribed dose of (redacted name) medication," the police report said. "The Fayette County Coroner's Office would be officially ruling Mr. Hazelwood's manner of death as accidental, with alcohol poisoning being the significant contributing factor."
Oct. 19, 2021
According to the student conduct report, the Office of Student Conduct sent an investigation letter to the chapter president the day after Hazelwood's death, including an "interim measure for FarmHouse to cease all chapter operations effective immediately until the conduct process has concluded."
Investigation findings
The ensuing investigation included witness testimonies, interviews and search warrants; however, both UKPD and the Office of Student Conduct concluded that they could not find evidence of criminal wrongdoing. 
Additionally, the incident was not considered hazing because Hazelwood was voluntarily drinking, and the pledge class voluntarily participated in the serenades, according to the police report.
The student conduct report said that new members were expected to reach a cumulative point total to encourage them to "participate in chapter events," and they may have lost points for Hazelwood not being able to attend serenades that night.
"However, active members and officers stated that there was no repercussion for not reaching the total," the student conduct report said.

The Office of Student Conduct conducted interviews beginning Oct. 27, 2021. Of the 44 students asked to be interviewed, 20 did not attend and some had not responded at the time of the report's writing.
According to the report, the office's last interview took place Dec. 9, 2021.
UKPD issued a total of seven search warrants for Hazelwood's iPhone, Snapchat, GroupMe and Venmo. 
From Hazelwood's phones alone, the three-month report returned 208,000 items for review from GroupMe, Snapchat, text messages, search history and social media, although the police report said most of the items were "'noise' from application data."
"In the GroupMe, Snapchat, and text message conversations, I noted information that may be of interest to the University of Kentucky's Student Code of Conduct investigation, but nothing that occurred on or near the date of Hazelwood's death," the report said. 
This included information about "activities that took place during the new member process," including required PT workout sessions for new members, new members being drivers for fraternity parties, new members caddying for actives in a golf tournament, a scavenger hunt for new members and a "hunt" in which new members would "kidnap" an active with their prior knowledge.
The investigation also produced information about new members being assigned "jobs" such as "weather pledge," tasked with sending a weather update in a group chat every day. According to the report, Hazelwood held one of these "jobs," although the specific role he was given was redacted.
Also on Hazelwood's phone, the investigation found a pledge class Snapchat group chat that he was a member of. On the day of Hazelwood's death, an unnamed member sent a message in the chat talking about the fire trucks outside the fraternity house. 
"I haven't heard the specifics (about the fire trucks), but any pics you have of lofton (sic) delete right now," the member said, later adding, "that's what I was told."
In follow-up interviews, this member reported that he sent this after being told to delete photos taken on Snapchat of Hazelwood asleep on the couch. 
"He described the photos as being taken (in a) joking manner, something that 'looking back in a week or two later they would get a good laugh about it,'" the report said. However, the member who allegedly told him that denied saying it in follow-up interviews.

Another interviewee reportedly took photos and video of Hazelwood being intoxicated but had deleted them "once he learned of Hazelwood passing away, stating he did not want to be reminded of it."  
The chapter also had several GroupMe message chats, including one for the executive members, one for active members and one for the pledge class. 
In the executive members' GroupMe chat, the investigation found messages referencing Hazelwood being left behind during the serenades, specifically in light of the two alumni being in the house. One member messaged that "there was a lot of liability that needs to be in check" and that Hazelwood should not come down for that night's meeting.
"The Fraternity is historically a sober fraternity, so having someone drunk in front of their prestigious alumni wouldn't be a good look," according to the report.
The investigation found that the original pledge members' GroupMe chat, with Hazelwood as a member, was deleted and a new one created on Oct. 19, the day after his death. 
In a follow-up interview, the interviewee reported he was instructed by the chapter's vice president to delete the chat, although the interviewee said he believed there was "nothing inherently wrong with it."
"He advised that he was in shock in relation to the whole event and, had he been thinking clearly, he would not have followed through with the request," the report said.
"Stay home off your phones no girlfriends nothing. For gods sakes keep your mouths shut," a member sent in one of the group chats. 

When asked about the message, an interviewee told the police "they didn't want anyone outside of the family and involved parties knowing about the situation until they knew an outcome."
In a follow-up interview, an interviewee said, "They didn't want his family to see the contents that Hazelwood had been sending as the (redacted job title), not because they were concerned about repercussions, but because they were worried with Hazelwood's public image and the embarrassment that might cause him and his family."
In the months since Hazelwood's death, his family has been advocating for "Lofton's Law," a piece of legislation that would make hazing a misdemeanor and a felony.
His mother, Tracey Hazelwood, attended an Oct. 3, 2022, event hosted by UK's Fraternity and Sorority Life (FSL) to talk about the incident and Lofton's Law.
"What I don't understand … when you're pledging a fraternity, the hazing part of the whole thing, I just don't get. I thought when you joined a fraternity, it's brotherhood," she said. "I don't know what part of brotherhood hazing is."
Tracey Hazelwood said her son "was a good boy" and loved farming.
"I've got this crazy picture of him … and he says something about the smell of fresh cut beans, or something, when you roll your window down," she said. "He ran the auger wagon (when he came home to visit) because they were in the fields, and he wanted to go. They were cutting corn or beans or something."
There have been no criminal charges brought against an individual, the fraternity or the university, and the incident has never been officially considered hazing by police or UK.
However, at the FSL event, Matt Bartholomai, director of public relations and social media for the Kentucky Interfraternity Council, called the event "a hazing prevention program."
"They (the Hazelwoods and the other speakers) were all victims, their families, of hazing," he said.
UK president Eli Capilouto said that FarmHouse Fraternity's UK chapter is suspended for at least four years from his announcement on Dec. 22, 2021, and that the fraternity's registered student organization status had been revoked, according to prior reporting.
---
Obtaining the records
On Dec. 22, 2021, former Kentucky Kernel Assistant News Editor Sarah Michels emailed an open records request to the UK Office of Records for:
The formal police report regarding the investigation into the Oct. 18, 2021, FarmHouse Fraternity incident and death of Thomas "Lofton" Hazelwood, once it is completed.

The final Office of Student Conduct review regarding the investigation into the Oct. 18, 2021, FarmHouse Fraternity incident and death of Thomas "Lofton" Hazelwood, once it is completed.
Under Kentucky's Open Records Act (ORA), once a request has been sent, public agencies have five days to respond to it. The University of Kentucky did not respond until over nine months after the original request due to a death and insufficient staffing in the Office of Records.
The Kernel received a response to Michel's email on Aug. 25, 2022, from UK's Executive Vice President for Finance and Administration Eric Monday, denying her request over FERPA concerns and claiming that she knew someone involved in the incident. 
"Pursuant to your request above, please be advised that these documents have been omitted as you have indicated in your request that you know one or more of the parties involved. Because of this, those records have been omitted instead of redacted pursuant to FERPA as well as KRS 61.878(1)(a)," Monday said in the response.
The Kernel and its legal representation sent a letter on Oct. 6, 2022, saying that FERPA protection does not extend to deceased students, and KRS 61.878(1)(a), the ORA's exemption the university cited in its denial, does not apply in this instance.
The letter said UK cannot use FERPA as an "invisibility cloak," citing the legal precedent the Kernel's prior legal battle with UK, Univ. of Kentucky v. Kernel Press, Inc., set.
"There, like here, the University argued that an entire investigative file cannot be released because the Kernel may know the identity of students mentioned in the investigation. The Court flatly rejected that argument and correctly noted that the Kernel's potential knowledge of student's identities has no bearing on the records' status as "education record[s]," the letter said.
On Oct. 12, 2022, Monday sent a response, releasing the requested documents with redactions under FERPA.
---
Podcast
Kentucky Kernel editor-in-chief Rayleigh Deaton and news editor Hannah Stanley discuss new findings in the death of Thomas "Lofton" Hazelwood. Over a year after his death, the Kernel received reports from the University of Kentucky Police Department and the ensuing student conduct investigation, which found a "culture of hazing" in UK's FarmHouse Fraternity chapter.
Leave a Comment