Kentucky mens basketball left out of AP Top 25 rankings despite undefeated week
Kentucky mens basketball earned two quality conference wins over Georgia and Texas A&M this past week after its pivotal win over No. 5 ranked Tennessee in the weekend prior.
That said, despite the solid wins for the Wildcats' resume, Kentucky was once again left out of the AP Top 25 in the week 12 poll, though it did receive three votes. 
While Kentucky was unaffected by its conference wins over the past week, other SEC rivals saw dramatic rises and falls in the AP rankings.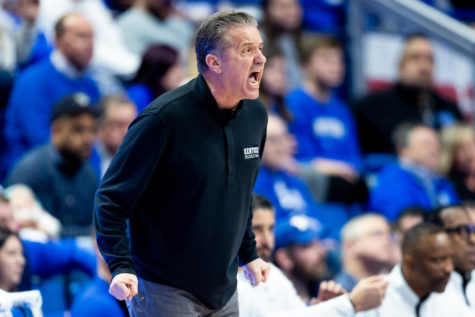 With the loss by No. 1 Houston against unranked Temple and No. 2 Kansas losing back-to-back games, Purdue emerged as the new No. 1 team in the nation. The Jayhawks dropped seven spots to No. 9 in the week 12 poll while Houston dropped to No. 3.
The SEC's highest ranked representative continued to be rooted in Tuscaloosa, with Alabama moving up two spots to No. 2. Tennessee also followed closely behind at No. 4. 
With the arrival of the new week's rankings, the SEC and Big 12 remain the top performing conferences in the AP Top 25. The two conferences accounted for nine of the 25 top ranked teams in the country. 
Kansas State's win over in-state rivals Kansas saw the Wildcats move up eight spots to No. 5 in the poll, becoming the highest ranked Big 12 school in the country, followed by the aforementioned No. 9 Kansas and No. 10 Texas, who also dropped three spots in the poll.
Kentucky's three votes in the AP Poll were a step up from the zero votes received last week, while the Cats did receive nine more votes in the coaches poll, bringing the total up to 19.
Kentucky is set to face off against the Vanderbilt Commodores on Tuesday in Nashville, with tipoff scheduled for 9 p.m. EST.
The Wildcats will then take on No. 9 Kansas on Saturday, Jan. 28, at home at 8 p.m. EST.
A full list of AP Top 25 can be viewed below:
Purdue Boilermakers (19-1)

Alabama Crimson Tide (17-2)

Houston Cougars (18-2)

Tennessee Volunteers (16-3)

Kansas State Wildcats (17-2)

Arizona Wildcats (17-3)

Virginia Cavaliers (15-3)

UCLA Bruins (17-3)

Kansas Jayhawks (16-3)

Texas Longhorns (16-3)

TCU Horned Frogs (15-4)

Iowa State Cyclones (14-4)

Xavier Musketeers (16-4)

Gonzaga Bulldogs (17-4)

Auburn Tigers (16-3)

Marquette Golden Eagles (16-5)

Baylor Bears (14-5)

Charleston Cougars (21-1)

UConn Huskies (16-5)

Miami Hurricanes (15-4)

Florida Atlantic Owls (19-1)

Saint Mary's Gaels (18-4)

Providence Friars (15-5)

Clemson Tigers (16-4)

New Mexico Lobos (18-2)
Others receiving votes:
Duke (102), Indiana (61), San Diego State (57), Rutgers (31), Kent State (24), North Carolina (12), Michigan State (10), Arkansas (9), Creighton (9), Illinois (9), Missouri (8), Wisconsin (6), NC State (4), Kentucky (3), VCU (2), Boise State (2), Memphis (1), Wake Forest (1), Oral Roberts (1)