At the buzzer: Kentucky mens basketball defeats Texas A&M 76-67
Kentucky mens basketball (13-6) defeated Texas A&M 76-67 on Saturday inside Rupp Arena to improve to 4-3 in the SEC.
The Wildcats entered the matchup fresh off of back-to-back conference wins, a feat the team had been unable to achieve at any point prior in the season.
After suffering back-to-back embarrassing defeats to the tune of a 20-plus point loss in Tuscaloosa against a top 10 Alabama team and a stunning home loss to a poor South Carolina team, the Cats shocked No. 5 Tennessee in Knoxville and followed it up with a comfortable win over Georgia thanks in big part to Oscar Tshiebwe's 37-point-24-rebound performance.
Entering the matchup, the Cats opted to utilize a familiar starting lineup of CJ Fredrick, Cason Wallace, Jacob Toppin, Chris Livingston and Tshiebwe, though familiar is not always ideal as the lineup, in previous games, had been outscored 35-48 heading into the matchup.
The numbers ultimately proved their worth in the first half, with Kentucky scoring just three points, courtesy of a shot from beyond the arc by Fredrick, in five minutes until head coach John Calipari made the decision to take out Livingston in favor of sharpshooting transfer Antonio Reeves.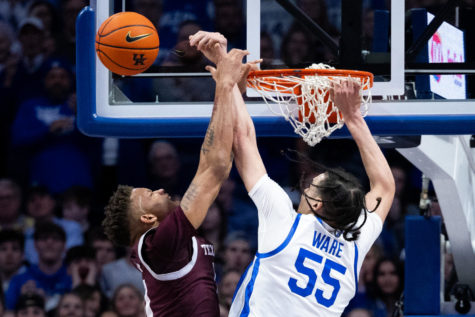 The teams would remain deadlocked within one point of each other for much first fourth of the game until a series of 3-pointers by Reeves and Livingston saw the Cats take a six-point lead with just under eight minutes left to play.
Kentucky's fate would quickly change though, as a few key buckets by the Aggies and a bad-pass turnover by the duo of Ugonna Onyenso and Sahvir Wheeler led to a game-tying dunk by Texas A&M's Henry Coleman III.
Texas A&M would then go on to score eight of the next 10 points of the game to take a six-point lead of its own before Reeves and Toppin made key 3-pointers to tie it once more.
Unfortunately for Kentucky though, Toppin's deep shot with over three minutes left on the clock would be the last field goal for either team in the half, with two free throws giving Texas A&M a 31-29 lead at the break.
The deficit marked the third consecutive home game in which Kentucky has found itself trailing at the half, having been unable to overcome South Carolina but being able to conquer Georgia.
While Kentucky was able to retake the lead out of the half, it took some hits as well, notably when Tshiebwe picked up his third foul, which was declared a flagrant foul.
Kentucky would then go on a scoring drought that allowed a quick 7-0 Aggie run and saw Texas A&M be the first of the two to reach 50, leading UK 51-47 with just under 12 minutes left to play.
With field goals becoming scarce in the half, Kentucky eventually tied the game once again at 53 with just under 10 minutes to play before Reeves sent the home crowd into a frenzy, forcing an Aggie timeout, with a 3-pointer that granted UK the lead.
Kentucky would suffer some misfortune with just over five minutes left to play as Toppin, who was UK's second leading scorer, appeared shaken up after a tough foul. While he attempted to remain in the game, he was quickly subbed out after play resumed and promptly headed back to the trainer's room.
Luckily for the Cats, Toppin would return to the game just a few minutes later with just over three minutes still remaining on the clock.
While the Aggies refused to go away, Kentucky was able to hold on to claim its second consecutive home win after a halftime deficit.
Reeves was the leading scorer for the Cats, amassing 23 points, while Toppin followed behind with 17 points. Toppin's 17 points marked the fourth consecutive home game in which he scored a double-digit point total after putting up 11 on Georgia, 21 on LSU and 24 on Louisville.
Kentucky managed to secure the win in spite of a mostly quiet night from Tshiebwe, with the big man scoring just seven points and 17 rebounds.
As a team Kentucky shot 40% from the field and 34% from beyond the arc as opposed to Texas A&M's 49% from the field and 19% from beyond the arc, making just three 3-pointers in the game.
With the win Kentucky will now turn its sights on Vanderbilt, with the Cats set to travel to Nashville on Tuesday, Jan. 24, for a 9 p.m. tipoff against the Commodores. The matchup against Vandy can be viewed on the SEC Network.