Kentucky assistant Chin Coleman reflects on recent victories, previews matchup against Vanderbilt
Kentucky mens basketball assistant coach Chin Coleman spoke on Monday about the team's recent three-game win streak, and also opened up about how the team is preparing to face Vanderbilt on Tuesday.
Coleman was quick to touch on how the Wildcats were able to succeed against Texas A&M on Saturday after adjusting their game plan.
"I thought we had a better second half than we did the first half," he said. "I think if you take it half by half, we got settled into more of our game plan in the second half than the first half."
Going into more detail about the game plan, Coleman mentioned that the team knew that Texas A&M would try to contain Oscar Tshiebwe, especially after his "video game" performance against Georgia, which led the team to attempt more 3-point shots.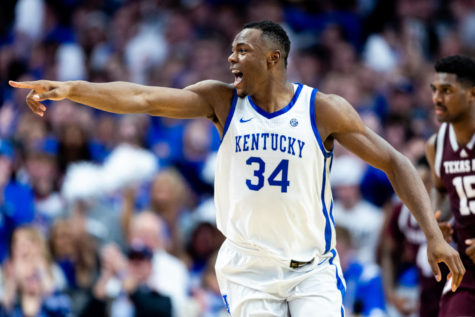 "We shot more threes than we would normally want to shoot," he said. "We can play that way if we need to because we have good shooters."
Coleman also touched on what the team did to prepare for its huge win at No. 5 Tennessee on Jan. 14.
"There were some things that happened internally before that game with our team," he said. "There were some 'Come to Jesus' talks, I guess you could say, prior to that game, and so those things put our team in a different mindset."
Coleman also spoke on several players specifically and explained what they were bringing to the table, notably Antonio Reeves, Sahvir Wheeler and Jacob Toppin.
Coleman continued to reiterate that if "everybody was good, then nobody needed to be great."
Despite Wheeler's lack of playing time through the closing stretch, Coleman strongly stated that the veteran point guard is still "very, very important" to the team.
"I think our staff, our players, everyone knows how much we need Sahvir," he said. "He's still a big part of what we're doing, and that's not gonna change."
When asked about Vanderbilt, which the Cats are set to face in Nashville on Tuesday, one of the main observations Coleman shared was that, rather than relying on one dynamic scorer as they did with Scotty Pippen Jr. last year, this year's squad plays more as a unit.
"We've got to really be attentive to our defensive schemes and try to take away the three," he said. "We hear that they may be down a couple players, but that's really not the concern. We've just got to make sure that we're doing our job.
Kentucky will square off against Vanderbilt on Tuesday, Jan. 24, inside the Memorial Gymnasium in Nashville, Tennessee. The game will begin at 9 p.m. EST and is set to air on SEC Network.