Kentucky remains unranked despite win over No. 5 Tennessee
Kentucky mens basketball earned its biggest win of the season this past weekend when it outlasted No. 5 Tennessee in Knoxville.
However, despite the big win, with only a 2-3 conference record and little to no other convincing wins outside of the upset over the Volunteers, Kentucky remained outside of the AP Top 25 in the week 11 poll still without a single vote.
The lack of a vote still seems to stem from the disappointing loss at Rupp Arena against South Carolina, with the Gamecocks going on to be bested 94-53 by Texas A&M after the win.
While Kentucky was seemingly unaffected by its win, Tennessee could not say the same, dropping four spots down to No. 9.
The SEC's highest representative remains Alabama, remaining at the No. 4 in the poll and widening its lead after Tennessee dropped.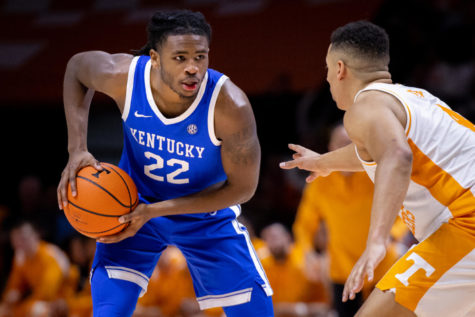 In fact, all of the top four schools remain the same in the week 11 poll with Houston still at No. 1 followed by Kansas, who Kentucky will face on Jan. 28, at No. 2 and Purdue at No. 3. 
The SEC and Big 12 remained the top conferences represented in the AP rankings.
Arkansas took a massive hit in the rankings following a loss to No. 4 Alabama and unranked Vanderbilt, with the Razorbacks now at No. 25, a 10-spot drop.
Looking for some positive movement in the conference, Auburn moved up to No. 16 in the rankings with wins over unranked Ole Miss and Mississippi State. 
Although Kentucky received no votes in the AP Poll, the Cats did receive 10 votes in the coaches' poll, though it wasn't enough to get back within the top 25.
Kentucky is set to face off against Georgia on Tuesday in Lexington at 9 p.m. EST, followed by two more SEC matchups with Texas A&M and Vanderbilt for a chance to hold a winning record in conference play heading into one of its toughest ranked matchups yet in the aforementioned No. 2 Kansas.
A full list of AP Top 25 can be viewed below:
Houston Cougars (17-1)

Kansas Jayhawks (16-1)

Purdue Boilermakers (16-1)

Alabama Crimson Tide (15-2)

UCLA Bruins (16-2)

Gonzaga Bulldogs (16-3)

Texas Longhorns (15-2)

Xavier Musketeers (15-3)

Tennessee Volunteers (14-3)

Virginia Cavaliers (13-3)

Arizona Wildcats (15-3)

Iowa State Cyclones (13-3)

Kansas State Wildcats (15-2)

TCU Horned Frogs (14-3)

UConn Huskies (15-4)

Auburn Tigers (14-3)

Miami Hurricanes (14-3)

Charleston Cougars (18-1)

Clemson Tigers (15-3)

Marquette Golden Eagles (14-5)

Baylor Bears (12-5)

Providence Friars (14-4)

Rutgers Scarlet Knights (13-5)

Florida Atlantic (FAU) Owls (16-1)

Arkansas Razorbacks (12-5)
Others receiving votes:
NC State (111), Saint Mary's (106), Arizona State (79), New Mexico (67), Illinois (61), San Diego State (44), Michigan State (29), Duke (24), Wisconsin (14), Creighton (9), Kent State (8), Boise State (6), Texas A&M (5), Ohio State (3), Missouri (3), VCU (2), Iowa (2) and North Carolina (1).