Kentucky defies odds, outlasts No. 5 Tennessee 63-56
Kentucky mens basketball (11-6) defied all odds on Saturday when it defeated No. 5 Tennessee 63-56 inside Thompson-Boling Arena in Knoxville.
The win was pivotal to the Wildcats' season, marking both the first true road victory and the first victory over a ranked opponent all season.
"We needed that as a team," Kentucky sharpshooter Antonio Reeves said. "That's what we've been working for, just trying to get that (win) and get all the other stuff out of our system. It's been rough for us, (but) we just stayed locked in as a team."
Kentucky entered the game 10-6 after a disappointing loss to South Carolina that saw the Cats lose a 28-game home winning streak.
The Wildcats had floundered against ranked opponents throughout the season, standing at 0-3 in the matchups and having truly never looked to be on the cusp of winning any of them.
That all changed on Saturday when the Cats did just that, overcoming an early 8-0 deficit to take a 13-10 lead.
After that point it was a back-and-forth matchup all night, but Kentucky was able to enter the halfway point with a 33-26 lead, something UK had previously never been able to do against a ranked opponent.
Despite having never lost this season when leading at the half, Kentucky came close to doing just that in the closing minutes of the game as Tennessee was able to get back within two with just over a minute left to play.
Luckily for Kentucky, unlike in games prior, the team was able to hit its free-throws, going 5-6 in the closing minute to seal the victory.
As a team Kentucky shot a staggering 88% from the free-throw line, a much-improved figure for a team that had been averaging around 65% from the line.
"It was pretty big, I'm not going to lie," Reeves said. "We've been struggling as a team every game and (for me) to go out there and go 8-8 was so refreshing. I know deep in my heart I can make free throws, but I feel like it's contagious sometimes when you see (someone else) miss a free throw."
Looking at other shooting statistics, Kentucky did not have a great night from the field, shooting just 35% on field goals and 31% from beyond the arc, but managed to hold Tennessee to 40% from the field and 14% from beyond the arc.
"We had to make a choice: do we let the big boy go in and score baskets or do we try to trap and give up (3-pointers)," Kentucky head coach John Calipari said. "We made a choice and at one point I almost went back, and the staff went crazy (and said), 'Don't you dare! They can beat us at the three, they can't make enough twos.' So, we let them have their way in there."
Kentucky dominated the Vols on the boards, out-rebounding Tennessee 43-23, improving to 11-2 in games where it out-rebounded its opponents this season.
Oscar Tshiebwe led the rebounding charge for Kentucky, notching 13 himself to go along with 15 points for another double-double.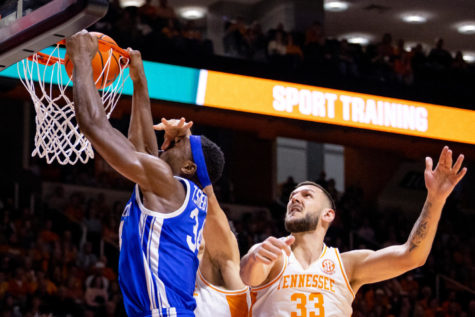 Tshiebwe's 13 rebounds saw him surpass Phil Grawemeyer, who played at Kentucky from 1954-56, to take 23rd in Kentucky's all-time career rebounding leaderboard. Tshiebwe, in just one-and-a-half seasons in Lexington, has notched 712 total rebounds.
While the only player to earn a double-double, Tshiebwe was not the only Wildcat to earn a double-digit point total, with CJ Fredrick notching 13 and Reeves leading the Cats with 18.
Now looking to keep the momentum rolling, Kentucky is set to return home to Lexington where it will host Georgia on Tuesday.
"We got another tough one on Tuesday," Calipari said. "(Georgia) is playing great. I haven't lost any faith in my guys; I got good guys, and I got talented guys. My whole mindset is about winning the next game."
Tipoff against the Bulldogs is scheduled for 9 p.m. EST on Jan. 17, and will air live on ESPN.