Stars shine as Cats earn 85-71 win over Georgia
Kentucky mens basketball defeated Georgia 85-71 inside Rupp Arena to improve to 12-6 on the season and 3-3 in the SEC.
Kentucky's 85 points against the Bulldogs marked the highest score Kentucky has put up against an SEC opponent all season and ranks above all games last season as well. 
The win also marked the first time this team has come back from a halftime deficit to walk away with the victory on the court.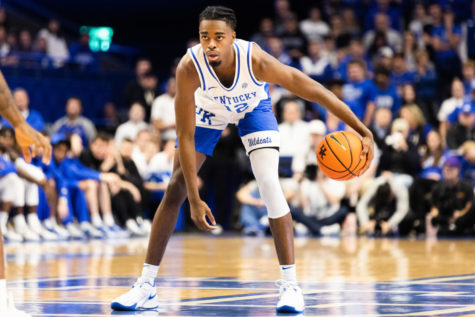 Oscar Tshiebwe had his best performance of his collegiate career against the Bulldogs, putting up 37 points and 24 rebounds for his first 30-20 game of his career.
"He was a beast today, that is the Oscar we have been waiting for," teammate Antonio Reeves said after the game. "He just went out and was the old Oscar. He rebounded, got put backs and dunked it. That is what we needed." 
His 37 points tied former Wildcat Malik Monk's score against Georgia in 2017 as the most points in an SEC game and ranked him third in most points scored in any game under head coach John Calipari.
The reigning consensus national player of the year now has 39 double-doubles in 50 career games for Kentucky.
After the game, Calipari spoke of Tshiebwe's hard-working mentality recently.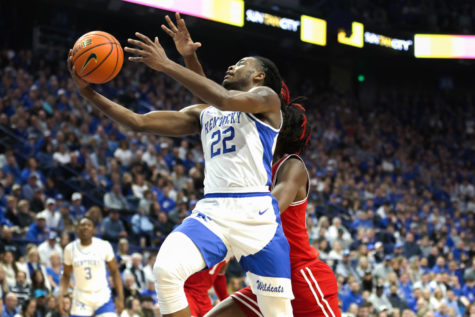 "What he's done for two weeks, he's been in the gym," Calipari said. "Last year he lived in the gym. For a while he was in the gym but not the same. What does it do for your game? That's how you build your confidence, that's how you build your stamina. You know what I told him? Dunk every ball. Quit laying balls in. Jump up. But he had to get in the gym to be that way."
Looking past the spotlight on Tshiebwe, Wildcats Jacob Toppin and Cason Wallace brought their best to the court against the Bulldogs as well.
Toppin achieved his third double-double of the season with 11 points and 11 rebounds while Wallace contributed a crucial 17 points to the game.
Despite the highly successful night for the Wildcats, Kentucky trailed Georgia for the majority of the first half, leaving fans to question whether or not Kentucky would start a home game losing streak after being defeated by South Carolina just last week.
"I told them prior to the game, did you like the taste in your mouth 10 days ago or the one after Saturday?" Calipari said. "Well, then let's get that taste back in our mouth."
Nevertheless, Kentucky fought hard to find its rhythm on the court and once "Big O" took off, it was over for the Bulldogs.
"We've got our fight back," Tshiebwe said. "Everybody is now locked in. I'm so proud of our boys. We came together."
Kentucky will stay at home to host Texas A&M on Saturday, Jan. 21, at 2 p.m. EST inside Rupp Arena. The game can be watched on ESPN.