Jacob Toppin continues streak of home success, boosts Kentucky to third straight win
The 2022-23 Kentucky basketball team has many stars, but sometimes those stars are off their game and, when that happens, others will be expected to step up. 
Jacob Toppin is no exception.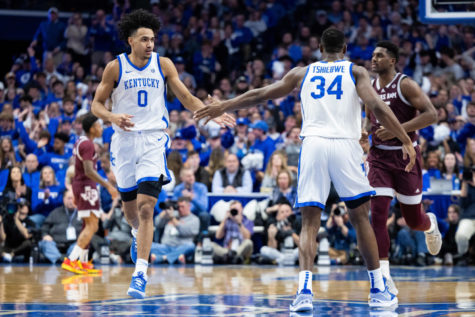 Now a senior, Toppin is more of a subtle playmaker than a headliner much of the time. 
Transferring from Rhode Island after his freshman year, Toppin rarely saw over 20 minutes of gametime during his sophomore and junior years, averaging just 17 minutes per game and five points per game. 
This season, however, Calipari has given Toppin the green light, becoming the regular starter in the four slot alongside Oscar Tshiebwe. 
Despite playing one of the worst games of his career against Missouri, in which he shot 0-2 from the field in just 13 minutes on the court, Toppin has found his rhythm once again, especially inside Rupp Arena. 
The last four home games have been especially prolific for the 6-foot-9-inch Brooklyn native, averaging 18.7 points and seven rebounds in those four home victories. 
Against Texas A&M on Saturday Toppin once again showed his all-around skill set, shooting 7-12 from the floor and collecting 17 points, while also showing his defensive prowess, stealing the ball twice while also recording a block and four rebounds. 
Head coach John Calipari took note of the constant growth from the senior, hence his increased amount of gametime. 
"He's getting better and he's learning to mix it up," Calipari said. "Grit is not just physical like, 'I want to fight somebody.' Grit is, 'I missed two baskets and it doesn't affect my defense, and I still rebound. I go one for eight, but I get 11 rebounds and I guard.' That is grit." 
Perhaps another reason for Toppin's breakout game was Oscar Tshiebwe's early foul trouble, as well as the Aggies staunch interior defense, which negated much of Tshiebwe's game and allowed for Toppin to fill a more prominent role. 
Tshiebwe, who ended the day with seven points and 17 rebounds, spent a majority of the first half on the bench after he picked up two early fouls, which forced players like Toppin and Lance Ware to fill in.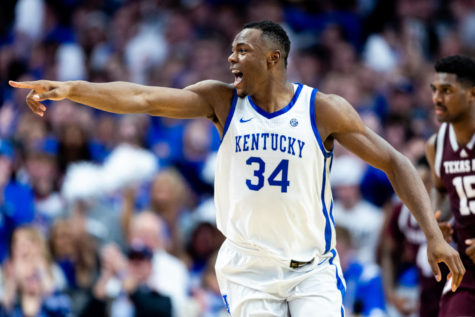 Tshiebwe himself stressed the importance of players filling in if one of their teammates gets into foul trouble. 
"I'm so happy for my teammates because they're stepping up and they are doing great, not even stepping up they're just realizing that they're very good," Tshiebwe said. 
Looking at Toppin and Tshiebwe, while similar in size, both play very different games. 
Tshiebwe is very physical, dominant and eager to work his way around the block to get a layup or dunk. He plants himself in the low post and invites one-on-one coverage. 
Toppin, on the other hand, eagerly rotates around the paint, finding lanes inside or flaring outside to take a long two, or perhaps a 3-pointer, of which he converted one of two against the Aggies. 
His performance was not without near disaster for Toppin though, as with just over five minutes left in the second half he was noticeably shaken up after a play, checking out of the game and heading straight towards the locker room, a worrying sign at best and a disastrous occurrence at worst. 
That said, just two minutes later, Toppin reentered the game to see out the victory. 
Now having earned the victory, Toppin and the entire team will hope to continue riding the momentum into an away date with the Vanderbilt Commodores, who are sitting in the middle of the pack in the SEC with a record of 10-9.
Tip-off against the Commodores is scheduled for 9 p.m. EST on Tuesday, Jan. 24, in Nashville.