Kentucky football (4-0, 1-0 SEC) defeated Vanderbilt (2-3, 0-1 SEC) by a score of 45-28 on Saturday at FirstBank Stadium in Nashville, Tennessee.
The rushing game stood out for Kentucky throughout the contest, as the Wildcats rushed for 5.4 yards per carry and ran for three of their six touchdowns.
After a three-and-out by the Commodores to begin the game, senior running back JuTahn McClain reached the end zone on a 36-yard run to put the Wildcats ahead early.
Less than two minutes later, sophomore defensive back Maxwell Hairston intercepted a pass by Vanderbilt quarterback AJ Swann and took it 29 yards for a touchdown, giving Kentucky a 14-0 lead less than halfway through the first quarter.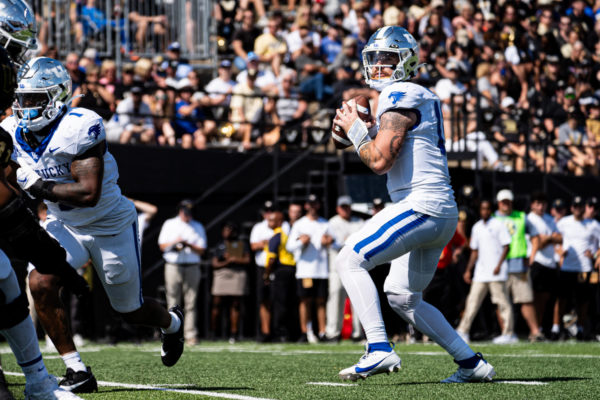 On Kentucky's next drive, quarterback Devin Leary threw a long bomb that was intercepted by Vanderbilt, but the Commodores could not score any points off the turnover, having to punt instead.
Leary then had success with a deep throw as a 55-yard pass to Barion Brown set up a two-yard rushing touchdown by senior running back and Vanderbilt transfer Ray Davis.
Neither team scored again until the Wildcats capped off a six-minute drive with a 27-yard field goal by senior kicker Alex Raynor to pull ahead 24-0.
Vanderbilt was able to turn the next drive into a field goal to avoid going scoreless in the half and after a quick three-and-out by Kentucky, the Commodores got the ball back and scored on a seven-yard rushing touchdown to make the score 24-10 at the half.
The third quarter began with quick three-and-outs by each team, followed by an interception thrown by Leary which was caught in the red zone by Vanderbilt. The Dores then kicked a 32-yard field goal to come within 11 points of the lead.
On the following drive, Wildcat linebacker D'Eryk Jackson intercepted a pass by Swann on the next drive and quickly lateraled it to Andru Phillips, who ran the ball all the way to the Vanderbilt 21-yard-line.
The turnover turned into seven points for Kentucky when Davis rushed for a one-yard touchdown to bring the score to 31-13 in favor of the Cats.
In the fourth quarter, Davis kicked off a Kentucky drive with a 38-yard run, and after two completions of over ten yards by Leary, sophomore receiver Dane Key caught a 22-yard touchdown pass to extend the lead.
Vanderbilt scored a two-yard rushing touchdown on the next drive and successfully converted for two points to make the score 38-21.
With just over four minutes left to go, the Wildcats eclipsed the 40-point mark with another pick six by Hairston, this time 54 yards.
The Commodores led another touchdown drive to close out the game, but ultimately the Wildcats ended out on top with a score of 45-28.
Leary finished going 15-for-29 with 205 yards, throwing one touchdown and two interceptions. Barion Brown led the team in receiving, catching four passes for 105 yards.
Kentucky will return home to face the No. 25 Florida Gators on Saturday, September 30, beginning at noon ET at Kroger Field.