Kentucky football defeated the visiting Akron Zips 35-3 at Kroger Field on Saturday, Sept. 16, to improve to 3-0 ahead of SEC play.
Kentucky opened the game strong when quarterback Devin Leary completed a pass to running back transfer Ray Davis for a 39-yard gain.
Shortly after, Leary found sophomore tight end Josh Kattus to give the latter his first career touchdown. The play also marked Kentucky's first opening quarter touchdown this season. 
Unfortunately for the Wildcats, the offense didn't meet paydirt again until the final seconds of the second quarter.
Late in the first quarter, tight end Jordan Dingle caught a 59-yard pass but coughed up a fumble on the 10-yard line.
"Offensively, a lot of frustration again," head coach Mark Stoops said. "(It's) a broken record but you can't have both, (bad) snaps, holds. You can't fumble in the end zone. You have a chance to easily put up 40 to 49 points." 
Twice the Wildcats fumbled from bad snaps. The hiccups lost Kentucky a combined 28 yards recovering the loose ball.
"We're not playing to our standard on the offensive line," Stoops said. "Whether we get beat, (bad) snaps (or) holding things of that nature."
Despite the issues, Davis developed a heartbeat in Kentucky's inconsistent offense, leading the Wildcat offense with 72 rushing rushing yards and 97 receiving yards for two touchdowns, both of which were game highs.
Davis finished the contest with 105 yards after catch, including an ugly-play-turned-incredible-touchdown in the third quarter when Leary escaped several Akron defenders and whimsically tossed to Davis, which led to a 58-yard receiving touchdown. 
The Wildcats did eventually overcome their rough patches offensively. They picked up the pace by piecing together three touchdown drives in the second half to close out the win over Akron.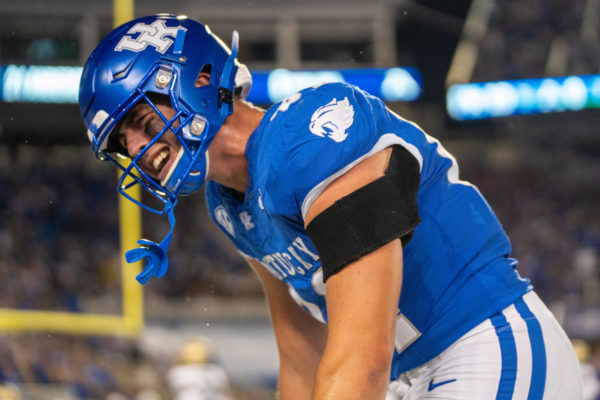 "Obviously, we're very thankful and happy to be 3-0, but at the same time there's so much more we can do," Leary said. "Especially offensively; we pride ourselves on that. So, definitely a little bit of a bitter taste in our mouth walking away because there's so much room for improvement."
Most likely included in Leary's reflection of the game was when another solid pass connection was vetoed by a self-inflicted mistake by Kentucky.
In the third quarter Leary threw a 64 yard touchdown pass to Anthony Brown-Stephens, but a holding call took away the score and pushed the offense back 10 yards.
Consequently, the next play after led to a miscued pass intended for wide receiver Dane Key that was intercepted by the Akron defense.
Leary finished the contest midway through the fourth quarter, going 16 for 26 with 315 yards, three touchdowns and an interception. 
"We're headed right into SEC play, which is something we all have to be ready for at the end of the day," Leary said. "There's a ton of transfers, a bunch of new guys on this team. And this is why we transferred here and we knew what was to come, and here it is. Now it's time for us to get prepared for Vanderbilt, and I'm really excited about this stretch."
Kentucky will begin that stretch of eight SEC matchups when the team travels to Nashville, Tennessee, on Saturday, Sept. 23, to take on Vanderbilt at noon ET at FirstBank Stadium.