Saturday night was business as usual at Kroger Field, where Kentucky covered a 26-point spread against Akron with a 32-point win, 35-3.
Yet, despite that, the game left a weird taste in the mouths of Kentucky fans, specifically on offense.
Even with those feelings, things don't seem so bitter when looking at the surface level data.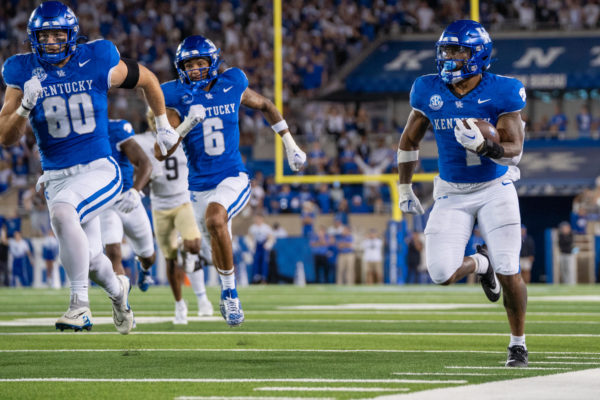 When looking at "the numbers," one will find a lot of things. They will find that Kentucky was twice as efficient versus Akron as it was against Ball State and Eastern Kentucky.
They will also find that Kentucky was as explosive as it's been all season, and that the chunk yardage from Ray Davis and Tayvion Robinson is no longer a coincidence, but a clear pattern.
With that said, what Kentucky seems to be missing more than anything is drive consistency on the offense.
Even in the 32-point beat down, Kentucky only had two touchdown drives with more than 60 yards in the first half in yet another performance where the Wildcats seemed to falter out of the gate, excluding a statement opening drive.
Kentucky Offensive Coordinator Liam Coen has continued to cite execution issues in each of the first three games Kentucky has played this season. 
"I think we are completely self-inflicting wounds [Saturday night]," Coen said postgame. "I think it's a lot of self-inflicted wounds we need to fix in a hurry."
Kentucky had three glaring mistakes in their beatdown of the Zips: the Jordan Dingle fumble on a would-be scoring drive, the Dane Key interception after a route mix-up and the Jager Burton hold that caused a touchdown to be called back.
"This stuff is going to bite us in the butt when we start playing better football teams," Coen added.
INEFFICIENTLY EFFICIENT
While the Cats' offense hasn't seemed efficient, according to the data, it's the most efficient it's been in the Mark Stoops era.
Kentucky has a team EPA of 0.34, which is higher than any of its team EPA's dating back to 2014. If EPA isn't enough, the Cats are also averaging three points per drive, a mark higher than any of the Will Levis, Terry Wilson or Lynn Bowden years.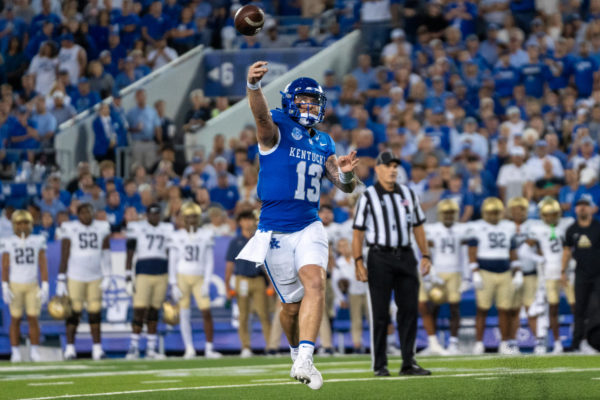 Again, add a grain of salt because these numbers come against Ball State, Eastern Kentucky and Akron. The team EPA and Points Per Drive will surely drop off once the Cats face the perennial opponents on their schedule, but when using numbers, there's nothing that says that the Kentucky offense is inefficient when it's out on the field.
However, what the data leaves out is the execution issues Coen cites. There is no statistic accounting for a route mix-up or a ball being snapped over Devin Leary's head. There is, however, some data reflecting self-inflicted wounds.
Kentucky is statistically one of the worst teams in the country when it comes to penalties. Out of 130 FBS teams, only 28 have more penalties at this stage of the season, with several teams having fewer penalties despite playing more games than the Wildcats.
Kentucky is also in the bottom 40% of penalty yards on the season and also on top of penalty yards per game.
Between Coen citing execution issues in each of the first three games of the season and the Wildcats' underwhelming penalty metrics, it's not that Kentucky can't string together methodical drives, but rather it's instead stalling out its own drives with on-field penalties. 
A DEFENSIVE DRESS REHEARSAL
Most programs would consider their last buy game before conference play a dress rehearsal.
The Kentucky defensive players aced theirs.
First, the secondary defended nearly 16% of passes from the Zips, which is noteworthy first because that's a near 400% increase compared to its havoc rate against Eastern Kentucky (3.7%) and second because passing has been the base of Akron's offense all year.
Speaking of passing, Akron's passing attack was inefficient all game. On top of the 16% defense rate, Akron's passing offense was negative in efficiency for all four quarters of the game.
However, the Kentucky defense was also able to stand up when it mattered. Akron was inside the 40-yard line five times over the course of the game, and only had a field goal to show for it.
All of these numbers speak for a stellar showing (statistically) from Brad White's defense, including his linebackers, who he lets run free within his scheme, thus allowing them to make plays, which they did. The Cats had seven tackles-for-loss, including two from Trevin Wallace, who has emerged as Kentucky's star linebacker. 
LOOKING TOWARDS NASHVILLE
By this point of the season, the stats (and a visual eye test) have identified the strengths and weaknesses of this team.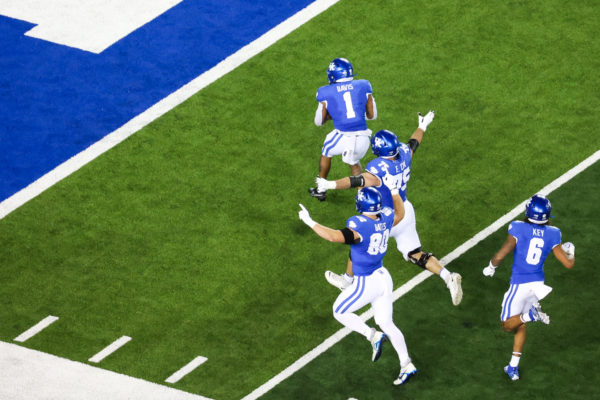 Defensively, Kentucky has been proven to stop the run against their first three opponents, allowing just a third of a yard (one foot) in the open field per opposing rushing attempt.
Additionally, the Cats are completely stuffing one of every five opponent rushing attempts, one of the better marks in the SEC.
However, a poor secondary showing versus Eastern Kentucky coupled with a terrific showing against Akron leaves questions about how well Kentucky will defend passes this year.
Offensively, Kentucky is efficient when firing on all cylinders, but has been held back by mistakes and penalties. Beyond that, the efficiency metrics show that the Cats are still yet to play four consecutive quarters of quality football, harkening back to Coen's cited execution issues.
So when one lets the numbers speak for themselves, there's a lot of questions they can reasonably answer about this team. One they can't? The one that dictates the success of this team the most:
When will Kentucky play four consecutive quarters of football?