Following a 35-3 win over the Akron Zips to move to 3-0, Kentucky football is set to hit the road for its first SEC game of the season.
One cause for concern following the victory was the status of quarterback Devin Leary as he appeared to be in some pain after taking a hit towards the end of the game. 
Despite this, Leary cleared up his status after the game.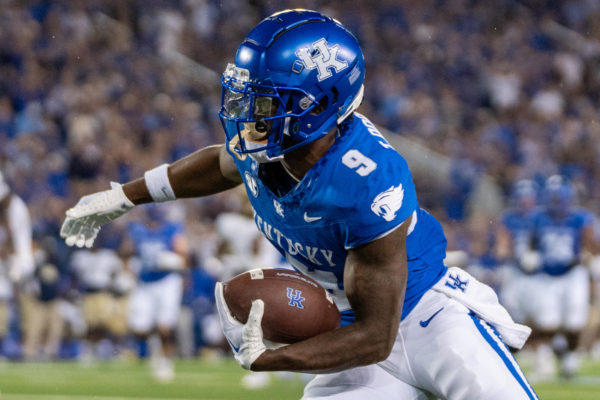 "Just got the wind knocked out of me," he said. "Kind of exposed myself a little bit too much. Got the wind knocked out of me, and I'm perfectly fine now." 
The Wildcats will now set their sights on the Vanderbilt Commodores as they will head to Nashville for a matchup at FirstBank Stadium. 
The Wildcats and the Commodores met at Kroger Field last season where the latter upset the Wildcats by a score of 24-21. 
Current Wildcat running back Ray Davis had himself a game in that defeat as he rushed for 164 yards on 18 carries while finding the end zone once. 
"This game is not Ray Davis versus Vanderbilt," Davis said. "It's Kentucky football versus Vanderbilt football, that's all that matters. With the last whistle, I think that my emotions came out, but I can't win everything and I'm just going to be this 'rah-rah' guy and it's all about me and that's never good. It's just about going there and getting the (win), doing what I can for the team whether that's running the ball, whether that's catching, whether that's blocking, you know it's just about going in there and getting the (win)."
The game will also serve as the SEC opener for both teams.
Much like last year, the Wildcats will enter as favorites despite the shocking finish at Kroger Field.
While the Wildcats have been able to pull out victories in their first three games, the Commodores have not been so lucky as they enter the game with a 2-2 record. 
Nonetheless, the Commodores and the Wildcats are not far apart on paper when it comes to certain numbers. Vanderbilt has averaged 34.75 points-per-game across its four game split while Kentucky has averaged just a tick more at 35.66-points-per game through its trio of victories.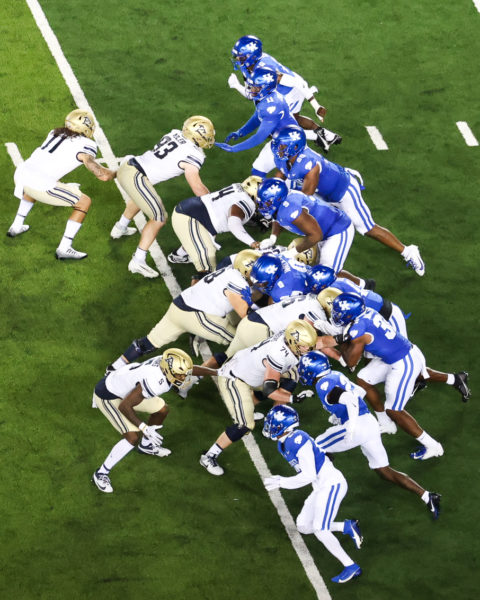 Sophomore AJ Swann will be under center for the Commodores and thus far he has tallied 1,101 yards and tossed 11 touchdowns along with four interceptions on the season. 
Meanwhile, on the ground, a duo of tailbacks have headlined the Vanderbilt running game so far this season. 
Junior Patrick Smith is the teams' leading rusher with an even 200 yards on 40 carries and has found the end zone once. 
Freshman Sedrick Alexander has run for 131 yards on 31 carries and has a pair of touchdowns on the season. 
The Wildcats have a slight edge in total yards on offense as they have averaged an even 406 yards per game compared to the 400.3 by the Commodores. 
The advantage shifts heavily in the Wildcats' favor when looking at yards allowed as UK has allowed 281.7 yards per game whereas the Commodores have allowed an even 389 yards per game. 
"Really appreciate the way the defense played the entire night," Kentucky head coach Mark Stoops said when speaking on the defensive effort against Akron. "We had an opportunity to play a lot of guys, which was good to see." 
Overall, the Wildcats have yet to click on all cylinders and will look to put it all together as they enter a grueling SEC conference schedule where wins mean everything. 
 "I mean — you just see a lot of it on the film. We just shoot ourselves in the foot a lot, whether it's, you know, penalties, missed assignment, execution — and we walk away from the game, you know, obviously we're very thankful and happy to be 3-0, but at the same time, there's so much more we can do, especially as an offense, and we pride ourselves on that," Leary said after the Akron win. "So, definitely a little bit of a bitter taste in our mouth walking away, because we left so many different plays out there — but there's so much room for improvement for this team."
Stoops was on the same page with Leary about the offensive room for improvement following the Akron win. 
"Offensively, a lot of frustration again," he said. "It is a broken record, but you cannot have snaps, holds, you can't fumble going in. And you have a chance to, you know, easily put up 42, 49 points pretty easily. And then really nobody would be as mad or as frustrated, I should say, on our end."
Now, heading into Nashville, the Wildcats will have a chance to showcase these improvements and improve to 4-0 with a victory. 
Kentucky and Vanderbilt are scheduled to kick off at noon ET on Saturday, September 23, with the game airing live on SEC Network.