After allowing 47 sacks in the 2022 season, the most of any Power Five team, the "Big Blue Wall" underwent major reconstruction in the offseason.  
Kentucky added two new faces to the starting lineup this offseason in Courtland Ford from USC and Marques Cox from Northern Illinois.
Ford immediately slid into the right tackle role with Cox filling in opposite of him as left tackle.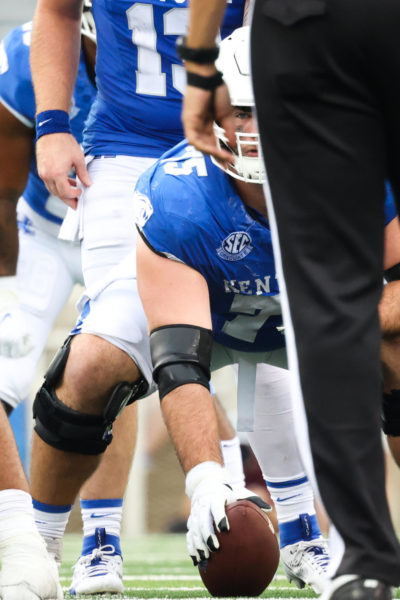 The addition of Cox also allowed Kenneth Horsey to move back to his original position of left guard.
With Horsey moving back to left guard, sophomore and Lexington native Jager Burton would step up and move to starting center.
This movement across the line allowed senior captain Eli Cox to start at right guard.
This newly formed unit has proven to be a significant improvement from the Kentucky offensive line of just a year ago.
Through three games in 2022 the offensive line allowed seven sacks for 43 yards, compared to just three sacks for 35 yards this season.  
Although the Big Blue Wall is better statistically, there are still some ways it can improve, starting at center.
Granted, it is his first time playing the position, but Burton has shown some signs of struggle throughout the first three games.
In the Wildcats most recent victory over Akron, Burton sent three separate snaps over quarterback Devin Leary's head.
"We need to play a lot more physical; we need to play a lot smarter," offensive coordinator Liam Coen said after the game. "We can't have snaps go over the quarterback's head."
Unfortunately for the Wildcats, three-year starter Horsey went down in week one against Ball State with a knee injury, but is expected to return sometime this season.
Walk-on Dylan Ray moved into the starting role following the injury and has filled in well according to Burton.
"I feel like Dylan did a great job," Burton said. "It's something that Stoops preaches a lot is prepare every week like you're a starter or a star player. I think he took that to heart."
Despite that, head coach Mark Stoops has not been pleased with the play of the Big Blue Wall to start the season.
"We are not playing to our standard up front on the offensive line, whether we are getting beat, whether it is snaps, holds, you know, just things of that nature," he said following the Akron win.
Stoops also believes the line is not strong enough when it comes to run blocking.
"We did not establish the line of scrimmage in this game," he said in week two. "We were running for one yard."
While there are plenty of negatives, the Wildcats have still yet to even begin SEC play and, if Kentucky cleans up the mistakes and establishes dominance at the line of scrimmage early on, there is little reason it can't be a top offensive-line in conference play.
It has all the pieces for strong offensive line play with the experience and leadership of Eli Cox and Horsey, the athleticism of Burton and additions through the transfer portal, the question now is simply whether or not the team can put it all together.
Kentucky will kick off SEC play against Vanderbilt on the road on Saturday, Sept. 23, at noon ET from FirstBank Stadium.