No. 9 Kentucky gymnastics advances to Regional Finals with a score of 197.475
No. 9 Kentucky gymnastics advanced to the NCAA Regional Finals on Thursday night, with a score of 197.475.
The Cats were paired up with No. 8 Alabama and Big Ten teams Iowa and Illinois. This is the sixth time that Kentucky has advanced to the regional finals.
The first rotation saw Kentucky take the floor. Jillian Procasky started for the Cats and recorded a 9.85, a score that would tie her season and career best on floor.
Her performance was followed up by a 9.90 by Arianna Patterson. Hailey Davis would match Patterson's score and keep the momentum going for Kentucky.
The rotation would be capped off by an impressive 9.95 routine by Raena Worley, with the Wildcats picking up a total score of 49.450.
Moving on to the vault, Procasky would lead once again, starting out with a 9.775. Makenzie Wilson would follow her, continuing the second rotation with a 9.875.
Patterson fell into the third spot in the order with a 9.85 and Isabella Magnelli recorded a 9.80, followed up by a 9.85 from Worley.
Bridget Borque rounded out the blue and white with a 9.825 to give the Wildcats a 49.200 for the rotation.
Davis would lead off the third rotation with a 9.85 on the uneven bars, with Kaitlin Deguzman and Procasky putting up a 9.85 as well.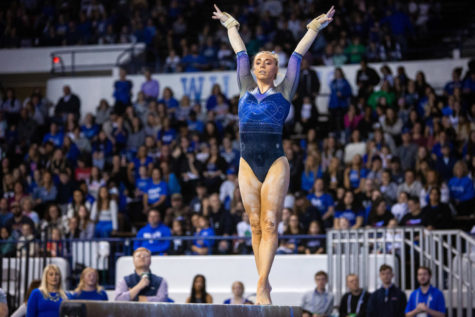 Following her suit, Bailey Bunn put up a 9.925 score-worthy bars routine to give the Cats a boost.
Shaelyn Luksik and Worley would swing Kentucky forward with two 9.925 scores to send the Wildcats into a good position entering the last rotation.
The final score for the uneven bars rotation proved to be Kentucky's highest of the night with a total score of 49.475 in the event.
Starting off the fourth and final rotation of the beam, Luksik put up a 9.825 while Procasky would end her night with a 9.775.
Bunn continued her streak of 9.90 or higher with just that, a 9.90 and Patterson dazzled her way to an impressive 9.95.
Worley would almost match her score with her routine, which earned a 9.90 while Magnelli rounded out the group with a 9.375. 49.350 would be the final score for the rotation.
With its score of 197.475, Kentucky will move on to the Norman Regional Final which will take place on Saturday, April 1.
Kentucky and Alabama will take on the top two teams from the evening session. These teams are Oklahoma, Arkansas, Ohio State and NC State. The event is scheduled to start at 6 p.m EST and can be watched on ESPN+.