No. 8 Kentucky gymnastics finishes fourth in SEC Championships
No. 8 Kentucky gymnastics (10-3) finished fourth out of eight teams in the SEC Championships on Saturday at Gas South Arena in Duluth, Georgia, while tying the program record for placement and setting the record for final score in the event.
The Wildcats competed in session 2 of the event for the first time since 2019 which consisted of the conference's top four seeds – Kentucky along with No. 3 Florida, No. 6 LSU and No. 10 Alabama.
Kentucky started out on the floor and posted a strong score of 49.400, giving it a small lead to open the competition.
Junior Hailey Davis topped all individual Wildcats in the floor exercise with 9.925, followed by senior Raena Worley and fifth year Arianna Patterson who each scored a 9.900.
On the vault, Kentucky posted an overall score of 49.325, but stellar scores of 49.700 and 49.550 by Florida and Alabama, respectively, knocked the Cats down to third place.
Junior Isabella Magnelli scored the highest for Kentucky on the vault with a 9.900.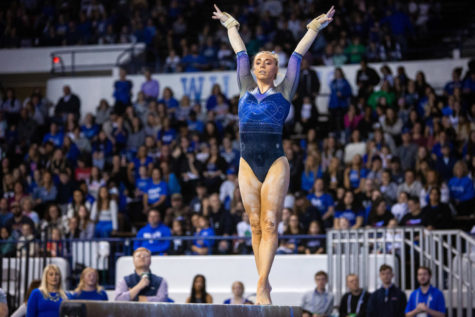 Transitioning to the uneven bars, the Wildcats put up an impressive total of 49.600, with senior Shealyn Luksik as the top individual scorer with a 9.950.
Luksik's score on the bars also tied for second overall in the competition.
After the third rotation, Kentucky was barely holding on to the third place spot, as they were only 0.025 above LSU. Florida had created a comfortable lead for the top spot – 0.300 over Alabama.
Kentucky finished out the night on the balance beam and scored 49.375, but it was not enough to retain its third place position as LSU finished ahead of the Cats by 0.125.
During the last rotation, Magnelli posted a remarkable score of 9.950 on the beam, placing her in a four-way tie for second place individually.
The top all-around scorer of the championships was former Pan American gold medalist Trinity Thomas of Florida with a 39.800, including perfect scores on the bars and floor. The Gators swept the individual leaderboard in all four events.
Worley was the highest all-around scorer for the Wildcats with a 39.500.
The only other Wildcat who competed in all four events was sophomore Jillian Procasky who combined to score a 39.400.
Kentucky improved upon its seventh-place finish from last year and scored 1.325 higher than it put up in the 2022 campaign.
The Selection Show for the 2023 NCAA Women's Gymnastics Championships will take place on Monday, March 20, at noon EST and will be streamed on NCAA.com. The regional competitions will take place from March 29 to April 2.
The full SEC Championship standings can be seen below:
Florida Gators (198.425)
Alabama Crimson Tide (197.925)
LSU Tigers (197.800)
Kentucky Wildcats (197.675)
Auburn Tigers (197.100)
Missouri Tigers (197.000)
Arkansas Razorbacks (196.825)
Georgia Bulldogs (196.600)