No. 12 Kentucky gymnastics takes down No. 9 Auburn on senior day
No. 12 Kentucky gymnastics (8-3) defeated No. 9 Auburn (5-6) by a score of 197.675 – 196.450 during the team's senior day on Saturday inside Memorial Coliseum.
The afternoon started with Kentucky on the vault and Auburn on the bars.
The Wildcats started off strong with sophomore Mackenzie Wilson posting a new career and season high of 9.975 and fifth-year senior Arianna Patterson tying her all-time best of 9.950.
Kentucky's overall score on the vault earned the Cats a new program best and allowed them to finish the rotation with a slight 49.550 – 49.250 lead over Auburn.
Moving on to the uneven bars, the Cats scored a total of 49.375, with senior Kaitlin Deguzman tying her season and career best of 9.925 while sophomore Jillian Procasky earned a new season high of 9.850.
Senior Raena Worley put the final touch on the bars with a score of 9.900.
Junior Isabella Magnelli helped the Wildcats maintain their lead over the Tigers in the third rotation. On the balance beam, Magnelli was the highest scorer for the Cats with a 9.950.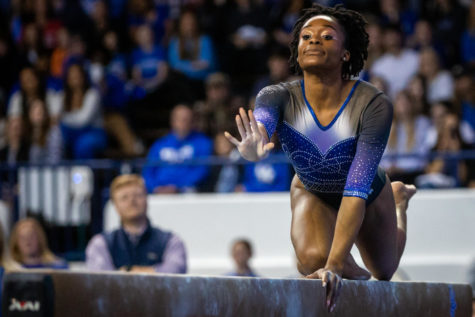 A 9.850 score from both Shealyn Lusik and Patterson ensured that Kentucky would enter its final rotation still ahead of the Tigers.
Kentucky was able to secure its victory on the floor with Hailey Davis tying her season and career best of 9.950 and Worley posting a 9.950 as well.
Worley was named the highest individual scorer for the Wildcats with a total of 39.450.
With the win, Kentucky finished the season undefeated at home.
The Wildcats will face off next against No. 24 Illinois in Champaign, Illinois on Saturday, March 11, at 3 p.m. EST to close out the team's 2023 season.