No. 12 Kentucky gymnastics falls to No. 2 Florida
Kentucky gymnastics (7-3) traveled to Gainesville, Florida, on Friday where it fell to the Gators 198.150 – 197.575.
Coming off a thrilling win last week when Kentucky set a new program record, posting a score of 197.85, the Wildcats looked to upset the No. 2 team in the country on Florida's senior night, but came up short by less than a point.
To begin the night the Wildcats took the bars while the Gators started out on the vault.
Leading the way on the bars for Kentucky was senior Shealyn Luksik, who posted a 9.900.
Bailey Bunn was just .50 short of her career-best last week, scoring a 9.850 against the Gators and bringing Kentucky's total to 49.200.
Meanwhile, on the vault for Florida, sophomore Leanne Wong scored a respectable 9.925 while fellow freshman Sloane Blakely also scored high with a 9.900, putting the Gators overall score at 49.300.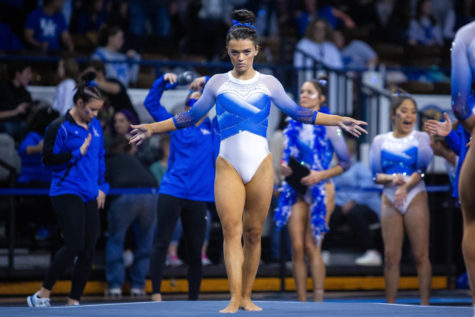 Heading into the second rotation on vault, the Wildcats were down .10.
Three Wildcats scored at least a 9.900 or higher, starting with senior Arianna Patterson, who scored a 9.925. Raena Worley and Isabella Magnelli both scored a 9.950, helping the Wildcats put up their second highest score ever on the vault with a total score of 49.475.
Although Kentucky was performing well, Florida went on to put up record numbers on the uneven bars.
The Gators' Riley McCusker set her career-best score with a 9.950, helping Florida break the program record with a 49.800 on bars.
Now down .425 going into the next rotation, Kentucky took the floor while Florida took on the beam.
No Wildcat scored less than a 9.825 on the floor with Raina Albores scoring a 9.850 in her floor debut.
The Gators' performance on the beam was highlighted by Trinity Thomas, who scored a 9.990.
Going into the last rotation down .375, Kentucky was unable to overcome the deficit on beam, despite best efforts from Worley, who put up a 9.925, and Patterson, who notched a 9.900.
Florida rounded its night out with five different athletes scoring at least a 9.900 on the floor.
Kentucky will look to rebound against Auburn on Friday, March 3, at 7 p.m. EST, for its final home meet of the season and senior night inside Memorial Coliseum.