Kentucky's struggle to regain a ranking may soon come to an end
Kentucky mens basketball is currently on a four-game SEC winning streak but have seemed to barely gain any ground rankings-wise, much to the confusion of many Kentucky fans.
Unfortunately for those fans, there is a clear reason for the lack of a return to the AP Top 25 for the Wildcats: the law of diminishing wins and even more diminishing losses.
Prior to the win at No. 5 Tennessee that kicked off the winning streak, Kentucky's best win of the season up to that point would have been either Michigan, Yale or LSU. Suffice to say, none of those three wins have done for Kentucky what the Cats thought they would.
Looking first at Michigan, since losing to Kentucky in the Basketball Hall of Fame London Showcase game on Dec. 4, the Wolverines have struggled.
Entering that matchup unranked already after a trivial loss to Arizona State in November, Michigan finished out the month of December with a win over Minnesota, a near-loss to Lipscomb, a loss to North Carolina and a stunning loss to Central Michigan on the Wolverines' home court.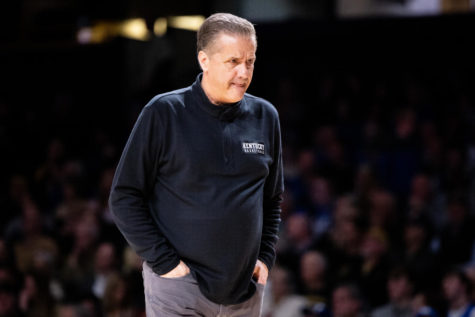 While January saw Michigan return to form a bit, currently standing at 5-3 in the Big Ten, Michigan once again received no votes in the latest AP Poll or Coaches Poll, and it wouldn't be shocking if the Wolverines finished the year without a number by their name. 
In fact, ESPN's Joe Lunardi doesn't even have the Wolverines projected to make the NCAA Tournament at all, nor does he have them just missing out.
So, what about Yale?
When Kentucky defeated the Bulldogs inside Rupp Arena on Dec. 10, Yale was ranked No. 79 in the KenPom rankings, a ranking system dedicated to tracking defensive and offensive efficiency.
Now though, the Bulldogs have dropped down to No. 93, having suffered losses to Dartmouth, Cornell and Columbia since losing to the Cats.
As for Lunardi, he now projects the Bulldogs will also miss the NCAA Tournament, instead favoring Princeton to win the Ivy League over Yale.
Finally, what about LSU?
Having been 12-1 entering the matchup inside Rupp Arena, the Tigers may have been grossly overestimated by some.
Since losing at Kentucky LSU has dropped six straight games, currently standing at 12-8 overall, being defeated 69-56 by Texas A&M and 67-56 by Florida before falling off a cliff in Tuscaloosa, being crushed 100-66 by Alabama.
Since that soul-crushing loss to the Tide, the Tigers have lost by nearly 20 points in three straight games, being downed 67-49 by Auburn, 77-56 by Tennessee and 60-40 against Arkansas.
Another factor worth mentioning for Kentucky's inability to gain ground has to be the infamous loss to South Carolina. 
The loss continues to be worse and worse on Kentucky's resume, with the Gamecocks being beaten 94-53 by Texas A&M, 70-58 by Ole Miss, 81-66 by Auburn and most recently 81-60 against Florida. 
KenPom ranks the Gamecocks as the No. 247 team in college basketball out of a possible 363 teams, with South Carolina being the second lowest rated power-five team period, ahead of only Louisville (No. 301).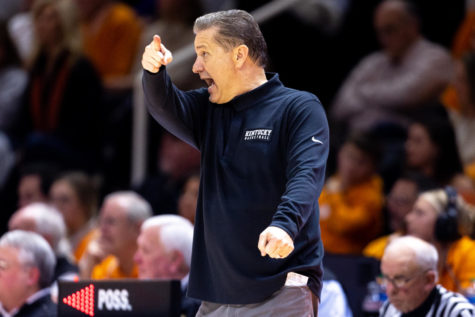 That said, there is a glimmer of hope for Wildcat fans hoping to return to the AP Top 25, and it may even come to fruition in the next edition of the poll.
Kentucky's recent four-game winning streak saw the Wildcats defeat No. 5 Tennessee inside Thomspon-Boling Arena, conquer Texas A&M and Georgia at home and defeat Vanderbilt inside Memorial Gymnasium in Nashville, Tennessee.
Since losing to Kentucky, Tennessee has only gotten better, defeating Mississippi State 70-59, LSU 77-56 and Georgia 70-41.
The loss by Georgia doesn't do the Wildcats any favors, with the Bulldogs losing to Vanderbilt and getting throttled by Tennessee after losing to Kentucky, but Texas A&M, since losing to Kentucky on Jan. 21, picked up a massive 79-63 win at No. 15 Auburn on Wednesday.
On top of that, the Cats will have a massive chance to prove themselves once again on Saturday, when the No. 9 Kansas Jayhawks march into Rupp Arena on the back of a three-game losing streak.
Despite that losing streak Kansas currently ranks No. 10 in KenPom with the strongest strength of schedule in college basketball.
With an opportunity to improve further and recent wins that seem to get better with time, it wouldn't be shocking to see the Wildcats make an appearance in the next AP Poll, having earned three votes in the week 12 poll.
Tipoff against the Jayhawks is scheduled for 8 p.m. EST on Saturday, Jan. 28, and will air live on ESPN.