For years, the University of Kentucky has been loosely defined as a "dry campus," but students pursuing the state's trademark bourbon industry can make a splash at the school's very own distillery.
The Martin-Gatton College of Agriculture, Food and Environment's James B. Beam Institute for Kentucky Spirits, is opening for class usage as soon as the spring 2023 semester, Beam Institute Director Seth DeBolt said.
The institute's mission is to lead the global advancement of the American whiskey industry through workforce education, scientific discovery, environmental sustainability, community and social responsibility, according to its website. 
The Beam Institute began construction in March 2022, DeBolt said. With Joseph & Joseph Architects and Marilla Construction at the helm, its making centers around a new 30-foot column still that will allow students to distill approximately one to two barrels of alcohol a day.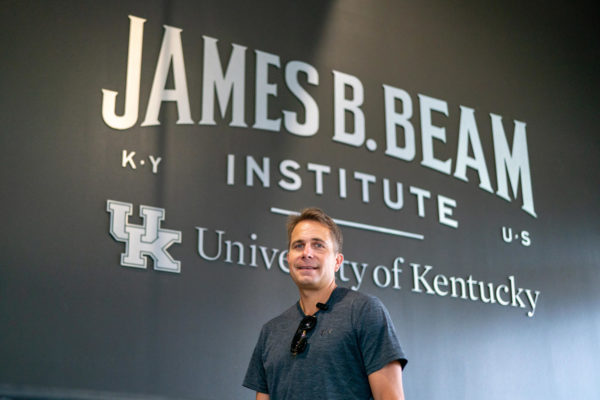 The Institute will also feature "smart classrooms," which will provide students with the opportunity to learn from experts regardless of their physical location.
"These industries are based all over the world and using these smart classrooms, you can do group activities with an expert anywhere in the world at that moment," DeBolt said.
The Beam Institute offers a 12-credit certificate program that any student of any major can take part in, according to the Institute's website. In the spring 2022 semester, Ryan Leocata, a second-year student at UK, took his first class with the institute, Horticulture 335, which he said is the "main class you have to take."
Leocata is a chemistry major, but he said he took the course with a wide variety of students from different majors, highlighting the program's unifying nature.
"I was in that class with everyone from agriculture majors, chemistry majors to chemical engineering majors to marketing majors that want to work on the marketing side of this industry. Or business majors who want to work on sales," Leocata said. "It's such a diverse thing and it allows everyone to get involved in something that is just 'Kentucky.'"
Leocata said he became familiar with the Beam Institute by attending the UK Distilling and Equine Research career fair when he was a first-year student.
"It was something that was really interesting and that's when the Beam Institute got on my radar," Leocata said. "It was all quick after that."
However, classes once looked much different for Leocata than they will in the spring thanks to Debolt, who taught Leocata and other students in a rather unorthodox fashion. 
Before the promise of the Beam Institute's "smart classrooms," DeBolt said he would load up a cart with glassware as well as other equipment in boxes and roll it across campus in an attempt to provide students with the most hands-on learning experience the Institute could at the time.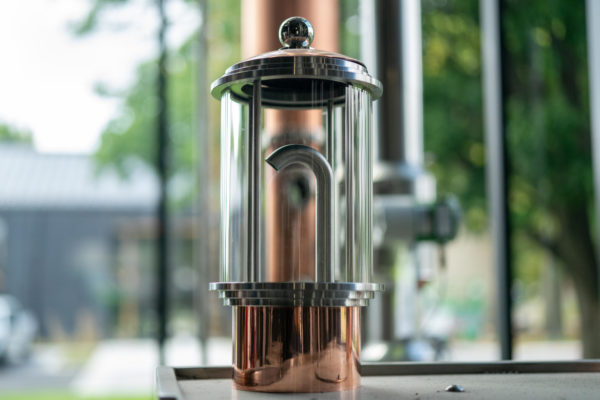 "Classrooms are not really designed to do any functional studies except 'death by powerpoint' and (the new institute) gets away from that," DeBolt said. "When you go into a class and present this stuff by PowerPoint, are you ready for the job when you get there? No."
DeBolt explained how the Institute will further students' understanding of the industry by allowing them to observe, troubleshoot, make mistakes and workshop solutions with the guidance of instructors. 
"That's what I always envisioned for this place: to get away from teaching with theory and get more into practice so we create the world's best students and the world's best workforce," DeBolt said.
Students are going to be able to get hands-on experience in the Institute's distillery using the same equipment that is used in distilling businesses across the country, DeBolt said.
The Beam Institute's distillery is fully functional, DeBolt said. In addition to its 30-foot still, the Institute will also offer a grain-milling lab and a food lab to its students. 
"The food lab will have every flavor (that) you can have from vanilla to chamomile to banana. All different things for students to smell and develop a vocabulary to score a product," DeBolt said. "We can do full sensory in here, we can do wet chemistry in here, and we can do distilling in here and bring that into the classroom."
Not only will the new equipment in the Beam Institute show students what goes into distilling alcohol, but students will be able to see how the process works in depth. 
"Now we're able to use the tools we'll use if we want to go into the industry. It's much more enriching when you're actually hands on with the tools, rather than when you're just in a classroom," Leocata said, "It's something I'm really looking forward to." 
In an article published by UKNOW, UK President Eli Capilouto outlined the Institute's educational potential.
"This new facility will help leverage transdisciplinary work and show students that the distilling industry needs employees from a vast array of disciplines and majors," Capilouto said.
Capilouto's sentiment was shared by Leocata, who sees the institute's prospective benefits for other students.
"The community is making something of its own that's become such a massive industry," Leocata said. "It's such an investment for the university and that's empowering to the students that they are willing to make that big of an investment."