NBA Draft deadline day sees Oscar Tshiebwe and Chris Livingston depart from Kentucky while Antonio Reeves' return remains in doubt
NBA Draft deadline day came and went on Wednesday, with Kentucky basketball stars Chris Livingston and Oscar Tshiebwe opting to remain in the draft pool, ending their college careers, while Antonio Reeves' future remained up in the air.
Tshiebwe, a former consensus National Player of the Year and arguably one of Kentucky's most impactful players ever, made his announcement first around 5 p.m. EST.
Tshiebwe took to social media, posting a graphic that explained that "Big O" had made the decision to remain in the 2023 NBA Draft and forgo his remaining college eligibility.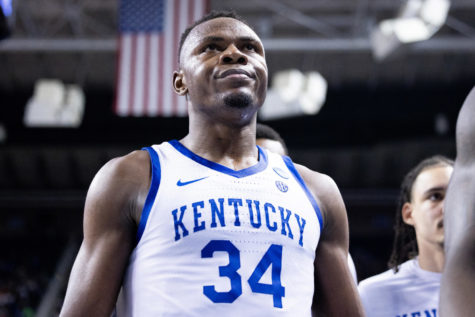 "First I would like to thank God for the many blessings he has shown me. I know I wouldn't be here without him getting me through this journey of life," Tshiebwe posted. "Second, I would like to thank my family and closest friends for everything they have sacrificed in getting to this point in my life. I would like to thank Coach (Calipari) and his staff for their support and belief in me during my life at UK. Lastly, I would like to thank BBN for the love, support, and loyalty you have given me and my teammates over the years. I wouldn't want to play for anyone or anywhere else. I hope as I continue to fight for my dream of playing in the NBA you will continue to support me."
Kentucky head coach John Calipari also took to Twitter to offer support for the big man.
"Oscar achieved things that no other player has in decades, and I wish we could have won more but he gave everything he had to Kentucky," Calipari said. "He also became the first member of his family to receive a college diploma and I know how much that means to him and more importantly, his mother. Oscar had a great opportunity to return and break more records and set the national bar for NIL again, but he is ready to fully chase his dreams and he has our support. I'm excited to watch his journey unfold, but I know Lexington and the BBN will always be home to him."
Tshiebwe was not the only Wildcat to announce his departure from Lexington though, with the freshman Livingston also opting to leave his name in the draft.
Unlike Tshiebwe before him, Livingston did not make his own announcement, but rather it was Shams Charania of The Athletic who broke the news. Charania reported that the news came from Livingston's Klutch Sports Group agent Brandon Cavanaugh.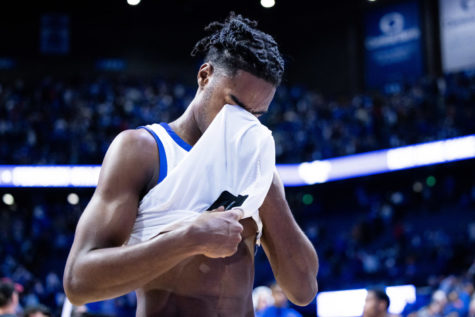 The final player to make a decision on his future, with no doubts surrounding freshman Cason Wallace's draft status, was the former Illinois State transfer Reeves.
Unlike those before him, Reeves removed his name from the NBA Draft, opting to return to college for one final season. This is not the sigh of relief some Kentucky fans had hoped for however, with Reeves deciding to "keep his options open" regarding a landing spot.
Reeves, a super senior, would be able to return to Kentucky for a second and final season if he chooses, but could also just as easily leave Lexington for another college via the transfer portal, with the final decision having yet to be made.
With many fans upset by the news, Calipari took to Twitter to make another post attempting to calm the nerves of anxious or upset Wildcat faithful both at the departures and the lack of significant portal acquisitions.
"We support all of our players as they weigh their options and pursue their dreams and it's my job to make sure these kids are making informed decisions," Calipari wrote. "It may not be what you or I think – but it's informed. That also makes it hard to move until you really know what your roster is going to be. We've prepared for all scenarios and now we can move forward."
Calipari continued with his tweet, calling out false information being floated around regarding major decisions.
"There's so much misinformation out there and most of it we can't address publicly," he said. "Numbers being thrown around that just aren't accurate, who we are in contact with or who we are not in contact with, we don't make it public. We want players who want this culture, who care about winning, understand what it means to play at Kentucky – both how hard and how rewarding it is – and have the ultimate drive to win and succeed on the biggest stage, which helps everyone. We have a talented group right now which isn't finished yet, but when it's done we will have a talented team who will chase the ultimate goal together and make BBN proud."
In the meantime, Kentucky has yet to sign any players from the transfer portal and Reeves' decision remains up in the air. As for Tshiebwe, Wallace and Livingston, the NBA Draft is set to begin on June 22, 2023, and will air live on ESPN.