A look back at Kentucky mens basketball's prior transfers ahead of portal season
With the news that veteran point guard Sahvir Wheeler has entered the transfer portal, it's safe to say that portal season is now in full effect in college basketball.
The Wildcats, no stranger to the portal themselves, fielded a roster in the 2022-23 season that comprised of five transfers including Jacob Toppin, from Rhode Island, CJ Fredrick, from Iowa, Wheeler, from Georgia, Antonio Reeves, from Illinois State and reigning consensus National Player of the Year Oscar Tshiebwe, who came to Kentucky from West Virginia.
While the team itself benefitted from the portal, it also lost several names to the portal, many of which were active on other teams in the 2022-23 season.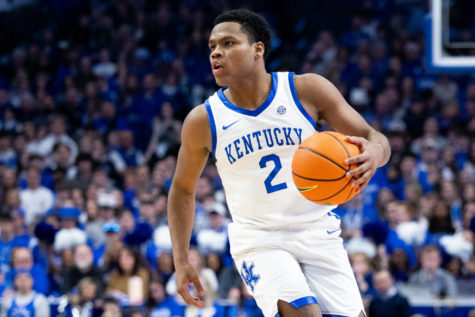 With that in mind, several Wildcat fans with a keen memory may have asked themselves one question: what became of the former Cats around the league?
Going all the way back to the 2018-19 season, few fans may remember redshirt freshman Jemarl Baker, who averaged just 2.3 points per game and 0.5 rebounds per game at Kentucky.
Baker transferred to Arizona and played two seasons in Tucson, averaging 12 points per game as a redshirt junior when he entered the portal once more.
He found his final home within Fresno State, where he competed in the 22-23 season, averaging 12.5 points per game and three rebounds per game.
He helped lead the Bulldogs to a 11-20 record before they were defeated 67-65 in the first round of the Mountain West Tournament by Colorado State.
Moving on to the 2020-21 season, after Kentucky went 9-16 and missed the NCAA Tournament, two players who transferred took part in the 2022-23 season.
First, infamous guard Devin Askew transferred to Texas after leaving Kentucky and, after just one season in Austin, transferred to Cal ahead of the 22-23 season.
At Cal Askew averaged 15.5 points per game and 3.4 rebounds per game on a Golden Bears' team that finished 3-29 before being bested 69-52 in the first round of the Pac-12 Tournament against eventual NIT competitor Washington State.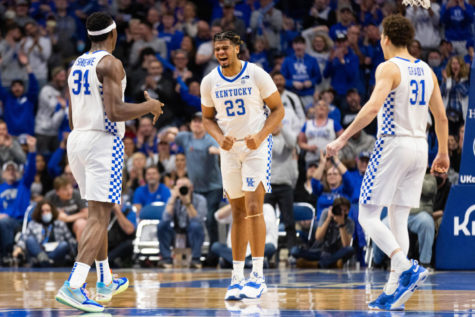 The 15.5 points were a major step up for Askew, who averaged just 6.5 points per game at Kentucky and an even worse 2.1 points per game at Texas.
From the same class as Askew, freshman forward Cam'Ron Fletcher left the Wildcats in favor of Florida State, where he has been since.
Having averaged just 1.7 points and rebounds per game, Fletcher has seen improvement with the Seminoles, averaging 6.8 points last season and moving up to 10.8 points and 7.5 rebounds per game in the 2022-23 season.
Unfortunately for Fletcher, despite his development, the Seminoles finished the season 9-23, having their season ended in the first round of the ACC Tournament in a 61-60 loss to Georgia Tech.
Finally, looking at last season, four players transferred away from head coach John Calipari's squad following the team's disappointing loss to Saint Peter's in the first round of the NCAA Tournament.
Most notably, freshman Bryce Hopkins joined Providence, where he quickly developed into a star many expected him to be at Kentucky.
Hopkins averaged 15.8 points and 8.5 rebounds per game for Providence, starting in 33 games for the Friars, which was a major step up from his 2.1 points and 1.4 rebounds per game without a single start at Kentucky.
Hopkins led the Friars to a 21-12 record and a No. 11 seed in the NCAA Tournament, where it was defeated by Kentucky in the first round. Hopkins recorded seven points and eight rebounds in the loss after being guarded by Toppin.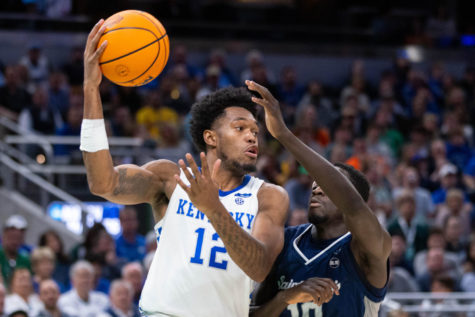 Another big name to leave the Cats was Keion Brooks Jr., who joined Washington for the 22-23 season. As a Husky Brooks Jr. averaged 17.7 points and 6.7 rebounds per game after three years at Kentucky, where his peak was 10.8 points per game.
Brooks led Washington to a 16-16 record before being defeated by Colorado in the first round of the Pac-12 Tournament.
Local talent Dontaie Allen also entered the portal after last season, joining Western Kentucky where he averaged 9.3 points per game, a significant step up from the 2.2 points per game he averaged as a sophomore at UK.
WKU finished the 2022-23 season with a 17-16 record before firing head coach Rick Stansbury.
The final Wildcat to enter the portal was Zan Payne, who transferred to Louisville to join his father and former Kentucky assistant coach Kenny Payne, who was named the head coach of the Cardinals.
Payne averaged 0.2 points and 0.6 rebounds per game on a Cardinals team that finished 4-28.
Whether or not Wheeler will see an improvement wherever he ends up is yet to be determined, but one thing is for certain: former Wildcats seem to be a wildcard around the world of college basketball. For better or for worse.