Kentucky mens basketball forward Jacob Toppin declares for NBA Draft
After three seasons in Lexington, Kentucky mens basketball forward Jacob Toppin has declared for the 2023 NBA Draft.
"Before we even start, I want to thank God, because without Him none of this would be possible," Toppin said in his announcement on social media. "I want to thank my mom, because without her sacrifice my brother and I would not be the men we are today. I want to thank all my family and friends for supporting me along this journey."
Toppin began his basketball career at Rhode Island before transferring to Kentucky in 2020.
His journey as a Wildcat was one that was slow and steady, with the 2022-23 season proving to be his best, reflecting his growth both on and off the court.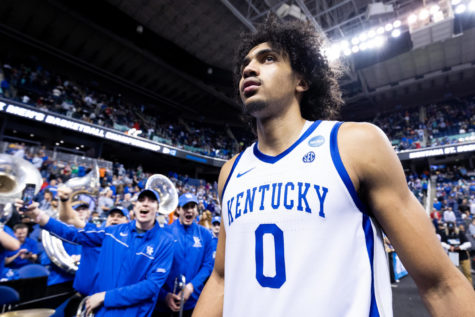 Before Toppin's destructive games against Louisville and LSU, when the 6-foot-9-inch athlete put out back-to-back games of 20-plus points, Toppin said he had hit "rock bottom" after a series of lackluster performances.
After opening up about his struggles with mental health, Toppin went on to finish out the rest of the season with a bang – averaging 12.4 points, 6.8 rebounds and 2.2 assists.
He completed 12 games with 15-plus points and 23 games with five-plus rebounds. 
"To Big Blue Nation, ever since I was a kid, it's always been a dream of mine to play at the highest level of basketball," Toppin said. "I came to Kentucky to chase that dream and in my time here, I've grown tremendously not only as a player but as a man."
Although Kansas State was able to shut down Toppin during the second round of the NCAA Tournament, limiting the Wildcat to just two points and four rebounds, Toppin had been a leading force in Kentucky's successes at the end of the season, including locking down Providence star and former Wildcat Bryce Hopkins in UK's first round matchup against Providence.
While Toppin does have an additional year of college eligibility remaining, he instead opted to look toward the NBA, the league in which his brother, Obi Toppin of the New York Knicks, also plays in after being drafted out of Dayton in 2020.
Toppin marked the third of six UK seniors to officially announce their plans for the 2023-24 season, following Sahvir Wheeler, who announced he would be entering the transfer portal, and Brennan Canada, who announced he'd be returning for another year.
With three announcements now made Kentucky fans will turn their sights toward the final three seniors, Oscar Tshiebwe, CJ Fredrick and Antonio Reeves, for a decision.