Kentucky mens basketball center Ugonna Onyenso announces return to team after entering transfer portal
UPDATE:
A highly touted recruit, Ugonna Onyenso declared that he will in fact return to Lexington for his sophomore year after entering the transfer portal. 
On April 12, 2023, Onyenso took his name out of the transfer portal, deciding to wear the blue and white for the Wildcats for another season. 
"I'm back and looking forward to chasing my dream of winning a national championship with my brothers," Onyenso said in an Instagram post.
The news came shortly after fellow Wildcat Chris Livingston announced he would be declaring for the NBA Draft.
———————————————————————————————————–
Kentucky mens basketball center Ugonna Onyenso entered the transfer portal on Wednesday, ending his one-year tenure at UK.
The seven-footer averaged 2.5 points, 2.5 rebounds and 1.0 blocks per game, though he played in just 16 games and averaged more than three minutes in just seven of those.
This announcement comes after the Nigeria native had previously announced he would be returning to Kentucky for his sophomore season.
Head coach John Calipari even mentioned the possibility of starting both Onyenso and incoming freshman Aaron Bradshaw next season, despite them both being seven feet tall.
"We may be able to play two seven-footers at one time because they're both skilled," Calipari said in a press conference. "They both can shoot. They can shoot 15-footers, one can shoot threes, so you have two seven-footers that, if you choose, you can play them together."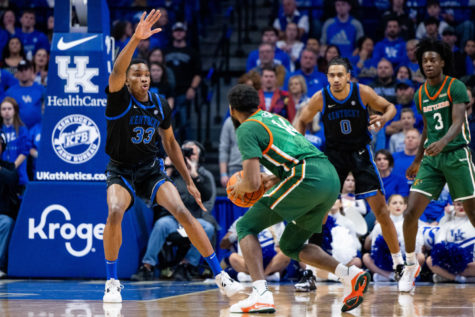 It seems, however, that fans will not be seeing two seven-footers on the starting five next season, as Onyenso's announcement to return to the Wildcats for next season changed in less than a month.
Onyenso was originally the 21st overall recruit in the Class of 2023 before reclassifying to the 2022 class and joining fellow incoming freshmen Cason Wallace, Chris Livingston and Adou Thiero.
The former five-star wowed recruiters with his impressive defensive abilities, including his shot blocking with his 7'5" wingspan.
Yet, the freshman would have a rough time finding a place on the floor for the Wildcats when he arrived, having to be the backup center to the reigning National Player of the Year Oscar Tshiebwe.
Onyenso still showcased his skills occasionally, despite getting limited playing time, such as a performance against North Florida in which he recorded nine points, ten rebounds and three blocks in just 18 minutes.
After Kentucky's season-ending loss to Kansas State in the Round of 32, Calipari went on his radio show the following Monday and spoke of Onyenso.
"He'll be the best big guy, if not one of the best big guys in the country next year," Calipari said. "Think about what he did early."
Onyenso is the second member of this year's Kentucky mens basketball squad to enter the transfer portal, joining point guard Sahvir Wheeler.
He is also the fourth member of the group to announce his departure from the team, with stars Jacob Toppin and Cason Wallace announcing their declaration for the NBA Draft.