Kentucky mens basketball guard Cason Wallace enters 2023 NBA Draft
Kentucky mens basketball's Cason Wallace became the most recent Wildcat to announce his declaration for the 2023 NBA Draft.
Completing just one year in Lexington, Wallace is one of Calipari's one-and-done players who reached remarkable achievements in his freshman year on the team.
"I'm all in," Wallace said in his announcement through ESPN. "This season was fun. It had its ups and downs, but the best part was having my brothers with me. We stuck through it and saw it through."
Coming to Kentucky as a five-star prospect in the Class of 2022, Wallace was destined to do great things as a Wildcat.
The 6-foot-4 guard finished the season averaging 11.7 points, 3.7 rebounds, 4.3 assists and two steals. In Kentucky's season opener in November against Howard Wallace became the first ever Wildcat to put up a stat line of 15 points, nine assists and eight rebounds in a college debut.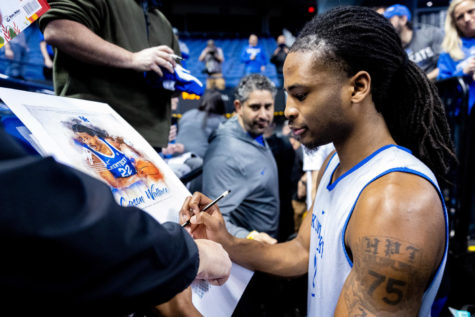 Even in light of Kentucky's lower-performing games, Wallace proved a consistent player, shooting 44.6% from the field, 34.6% beyond the arc and 75.7% at the free throw line.
As the season progressed, the 19-year-old demonstrated the talents he possessed, taking on more control of the ball and stepping up to become Kentucky's main point guard toward for the bulk of SEC play.
"Cason is a play-making guard who is going to have the opportunity to make an immediate impact at the next level," UK head coach John Calipari said. "He has good size and a tremendous feel for the game, and no situation is too big for him. He's ready to take this step and I'm thrilled for he and his family."
While the announcement of his departure from Lexington is a bittersweet one for Big Blue Nation, his decision is far from surprising as Wallace is currently projected at No. 10 according to The Athletic and No. 13 per Bleacher Report.
"I want to give a big thank you to my family, teammates, coaches and the fans that packed Rupp Arena every week for your endless support throughout my journey," Wallace said. "I'm grateful beyond words for the memories we have created together and I'm honored to be a part of a great community like UK."
Wallace is the second Wildcat to declare for the Draft after Jacob Toppin, while Sahvir Wheeler announced his decision to enter the transfer portal.