Seniors seek to impress at UK Pro Day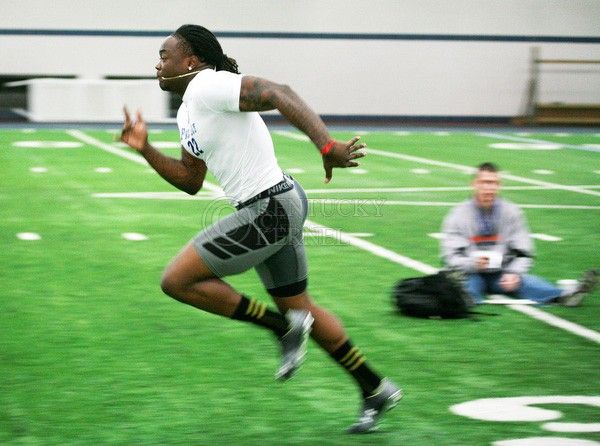 By Ethan Levine
Scouts from a number of NFL teams were present in Nutter Field House Wednesday morning for the UK football program's pro day. Seniors from last year's UK football team worked out for and spoke with scouts, trying to make it onto the radar of an NFL franchise.
Among those who worked out on Wednesday were linebackers Danny Trevathan and Ronnie Sneed, wide receiver Matt Roark, offensive linemen Chandler Burden and Billy Joe Murphy, defensive backs Randall Burden and Anthony Mosley, and punter Ryan Tydlacka. Safety Winston Guy did not work out for scouts due to a sore groin he says he suffered a week before the NFL combine in February. Trevathan also limited himself in workouts due to a sore hamstring.
In the drills he did participate in, Trevathan showed a lot of the same qualities that made him the SEC's leading tackler in 2010 and 2011. He showed good footwork, impressive lateral quickness and good hands in drills, backing up his reputation as a quick linebacker with a nose for the ball carrier that can also hold his own in coverage. Trevathan's biggest knock, his lack of size compared to most elite NFL linebackers, still remains a concern, but Trevathan did not do anything Wednesday that would move him significantly down a draft board.
Sneed worked out alongside Trevathan for much of the morning, but showed a very different skill set. Sneed is a much larger and physical linebacker who showed good form in the 40 yard dash and the vertical jump (results of player workouts were not released to the media). In footwork and coverage drills, Sneed seemed a bit behind Trevathan, and Sneed's ability to cover ground and keep up with opposing tight ends and running backs in coverage is still in question.
"Every little thing really counts because they're always watching," Sneed said. "You want to come out and produce and just do the best you can."
Burden and Mosley both showed excellent speed from the defensive back position, but neither has any greater than an outside chance at being drafted. The same can be said for wide receiver Matt Roark, who ran well but will still be better remembered for quarterbacking the Cats' to a victory over Tennessee than he will for anything he ever did as a wide receiver. All three may find themselves invited to training camps as late-round selections or undrafted free agents, but beyond that the future remains uncertain.
"You just try to do your best for the day," Mosley said. "I think I did pretty good. As a group, it seemed like we put up some pretty good numbers so I'm excited about it."
When asked who he thought might surprise the scouts with his performance, UK head football coach Joker Phillips just shrugged and said "it doesn't really matter what I think, it's really up to those (scouts), those 32 teams."
And those 32 teams remain enamored with Trevathan and Guy, the Cats' two most coveted prospects throughout the draft process.
Both Trevathan and Guy were among the 250 prospects from across the country invited to the NFL's annual scouting combine in February. At the combine, Trevathan measured in at 6'0, 237 lbs. and received a grade of 68.7, according to NFL.com. Guy was recorded at 6'1", 218 lbs at the combine and received a score of 50.0.