A look back with Jodie Meeks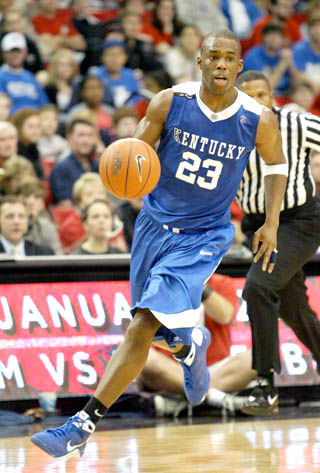 By: Larkin Walker
Philadelphia 76ers guard Jodie Meeks, who played at UK from 2006 to 2009, explains how he made a less than ideal situation at UK into a learning one, and how it prepared him for the NBA.
Former UK men's basketball head coach Billy Gillispie's tough minded and unconventional coaching style helped prepare Meeks for the NBA both mentally and physically.
"Billy (Gillispie) prepared me for the NBA by helping me prove to myself that no matter what your circumstances are, you can make the most of it and be strong minded," Meeks said.
Mary Jo Perino, sports anchor for WLEX-TV, said, "as with the rest of the team he played on, there was a frustration you could see develop as he spent more time with Billy Gillispie."
The frustration with Gillispie is what led to Meeks' biggest disappointment at UK – not making it to the NCAA tournament his junior year.
"It was very frustrating because I felt like we had a good team that year," Meeks said.
Despite this disappointment, Meeks feels like he accomplished everything on and off the court he could as an individual during his three seasons at UK and needed to do what was best for himself and his family by going to the NBA.
After Meeks' junior year at UK, John Calipari replaced Gillispie as head coach.
Meeks wrestled with the decision to stay his last year under Calipari's unfamiliar coaching style or leave and play in the NBA.
"I see how Coach Cal handles his players and the talent level that he brings year in and year out, so I have no doubt that I could have benefited from his system," Meeks said, "but I would definitely leave if I had to make the decision all over again," he said.
"Playing in front of 24,000 people every night is intense," said Meeks about UK fans. "By the time I got to the NBA, I was use to it."
Meeks said the loyalty and dedication of the fans is what kept him motivated during difficult struggles at UK and prepared him for the pressure of the NBA.
"Jodie could create his own shot from just about anywhere on the court and he wasn't afraid to take a shot with a hand in front of his face," Perino said.
Meeks shooting ability is what most UK fans remember him for after proving it during a record setting 54 point game against SEC rival Tennessee in 2009. Meeks said that game was his biggest accomplishment while at UK.
"It was a night that I won't ever forget and was glad to do it against such a big time rival in Tennessee," he said.
Meeks record still stands at UK and is what he is most recognized for by fans. He hopes that his effort in every game is what fans remember him for.
"I have always been a player to not fear failure," Meeks said. "When I have an opportunity to help my team, I will no matter what the circumstances are."
Meeks added, "As a person, I want to be remembered as someone who is genuine and not fake, someone who is loyal and will always do the right thing. As a player, I want people to remember me as a player that never made excuses about anything."