Protestors of the Israeli-Palestinian conflict gathered outside the Kentucky State Capitol on Nov. 7, calling for a ceasefire in Gaza. 
The protest included group prayers and chants of "free, free Palestine" and "Gaza must have food and water, Israel stop the slaughter." 
Protest organizer with Lex4Palestine Jenna Shalash said the protest being on Election Day was no accident. 
"The reason we brought it here is so that our representatives know that they are not representing the people. They say that they unequivocally support one side and instead, they're not taking what their constituents have to say," Shalash said. "We thought the significance of being at the Capitol kind of goes to show from 3-6 (p.m.) we're here we're not voting for you."
Shalash said many of the organizers and attendees of the protest chose to write in "Palestine" or "free Palestine" on their ballots, or not vote at all.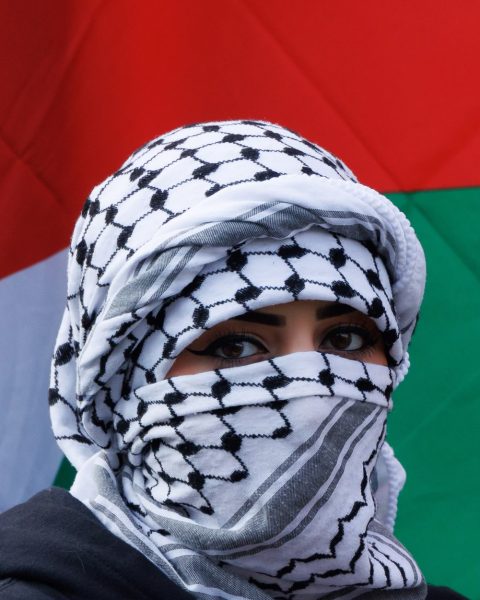 "There have been moments over the last few weeks where we have seen (Andy Beshear) on his campaign trail and attempted to talk to him and understand his perspective but he hasn't even given us the time of day to answer our questions or to support his Palestinian people," Shalash said. "We refuse to vote for people who do not support their constituents."
Numerous guest speakers, including Reena Paracha of the coalition Louisville for Palestine, attended the protest. 
Paracha's speech focused on calling elected officials to action for a ceasefire in Gaza, arguing that "listening" and "awareness" from them regarding the issue is not enough to gain her vote. 
"When we scream, 'No ceasefire no vote, in November we remember,' we mean it," Paracha said. "The tide has changed. We will be heard. We are not here to raise awareness of what is happening in Palestine. One has to be blind or morally and ethically bankrupt to be oblivious to what is transpiring. We are here to send a message: Palestine is a red line for all of us."
Social media influencer Reema Jallaq, known as the "Caucasian Arab" on TikTok and Instagram according to Shalash, traveled from Ohio to speak at the event.
Jallaq, who is half-white, half-Palestinian, said she uses her platform to promote activism through comedy, regularly posting about the Israeli-Palestinian conflict.
"Why must we as Palestinians continue to audition for the world's sympathy?" Jallaq said. "Being Palestinian is and has been the greatest honor of my life. From the river to the sea, Palestine will be free."
When the speakers concluded, attendees were encouraged to call Kentucky Rep. Andy Barr and read scripts, which organizers handed out. 
The scripts read:
"Hello, I am calling to leave a message for my representative asking them to demand we stop funding the genocide in Gaza. Nearly 7,000 Palestinians have been killed since October 7th, with almost half of them being children. We must act and demand a complete ceasefire in Gaza so that innocent people do not continue to be massacred."
Keiara Hagan, a Transylvania University senior who said she attended the protest because of her passion for human rights, appreciated this activity.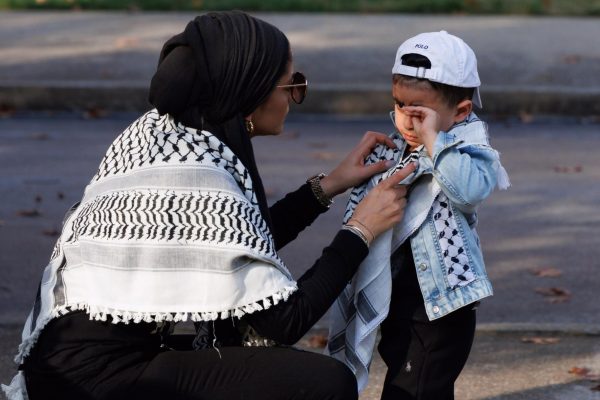 "I think that we all got sent to voicemail, but basically we did read the script and it is how we feel about needing to call for a ceasefire," Hagan said. "I think our politicians are quick to say that they speak for the whole state of Kentucky, but it's really clear that we're not for what they're standing for right now. So I think that it's really important to use your voice and to be able to contact them and tell them that."
Attendees were then encouraged to participate in a "die-out." 
Participants were given names and ages of Palestinians killed in the conflict, which they rested on their chests as they laid on the ground for nearly 20 minutes. 
By "playing dead," they aimed to show what it is like in Palestine and memorialize those who lost their lives, Shalash said.
This part of the protest was personal for Shalash, who said she has family in the West Bank, a large part of why she chooses to dedicate much of her life to activism. 
"I am from Palestine. I've actually had two of my own relatives be killed by the Israeli offensive forces in the West Bank," Shalash said. "They say that they're attacking Gaza to eliminate a terrorist organization. There isn't a terrorist organization in West Bank, they're simply using their power to eliminate Palestinians in the West Bank and in Gaza."
Protestors participate in a "die-out" for Palestinian victims of the Israeli-Palestinian conflict on the lawn between the Kentucky State Capitol and the Kentucky Senate Republican building on Nov. 7, 2023, in Frankfort, KY. Video by Laurel Swanz | Staff