The University of Kentucky women's soccer team defeated No. 9 Alabama 2-1 at The Bell on Friday.
The win was pivotal for Kentucky as the successful effort solidified the Wildcats' rank as the only undefeated team in the SEC this season as well as marked head coach Troy Fabiano's first career SEC win after just two years with the team.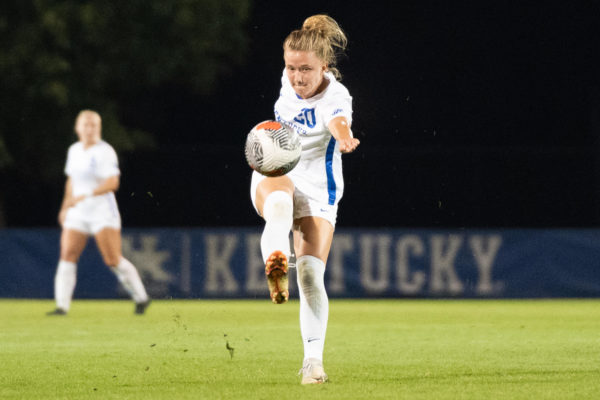 The match also marked another success for the team with it tallying all three points in a conference contest for the first time since 2021. Furthermore, the Wildcats earned their first ranked win since 2016.
After a scoreless first half, fifth-year Jordyn Rhodes scored both goals of the game in the second half, tying and then beating the record for the most goals ever scored in Kentucky women's soccer history.
"Honestly, I'm just so proud," Rhodes said. "I couldn't have done it without all my teammates. It just means so much. We've been so close my whole career and I'm glad to be a part of it trending upward."
Along with the first ranked win since 2016, the win also marked the first top-10 win in a decade for the Cats.
Both teams' defense showed off their skills in a back-and-forth face-off with no shots on goal by either team in the first half.
Freshman midfielder Tanner Strickland recorded an impressive showing, having multiple goal attempts throughout the game while senior midfielder Anna Young also took a long-range shot on goal that barely missed the top of the crossbar.
Alabama, who participated in the NCAA College Cup last year, responded to Rhodes' first goal immediately, picking up the pace and taking aggressive possession of the ball with Nadia Ramadan taking it all the way to set the score even.
Then, in the 75th minute of the game, Kentucky was able to get ahead once again as Grace Phillpotts assisted Rhodes in scoring the second goal of the game and breaking the record.
Marz Josephson, the Kentucky goalkeeper, saved multiple impressive shots on goal in the winning effort.
With the win the Wildcats will travel to Knoxville to face rivals Tennessee on Thursday, Oct. 5. Kickoff is scheduled for 7 p.m. ET at Regal Soccer Stadium.