The Kentucky men's soccer team (3-6-1) reached a 1-1 draw with the Indiana Hoosiers (3-3-5) at the Wendell & Vickie Bell Soccer Complex on Tuesday.
Despite the Wildcats' latest drought of scoring and winning matches, not doing either since Sept. 8th, they brought an energy to the field that seemed to fire up the crowd.
It wasn't long before Indiana silenced the UK fans when, in the 11th minute, Karsen Henderlong put a shot up to the top left corner of the goal after splitting a UK defender to put the Hoosiers up 1-0.
Soon after, Kentucky midfielder Finn Ballard-McBride attempted a penalty kick but Indiana goalkeeper JT Harms deflected the kick in the 23rd minute to maintain the Hoosier lead over the Wildcats.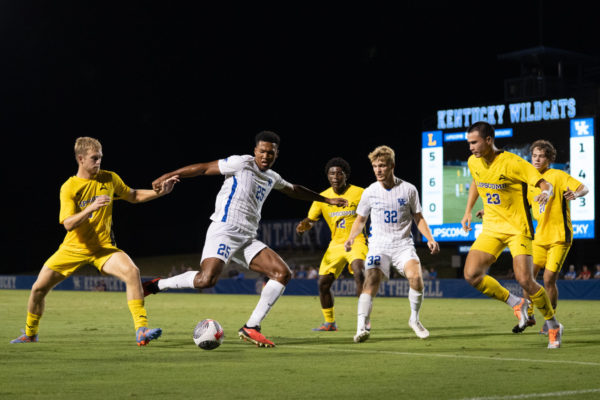 Kentucky remained eager to tie the match and did so in the 30th minute when defender Eoin Martin was set up by defender Joel Gonzalez's throw-in, allowing him to get an easy look at the goal to tie the match 1-1.
After a couple of chippy plays by both teams at the start of the second half, Kentucky's Casper Mols made a big save to keep the match tied in the 49th minute.
Tensions began to rise as several yellow cards were shown and players became visibly annoyed at their opponents. The many no-calls, fan chants of, "Refs, you suck!" and a face-to-face interaction between Kentucky men's soccer coach Johan Cedergren and a referee were the story of the second half.
The match was tightly defended going into the 71st minute when Mols took a nasty fall, giving Indiana's Samuel Sarver an open net, but the Hoosier failed to capitalize on the opportunity, hitting the post instead.
Kentucky's Mathias Yohannes received his second yellow card of the match before the final five minutes, resulting in a red card and Yohannes' removal from the match.
While it didn't make a difference against the Hoosiers, with the competition ending in the 1-1 draw, Yohannes will be suspended from Kentucky's next matchup.
The Cats recorded 10 total shots and four saves while Indiana recorded 14 shots and four saves.
While only able to get a draw, Coach Cedergren said the game left the team with a positive outlook.
"Having done this for how long I have, I know what we're doing works," Cedergren said. "It's just been some unbelievable bad luck and results, but I feel like today was a step in the right direction. You can tell we battled despite all that happened."
With the draw, the Cats next travel to Conway, South Carolina, on Saturday, Oct. 7th, to take on Coastal Carolina at 7 p.m. ET.