Kentucky women's soccer's Jordyn Rhodes made history, breaking the all-time women's goal-scoring record for UK on Friday against No. 9 Alabama, scoring two goals to bring her career total to 45.
The success of the veteran is made even more notable when taking into account that Rhodes' road to the University of Kentucky was anything but smooth.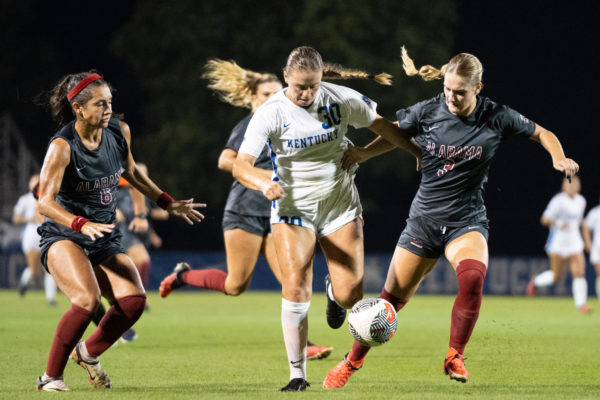 She initially committed to Indiana's women's soccer program back in 2016 during her sophomore year of high school but after a head coaching change by the Hoosiers the star forward found herself scrambling.
Weeks before her senior graduation, having been out of the recruiting process for 30 months, Rhodes made a last-minute visit to UK and the rest was history, now literally.
To start the 2023 season the 5-foot-8 forward from South Lebanon, Ohio, earned an SEC Offensive Player of the Week award and earned her longest scoring streak in her career, scoring in the first five games of the season and helping the team to a 5-0-1 record.
The success of the squad continued with Rhodes as a captain when it defeated Iowa State on the road to complete the first undefeated non conference slate for the program since 2007.
Rhodes also gained a new career high with five game-winning goals already this season. Her impressive total of nine goals thus far in the season also ties her with the SEC's leading scorer.
Rhodes' impressive start saw her trailing previous all-time leader Kim LaBelle by only two goals, entering the season with 36 goals compared to LaBelle's 44. LaBelle was a part of the Kentucky program from 1994-97.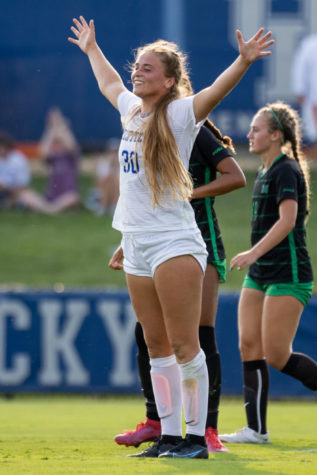 In each of her previous four seasons, Rhodes had scored at least six goals, which includes consecutive 11-goal campaigns during the 2020 and 2021 seasons.
In her fifth and final year as a Wildcat, Rhodes has established herself as the most prolific goal scorer in UK's women's soccer history, but it's not the only accomplishment that has set her apart from the rest.
Rhodes has scored two hat tricks in her career, one against Florida in the SEC Tournament in 2020 and one against Marshall in 2021. Cheryl Shimovetz in 1992 was the only other UK women's soccer player to score multiple hat tricks during her career.
As Rhodes finishes off her career at UK and seeks to continue extending the program record, it's undeniable that she will go down as one of the best to ever don the blue and white. What she ultimately extends the record to has yet to be determined, but Kentucky women's soccer will return to action on Thursday, Oct. 5, against Tennessee in Knoxville.
Rhodes will look to continue Kentucky's stellar start and keep the team as the only undefeated SEC program remaining. Kickoff against the Volunteers is scheduled for 7 p.m. ET and will air on the SEC Network+.