Kentucky football received the No. 20 rank in the week five AP top 25 poll on Sunday, marking the first time the Wildcats have been ranked in the 2023-24 season.
The Wildcats found themselves inside the top 25 after defeating the previously No. 22 Florida Gators 33-14 at Kroger Field. The win was the Cats' third straight over the Gators.
The Gators fell outside of the top 25 after the loss, leaving Kentucky as one of seven SEC teams remaining in the poll.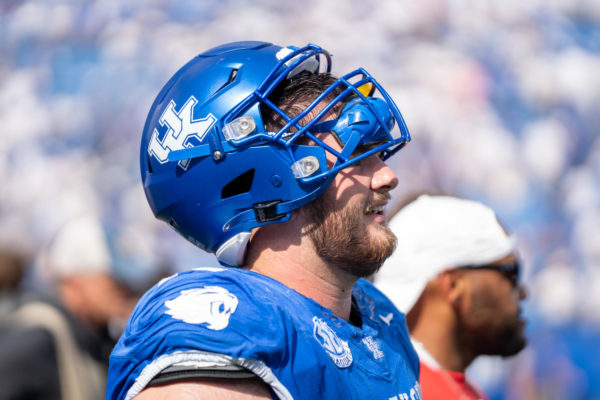 Future SEC teams Texas and Oklahoma were both ranked inside the top 15 with the Longhorns at No. 3 and Sooners at No. 12. Both teams are inevitable to be on the Wildcats' schedule in years to come.
After cruising through the first four games unscathed, Kentucky dominated Florida in the first half, opposing the year before when the Wildcats won via a second-half comeback.
Kentucky will have ample opportunities to rise in the AP Poll with five more ranked match ups ahead of it.
The Wildcats will play three straight ranked opponents in the coming weeks, starting with a colossal showdown with the back-to-back defending national champions in the Georgia Bulldogs on Saturday.
The Cats have yet to beat the Bulldogs in 13 straight meetings, with Kentucky head coach Mark Stoops looking for his first ever victory over Georgia.
Following the trip to Sanford Stadium, Kentucky will play No. 21 Missouri, which is currently slated to take on No. 23 LSU on Saturday, standing to either see a solid rise in rank or potentially fall unranked depending on the outcome.
Kentucky will then play No. 22 Tennessee at Kroger Field in week eight. Then, in week 11, the Cats will take on No.11 Alabama where they'll seek their third ever win against the Crimson Tide.
Tennessee and Alabama will face off in week seven in a game that is likely to affect their rankings before Kentucky has the chance to play either.
The last top 25 opponent on the schedule is in-state rival No. 25 Louisville in the final week of the season, where Kentucky looks to make it a fifth straight win over the Cardinals.
Assuming the Kentucky defense can continue its strong play and Ray Davis can continue his domination of the rushing game, there is a good chance the Wildcats remain in the top 25 for the rest of the season when looking at the ranked opportunities available.
The first test of ranked opponents comes one Saturday when Kentucky travels to Athens, Georgia, as underdogs to take on the No. 1 Bulldogs in a massive SEC matchup. The game is slated to begin at 7 p.m. ET.