The "Across the (By)Line" series will give Kentucky basketball fans an in-depth look at their opponent for this week — from the mind of the opposing school's sports editor.
This week: The Alligator, Jackson Reyes, Florida
How do you think Kentucky's win in Gainesville last year will affect this year?
"It's definitely been something that's been asked of the players, like Graham Mertz, Cam Jackson and head coach Billy Napier, they've talked about how it's been addressed.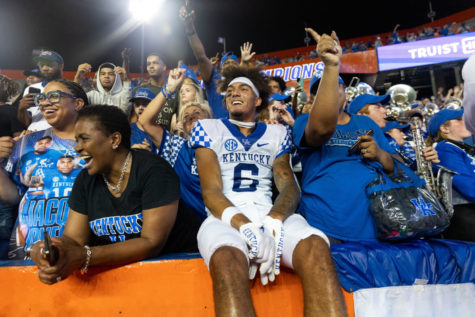 They opened the season with that loss to Utah so it's even more of a, 'You can't slip up again, you can't afford to lose another game.'
That's just added even more pressure with the fact that you have a losing streak to Kentucky and it's super rare to lose consecutive games to the Wildcats. They're a talented team but for Florida they had 31 consecutive wins so they want to go into Lexington and they want to end this losing streak.
It'll be super important for them to get that chip off their shoulder and continue this momentum with a three-game winning streak on their side."
Who do you see being the better of the two new quarterbacks: Devin Leary or Graham Mertz?
"That one is tough. If you had asked me before this season I think I would have said Devin Leary pretty easily just looking at his numbers at NC State, but as the season has gone on I don't think (he) has been bad by any means, his numbers have been a little polarizing and his play has not always been consistent but I still think he's a very talented quarterback who's put in good performances for the Wildcats.
But I look at Graham Mertz and he's just been so consistent throughout the season, he hasn't wowed a lot of people but I think he's doing exactly what Napier wants to do in this offense.
He's got a 78% completion percentage which I believe is first in the SEC, top five in the NCAA, and you may look at that and see his depth of target isn't the best ever, he's done a lot of screen passes and short passes to the sideline but that's what Napier wants from him, that's the offensive playbook. That's the scheme he runs and he's executing that to perfection.
You'd like to maybe see a little bit better conversion once you get down to the red zone but I think that's something that will just have to come with time and that's more so the play calling than something I put on Mertz.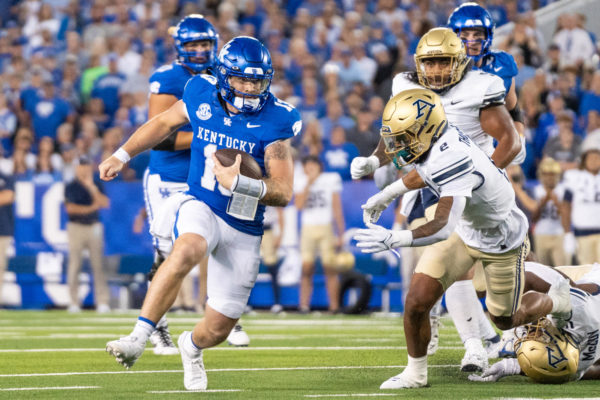 He's only thrown one interception this year and even then I did not think that interception was necessarily his fault. He's done a great job protecting the ball and he's been extremely accurate so I think he's been huge for this Florida offense this year."
How will Florida's defense cause problems for Kentucky?
"This Florida defense has been really good, they're fifth nationally in terms of team defense so they've been really talented.
I think the number one thing is their ability to stop the run game. They did that against Utah, obviously gave up a couple big plays, but other than that they're really solid. Obviously they were great defensively against the run against McNeese and Charlotte and you look at Tennessee, they had a really talented running back room, a three-headed monster, and Florida's defense really shut them down. I want to say under 100 rushing yards.
Obviously Ray Davis and the Kentucky running back room is also very talented and going on the road is going to be difficult but I think these impact defensive lineman and edge rushers are going to do a really good job of trying to plug up these holes and turn Kentucky into a passing team.
I think Kentucky has talented pass catchers, I think Devin Leary's good, but if they become one dimensional and they're forced to throw the ball then I think they'll run into issues even with a young Florida secondary.
Looking back at Tennessee, a concern I had was how well the young secondary would hold up against their veteran receivers. They only gave up 16 points. If you can replicate that kind of performance against another talented team like Kentucky then I think that's a recipe for success."
What do you think the final result will be when these teams face off?
"I remember before the season I said Florida would end the two-game skid and win this game. Obviously it's going to be very tough, I think it'll be a very close game, but I'm still sticking to that.
I kind of anticipated Florida would either beat Kentucky or Tennessee and they've already beaten Tennessee but I look at how their defense has played and it's only gotten better as the season's gone on.
I think the offense under Graham Mertz and guys like Trevor Etienne and Montrell Johnson (Jr.) are going to do just enough to get the momentum going.
I pick Florida to win the game in Lexington 24-17 to end the two-game losing streak and get back on track."