The Kentucky Wildcats defeated the No. 22 ranked Florida Gators for the third time in a row on Saturday to improve to 5-0 on the season.
A packed Kroger Field was anticipating a close matchup as that's the product the rivalry has produced in previous years, but Kentucky had no plans of keeping it close as it won by a large margin of 33-14.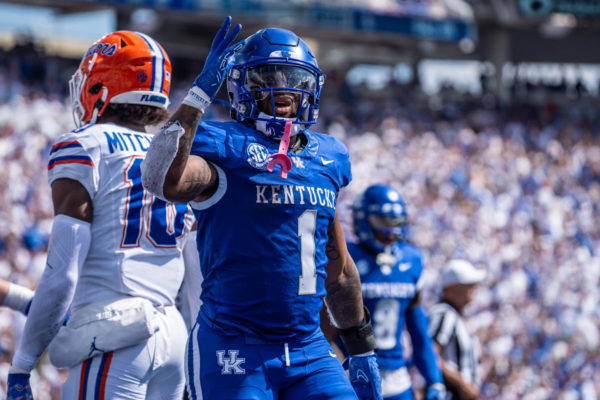 Senior running back Ray Davis had himself a career game on the Gator defense, running for 280 yards while scoring three rushing touchdowns and one receiving touchdown.
It's also worth noting that, by the nine minute mark in the second quarter, Davis already had 206 rushing yards along with three total touchdowns.
Kentucky quarterback Devin Leary finished the game with 69 total passing yards, but it seemed as if the Wildcats had the "if it's not broke don't fix it" mentality as the run game was suited to be far more efficient.
"I didn't really do much today, you got to give credit to the O-line, the tight ends and the receiving core," Davis said.
Despite boasting a 4-0 record before defeating the Gators, the Kentucky offensive line had been receiving plenty of criticism about its way of blocking for Leary and ability to open up running holes for Davis.
"Our O-line has been receiving a lot of criticism but they showed up and they stepped up and they're making strides," Davis said.
The game also cemented Davis in the history books as he became the ninth player in Kentucky football history to run for 200 yards in a game.
Davis' rushing numbers were also the third-most rushing yards in a game in program history. In fact, if he had gained 19 more yards he would have broken the school record.
Davis and the offensive line will hope to clone Saturday's performance and do it again next week when the Wildcats travel down to Athens, Georgia, to take on the defending national champions in the No. 1 ranked Georgia Bulldogs on Oct. 7.