Kentucky football (4-0, 1-0 SEC) is preparing to take on the No. 22 Florida Gators (3-1, 1-0 SEC) at home for its first ranked matchup of the season.
The Wildcats have won their last two matches against the Gators, including a 26-16 victory in 2022 that marked the first time the Cats defeated Florida in back-to-back seasons in over four decades.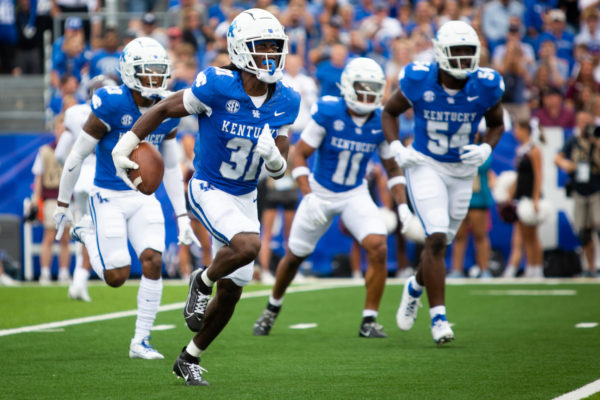 The previous game saw Kentucky besting Vanderbilt 45-28 on the road in a game that was largely fueled by the strong defensive performance of defensive back Maxwell Hairston.
"This year, I feel way more confident," Hairston said following the game against Vanderbilt. "I feel like I've been putting the work in and taking what I learned from the guys that came before me and just applying it to now, and I feel like it's starting to pay off."
It is crucial that Hairston and the other secondary members perform at a high level against the Gators as UF quarterback Graham Mertz has completed 77.8% of his passes through the team's first four games.
Additionally, Florida has three running backs that have starting potential, each having scored at least two touchdowns on the season. Therefore, Kentucky's run defense, which is ranked ninth in the nation, will need to be in top shape in order to efficiently stop the run.
On the other side of the ball, the Wildcats have rushed for 131.5 yards per game and 5.5 yards per attempt, both of which are respectable figures, but average at best compared to other teams at the same level.
Florida's defense has only allowed 2.9 yards per carry this year, meaning that Ray Davis, JuTahn McClain and the rest of the rushing offense could have difficulty breaking through and finding some yards on the ground.
"As a group, we just have to hone in on what Coach (Liam) Coen is bringing to us," Davis said after the Vanderbilt game. "You're gonna face adversity, things are going to come at you quick, but how are you going to handle it? Are we going to fold under pressure when we go ahead and attack it head on? And I think you kind of see that throughout the week."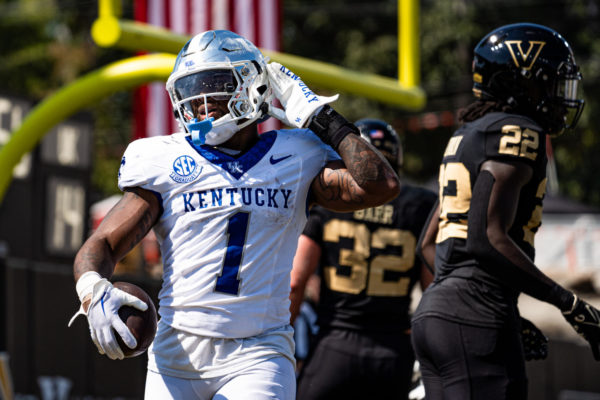 Kentucky quarterback Devin Leary has had a solid season thus far, completing 59.3% of his passes for 1,060 yards, nine touchdowns and five interceptions.
With that in mind, the Gators have a top-tier pass defense, only allowing 162.8 passing yards per game, so Leary and the rest of the offense will certainly be challenged when it comes to passing efficiently.
"At the end of the day, it's not worrying about the mistakes that you make, not worrying about a play that's to come, just kind of just focusing on the play that's at hand and attached, and making the most out of it," Leary said after the win over Vanderbilt.
The offense as a whole has averaged 38 points-per-game and the defense has only allowed 15.5 points-per-game, both of which rank top 25 in the FBS.
The Gators have only scored 27.8 points per game on the season, including only 22 points against Charlotte in their previous matchup, so if the offense performs consistently and the defense steps up, the Wildcats have a real shot at winning their third straight game in the series.
Home field advantage could also be a factor for the Cats if the Big Blue Nation is eager enough to wake up in time for an early game and support its team in a tough rivalry game.
Kentucky and Florida will face off beginning at noon ET on Saturday, Sept. 30, at Kroger Field. The game will be televised on ESPN.