Kentucky women's soccer (4-0-1) defeated the Illinois Fighting Illinois (3-1-1) 1-0 on Sunday afternoon.
Kentucky goalkeeper Marz Josephson and the Wildcat defense blanked the Illinois offense as the Fighting Illini failed to convert seven shots on goal. Kentucky found the lone goal to win 1-0 on the team's Senior Day.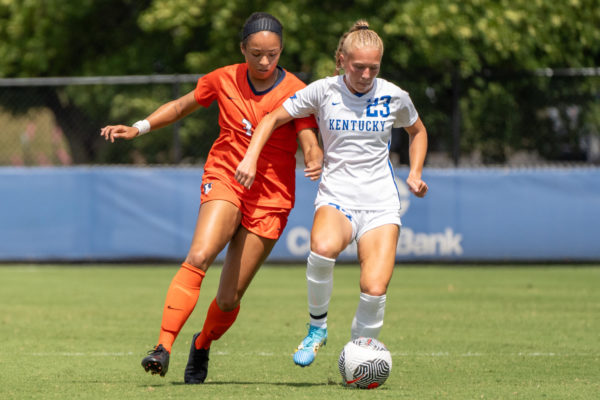 The Wildcats stormed into Sunday's match coming off a dominating performance against UT Martin last Thursday, where they blanked the Skyhawks 4-0.
Illinois also came into the match with some momentum as well as it defeated Kentucky's in-state rival Louisville last Thursday by a score of 2-1.
Illinois pressed early and immediately took charge from kickoff.
Josephson was tested quickly as the Fighting Illini were able to fire off three shots on goal in the first ten minutes, but none fell through as the score remained knotted at zero.
In the 27th minute the 0-0 score was shattered as Kentucky's Jordyn Rhodes scored her sixth goal of the season off of an assist from Ulfa Ulfarsdottir, giving the Cats a 1-0 lead.
"She [Jordyn Rhodes] really picked it up the last couple games, it is good to see she has it in her competitive drive," Kentucky head coach Troy Fabiano said. 
The lone goal was all the action the first half would see as Kentucky went into halftime with a 1-0 cushion.
The second half came around and the first shot on goal was by Illinois' Sydney Stephens in the 51st minute, but she was denied by Josephson, bringing her save count to six.
In the 69th minute a golden opportunity presented itself for Kentucky's Rhodes as she looked to slot her second of the game and add to the lead but she was shut down by Illinois goalkeeper Julia Cili, keeping Kentucky's lead at one.
The Fighting Illini brought the firepower in the final ten minutes, creating many dangerous opportunities, including a header from the six yard box in the 87th minute, but the shot once again would not go.
The last few minutes came to a close and the Wildcats added another win, improving their record to 4-0-1.
Kentucky's next match is scheduled for Thursday, September 7, against the Belmont Bruins as it looks to win its fifth game of the season.