Kentucky women's soccer, famous every year for being the first varsity program to kick off its fall 2023 season at UK, is in an interesting position at the early stages of the new campaign.
It was just two years ago when Kentucky Athletic Director Mitch Barnhart made the decision to fire former head coach Ian Carry mid-season after a 1-0 Senior Day loss against LSU.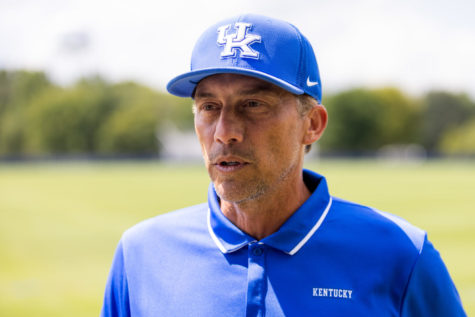 One could hardly argue Barnhart wasn't justified, with Carry, in the midst of his fifth season, having the team 0-7 in the SEC. In fact, in his time as the head coach, Carry had led the Cats to a dreadful 6-35-4 record in conference play with his best season being his first (2017), when the team finished 3-7 in conference play.
The Cats turned to Milwaukee Panthers head coach Troy Fabiano to right the ship and, while up to the task, Fabiano was not given an easy situation to inherit in Lexington.
See, unlike in men's college soccer where high school seniors and juniors are the apple of a recruiter's eye, women tend to mature quicker than men physically and thus often begin being recruited heavily and locked into commitments as early as their freshman and sophomore years in high school.
"Let's face it," Fabiano said during Kentucky's preseason media day. "We're living in a recruiting cycle where kids are making decisions 24 months (two years) before they arrive at UK. If you think of our 2023 class, we were actually 18 months behind on recruiting. With the 2024 class we're six months behind."
Fabiano and the Cats were left with little options but to search for diamonds in the rough and try to scour the transfer portal in order to build a roster that could compete at the level expected of them.
It's little surprise then that last season's Kentucky Wildcats held more than a handful of players from Milwaukee, meaning the players had simply chosen to follow their coach to his new school for one or two more years instead of being forced to start fresh.
With a great many of those players graduating or running out of eligibility in the spring, including the likes of Taylor Hattori and Hailey Farrington-Bentil, the Wildcats will enter the 2023 campaign with around 20 entirely new faces, including 11 freshman and several transfers who will be expected to make an immediate impact.
That's not to say there aren't veterans or stars on Kentucky's roster, however. Far from it.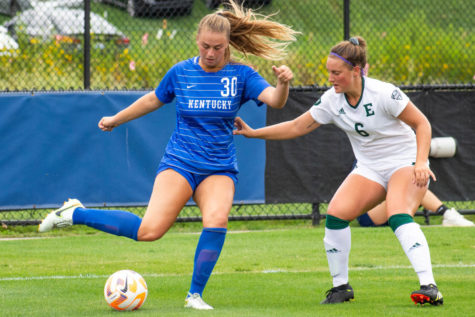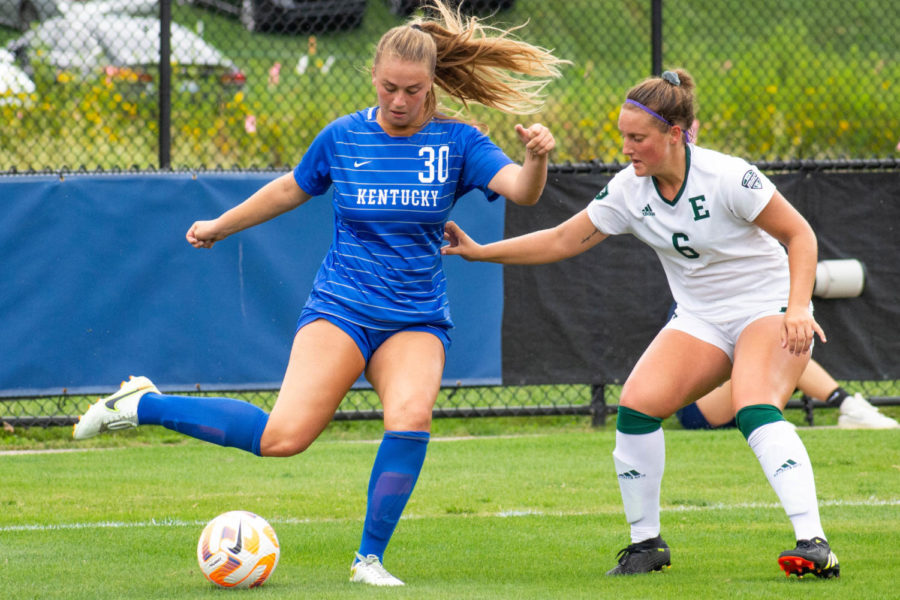 One name that few can forget is that of Jordyn Rhodes, who could very well graduate in the spring as the greatest women's soccer player to ever don the blue and white.
Scoring in the club's season opener against Eastern Kentucky and against Valparaiso, while adding a brace on the road at Murray State, Rhodes currently boasts 40 career goals, just four off of the all-time Kentucky leader Kim LaBelle (44). 
Rhodes, especially with the departure of Hannah Richardson in the spring, will be expected to balance being the club's scoring star with trying to be a leader within the program and help the incoming transfers and freshmen to fit into the culture Fabiano is attempting to build.
"(Fabiano) has asked us to lead (the team) both during the game and even on the sidelines," Rhodes said after the club's 1-0 season-opening win over EKU. "(A big emphasis) is just communicating with each other. That's the only way we're going to be able to create chemistry is to be able to listen and talk to each other. It's been a learning process and it's been a long two weeks but it's actually been a lot more successful than we were anticipating."
Rhodes isn't alone, though. Former Milwaukee transfer Maggy Henschler opted to come back for a fifth year, Kentucky veteran Anna Young returned for her senior season, Dana Dahm (when she returns from injury) will return as a junior and both Ulfa Ulfarsdottir and Lesley Kiesling also have names that will be very familiar to Kentucky women's soccer fans. 
That said, few names have brought as much excitement as the incoming transfer goalkeeper Marz Josephson.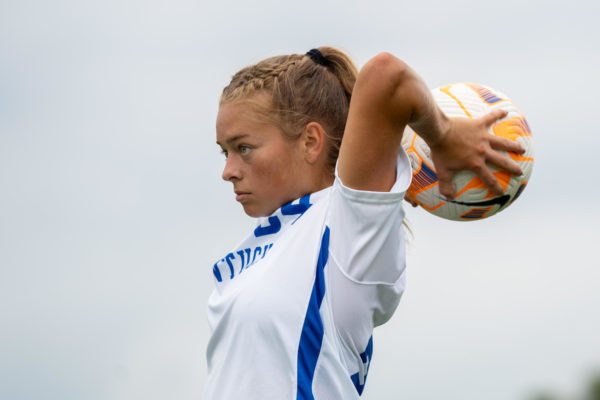 Coming to Lexington from North Carolina, which is by far the most decorated Division-1 women's college soccer program of all time with 21 national titles and six more national title losses, Josephson is a brick wall in goal.
Taking over for Tallulah Miller and Steph Stull, both of whom are still on the roster, Josephson inherits a Wildcat team that gave up 31 goals last season, 26 of which came in conference play. This included a 6-0 loss to Arkansas, 3-0 loss to Georgia, 4-1 loss to Tennessee and a 3-2 loss to LSU.
While the Cats have out-scored opponents 4-1 thus far on the season, which is to be expected for Kentucky's non-conference schedule, which in itself is also picked years in advance, fans already got a hint of what could be to come when Josephson stopped a one-on-one EKU scoring attempt at the top of the box, something that could've got the heart of even the most experienced soccer viewer racing.
While already a graduate student, Josephson has the opportunity to leave a serious impact on the program.
"I've told her this and I don't even think she realizes, but her mindset and the way she approaches the game is just absolutely like a professional," Fabiano said after the EKU match. "The way it will shape us at (the goalkeeper position) … she will have an impact while she's here and she'll have an impact when she's gone with the freshman coming in next year."
While Fabiano himself admitted that he's unsure whether or not the team will have immediate success this season, one thing is for certain: a proper program is being built in Kentucky.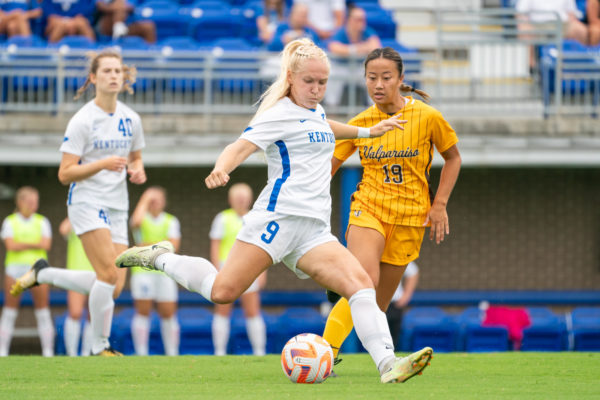 "If you look at it, a lot of these transfers have come in or are coming in from winning programs," Fabiano said. "As we're building the culture around here we want players that have experienced that success and realize what it takes to be successful. We're in a unique situation, but we're excited for the season and the process of building this program."
The SEC, in many sports but especially in women's soccer, can be very unforgiving. Fabiano, after last season, knows that better than most. But as many high school football coaches across the country love to quote, iron sharpens iron.
Four SEC teams currently rank within the top 25 in the NCAA Division-1 Women's College Soccer United Soccer Coaches Poll. Kentucky is slated to face current No. 25 Tennessee on October 5, No. 15 South Carolina on September 21 and No. 7 Alabama on September 29, while getting to avoid No. 10 Arkansas this season after ending the 2022 campaign with the aforementioned 6-0 defeat against the Hogs.
It won't be easy, but there are few better places to build a program that can compete for national titles than in the Southeastern Conference, and it seems Fabiano is determined to do just that.
With many major talents having their swan songs and many more freshmen entering with hopes of becoming the legends of the future, the seeds are being sown for the future of Kentucky women's soccer. Nobody knows what the future holds, but if one is to believe what Fabiano says of his program, the 2023 campaign will be a pivotal chapter in the creation of what hopes to be a nationally significant program.
The Wildcats return to action on Thursday, Aug. 31, at home against UT Martin. Fabiano and his team will hope to remain undefeated on the season and continue to grow as the threat of the SEC looms larger and larger with every passing week.