Kentucky women's soccer (3-0-1) came away comfortable 4-0 winners in its encounter against opponents UT Martin.  
After earning her team a draw last time out, forward Jordyn Rhodes stepped up to the plate for the Wildcats once again as she opened the scoring in their second victory of the early season.  
Rhodes has now scored four of Kentucky's seven goals so far this season.  
The Wildcats proved to be at their best whenever a set piece was swung in, with the lone goal of the first half coming from a Grace Phillpotts corner that was neatly glanced in by Rhodes.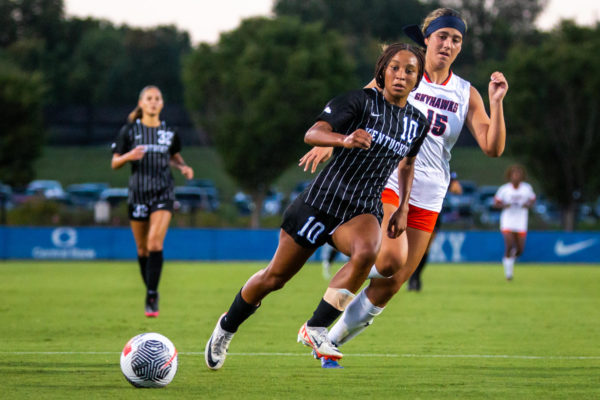 The match marked the second time the pair have combined for a goal this season, as both were responsible for creating and scoring Kentucky's opener a week ago against Murray State.  
Phillpotts was also at the heart of Kentucky's second when a floated freekick from the edge of the box found the head of Maggy Henschler, whose effort initially deflected off the crossbar, before being tapped in by Taya Hjorth. 
Substitutes Maria Castaldo and Mia Bookhard combined to add a third for the Wildcats as the former showed neat skill and footwork to beat her defender before laying it on a plate for the latter to tap into an empty net.
Even with a comfortable lead, the Wildcats continued to push and probe for an even bigger score line as they notched their fourth around the seventy-seven-minute mark.  
A well-crafted corner routine led to a quick snapshot from substitute Katelyn Fishnick, who all but sealed a dominant display for the Wildcats.
Head Coach Troy Fabiano touched on the contributions from his substitutes post-game.
"We talked a little bit more as a group about using our depth better for us," he said. "Obviously, for them to score some goals besides Jordyn (Rhodes) will always help, but we needed this."  
The Wildcats look to win back-to-back games for the first time this season as they host Illinois on Sunday, September 3, at The Bell Soccer Complex. Kickoff is scheduled for 1:00 p.m. EST.