Kentucky womens soccer moved to 2-0-1 on the season after taking on the Beacons of Valparaiso and giving head coach Troy Fabiano his first draw (1-1) in a non-conference matchup.
In the 20', Addy Joiner put Valparaiso on the board, launching one in the top left corner off an assist from Aubrey Ramey.
Tying the match at one, Jordyn Rhodes for the Wildcats sent one to the upper right corner of the net on an assist from Ulfa Ulfarsdottir in the 29'.
"We made it more challenging by having a slow start and going behind a goal," Fabiano said about the first half.
Looking to take the lead before halftime, Kentucky had two shots on goal in the final minutes, both stopped by Valparaiso goalkeeper Nikki Coryell.
The first half proved to be a scrappy affair, with Valparaiso raking in three yellow cards.
"We switched formations a little bit," Fabiano said about the second half. "But then we came up flat again."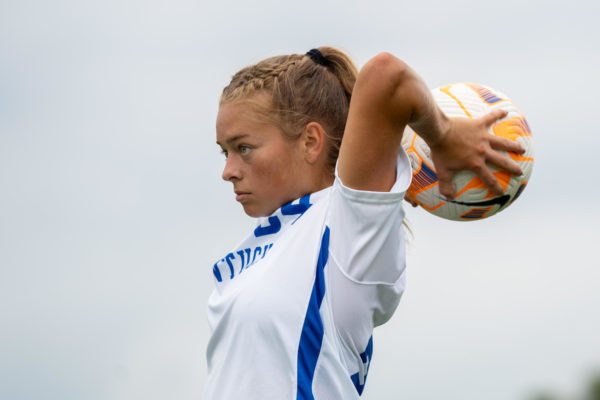 Senior Grace Phillpotts for the Cats had two shots on goal in back-to-back minutes. The first came at 54' sailing just over the crossbar, and the second off a corner kick from Mia Bookhard saved by the keeper.
Again, in the 80', Phillpotts added a third shot on goal off a corner kick from Ulfarsdottir that was again saved by the keeper.
In the 83' minute with a wide-open net, Kentucky was fouled, awarding a red card to Valparaiso defender Allie Anderson for a denied goal scoring chance.
By the end of the match, the Beacons had totaled six yellow cards and one red card.
The Wildcats would come up empty handed after the free kick, ending the match tied at 1.
"We're not good enough to play in spurts," Fabiano said. "We have to play for 90 minutes."
The Wildcats will look to add a win on Thursday, August 31, at The Bell Soccer Complex. Kickoff is slated for 7:30 p.m. EST.