Kentucky men's soccer finds itself in unfamiliar territory early in the 2023 season.
The Cats are fresh off one of the most successful seasons, if not the most successful season, in program history. The team finished the regular season undefeated before sweeping the Sun Belt Conference Tournament, becoming both regular season and conference tournament champions during the team's first season in the "Fun Belt."
It is also worth mentioning that the year prior, when Kentucky played in Conference USA, it also won the conference championship.
Entering the NCAA Tournament as the only undefeated program in college men's soccer, the Cats were handed the No. 1 overall seed, which it proved it earned with a 4-0 win over South Florida (USF) in the second round (all of the top 16 teams were given first-round byes).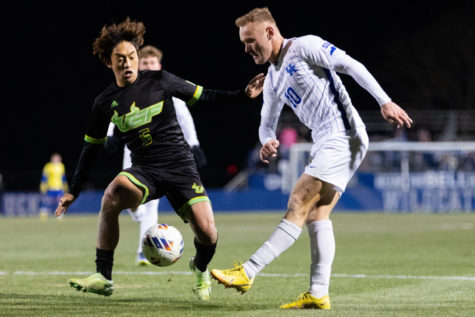 Unfortunately for head coach Johan Cedergren, Kentucky ran into an all too familiar and unavoidable hurdle: the dreaded Sweet Sixteen.
Jumping back a bit, Kentucky entered the 2022 tournament not only as the best team but also as a team hoping to shed the ghost of its recent failures. While the 2020 and 2021 teams were nowhere near as impressive as the 2022 squad, they had created an unfortunate tradition for the Cats that Cedergren was hoping to break.
See, in 2020 — a season that was played under rather unorthodox circumstances due to the COVID-19 pandemic — Kentucky found itself 5-1 at the end of October. Following a European model, the season was halted until February when the pitch could dethaw and spring flowers could coincide with the college soccer NCAA Tournament.
Kentucky was by no means poor in the second half of the season, but it struggled far more than it did in the fall, picking up six more wins but also two draws and three losses. It entered the NCAA Tournament seeded — meaning another first-round bye — and picked up a win over New Hampshire in the second round.
It then met Wake Forest in the Sweet Sixteen.
The Demon Deacons were able to get the better of the Cats, winning 2-1 before going on to hoist the National Championship at the end of the bracket.
Oh well, that's all fine and well, losing to the eventual champions is certainly nothing to balk at. 
Flash forward to 2021, Kentucky was fresh off a Conference USA title in the conference's to-date final year of existence in men's college soccer, and the Cats were given another first-round bye.
Meeting Santa Clara in the second round, the Cats used their superior size to beat the Broncos 2-0 before drawing Clemson in the Sweet Sixteen.
The Tigers … got the better of Kentucky 2-1 before going on to hoist the National Championship at the end of the bracket.
A pattern had emerged.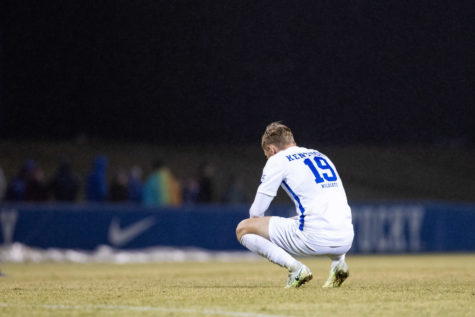 Going into its Sweet Sixteen matchup against Pittsburgh, Cedergren was determined to right the wrongs of the past and finally get over that hump.
With that in mind, the pattern was in fact broken. Unfortunately, it was broken by Pitt losing to Indiana, a team Kentucky had beaten prior in the season, in the Final Four. Cedergren's Cats once again went down in the Sweet Sixteen … by a final score of 2-1.
"Losing to Pitt in the Sweet 16 wasn't how we wanted to (end the season)," Cedergren reflected prior to the 2023 season. "I think that if we play that game again we win more than we lose but in the one that mattered unfortunately we did lose."
Making matters worse, the success of the season prior to that matchup did not go unnoticed. Kentucky's leading scorer, Norwegian Eythor Bjorgolfsson, was drafted in the MLS SuperDraft by the Seattle Sounders and joined the club's reserve squad, the Tacoma Defiance.
Bjorgolfsson was joined by sturdy defender Clay Holstad, who was selected by Columbus Crew SC, and co-captain Enzo Mauriz, who was signed after the draft by Sporting KC. Luis Grassow was also selected in the second round but would later decide on retirement from Orlando City.
On top of that, there was the glaring issue that may not have seemed like one earlier in this narrative: COVID-19.
The pandemic had a drastic impact on college athletics but none are felt as frequently in the modern day as much as the additional year of collegiate eligibility granted to ALL active athletes on any roster.
See, while many players came and went during the three years of consecutive Sweet Sixteens, Kentucky's historic 2022 season was able to exist in big part because of "super seniors" — players who were exercising fifth or even sixth years of eligibility — and other veteran presences on the team.
The MLS SuperDraft athletes were far from the only Kentucky losses this past offseason. Other massive names within the program such as Lucca Rodriguez, Danny Evans, co-captain Robert Screen and Trey Asensio simply ran out of eligibility. Others, like German midfielder Nick Gutmann, decided they were ready to move on from college. Gutmann would later sign a contract with German semi-professional soccer club Eintracht Norderstedt.
There are certainly familiar faces on this Kentucky roster and even veterans including Martin Soereide, who will miss the beginning of the new season after having his leg snapped in half at the end of last season, Casper Grening, who finished last season as the team's second leading scorer, Mason Visconti and Brennan Creek.
There are also returning underclassmen who made a serious impact last season such as sophomore goalkeeper Casper Mols and sophomore defender Max Miller.
All that said, the truth remains that, looking over Kentucky's roster, the Cats are filled to the brim with new faces. In fact, the team's season opener, a 3-0 thrashing of Florida Gulf Coast (FGCU), saw UK be composed of close to 50% new faces. That number is over half if one considers sophomore Mathias Yohannes who, despite being within the program last season, did not see the field.
Two freshmen, Marqes Muir and Alfred Baafi, were given the starting nod in the match while three transfers, UC Santa Barbara's Finn Ballard-McBride, Lafayette's Eoin Martin and Louisville's Aboubacar Camara, and Yohannes also were also a part of the starting 11.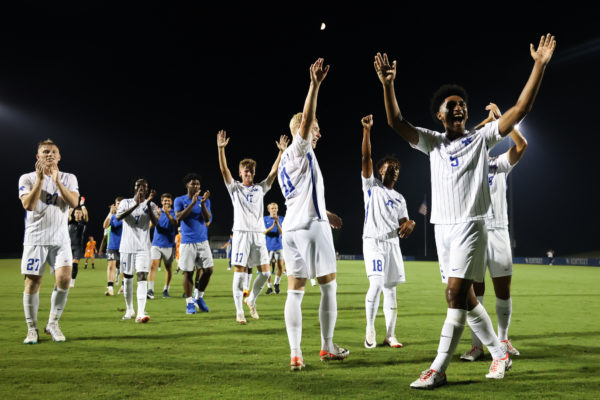 To add to that, the Cats' bench was composed of 85% (6/7) new faces with the only returner being veteran Ben Damge.
Simply put, this is a very new Wildcats squad. For the first time since the COVID-19 pandemic, Cedergren has been forced to properly rebuild a roster, though he seemed to be up to the challenge.
"I think COVID spring then fall '21 and '22 there were slight tweaks that we had to do with two or three guys but with seven guys going pro after last fall of course it's a bigger rebuild this year," Cedergren said. "I think we did a really good job being intentional and planning on losing lots of guys from last fall, it's easier now with the transfer portal. We were able to replace guys a little earlier with a little better players, maybe than we did in 2019."
Coming off the success of last season, Kentucky was awarded the No. 3 slot in the preseason Men's NCAA Division 1 College Soccer Rankings by United Soccer Coaches and projected to finish first in the Sun Belt's preseason poll.
The 3-0 start to the season shows promise, but the truth remains that No. 1 and 3 rankings may be tough benchmarks for this young Wildcat team to reach. Coach Cedergren recognized this fact, but remained optimistic that the club's success in recent years has been enough to properly solidify Kentucky as a premier men's college soccer destination.
"(The recent success) helps so much in recruiting," Cedergren said. "I think every year we're able to start working towards absolute top guys and it's fun. I feel like the expectation now is that we're going to be challenging for titles. Three Sweet Sixteens was nice but there's one big trophy that we're going for."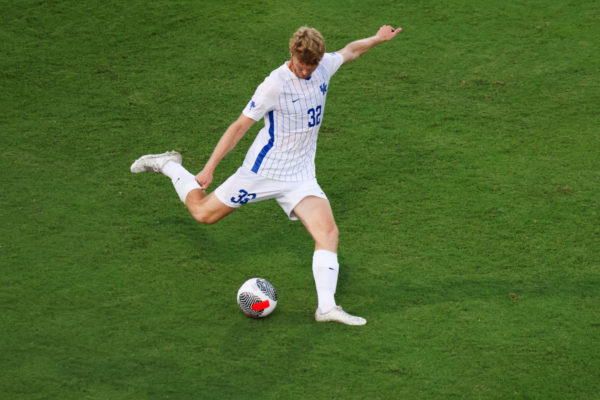 While Cedergren himself admitted that he wasn't sure if a national title would come this year or "a couple of years down the line," he was adamant that one was in Kentucky's future, and perhaps for good reason.
Without putting too much stock in a 3-0 win over FGCU, it's worth noting that all three Wildcat goals were scored by unfamiliar faces. Camara, the ex-Cardinal, scored the first unassisted while fellow transfers McBride and Dorsey nailed the other two, both being assisted by the returning Miller.
On top of that, there is the aforementioned return of the goalkeeper Mols who, besides just starting last year as a true freshman for Kentucky's historic season, gained preseason notoriety after being added to the 2023 MAC Hermann Trophy — an award that serves a similar purpose in men's college soccer to that of the Player of the Year award in college basketball — watch list. Mols was also joined by McBride on the list.
"Anytime you can get a First-Team All American back you're excited," Cedergren said. "I think Casper and Max are very similar where they had tremendous impacts as freshman but now they're expected to maybe lead a little more. I think there's some new challenges we've given them but they're ready to step into more of a leadership role."
Whether or not the Cats are able to live up to the expectations placed upon them is to be seen, but Cedergren certainly doesn't lack any confidence in his squad and hopes fans will continue to come out to the Wendell and Vickie Bell Soccer Complex in droves just as they did last season to support the team.
Kentucky will have another chance to prove itself on Monday, Aug. 28, when it faces off against East Tennessee State. That match will be followed by a true gauntlet in the forms of Wisconsin, Louisville and Lipscomb, the latter two of which both received votes for the preseason rankings, which may serve as a proper trial by fire for the 2023 squad.