Time for reflection: Kentucky mens basketball finishes rollercoaster season with second round defeat
Kentucky mens basketball's 75-69 defeat to No. 3 seeded Kansas State brought an end to an up-and-down season for the Wildcats.
The defeat, while leaving a sour taste in the mouth of fans, continued a pattern that the Cats had endured all season of being unable to find consistency.
Entering the season ranked No. 4 in the country, it's safe to say there were high ambitions for a Kentucky team that, prior to being stunned by Saint Peter's one year prior, had national championship ambitions.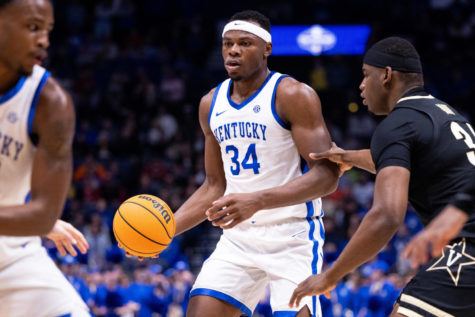 The Wildcats started the season just as many expected, barring a sudden knee surgery to reigning consensus National Player of the Year Oscar Tshiebwe, blowing out both Howard and Duquesne, the former of which ultimately made the NCAA Tournament.
Then something unexpected happened.
Kentucky failed not once but twice to close out the game against Michigan State in the Champions Classic, giving up back-to-back end of period dunks before ultimately losing in double overtime to the Spartans.
Kentucky bounced back, obliterating South Carolina State and scoring 106 points in the process, before suffering its second loss of the season at Gonzaga in disappointing fashion.
The Cats then took care of business against North Florida and, despite struggling early, defeated Bellarmine before finally earning what was their best win of the season at the time in London against Michigan.
Fans seemed to think Kentucky may have turned over a new leaf when it defeated Yale, but that facade came crashing down when the Cats were handily dealt with by UCLA in the CBS Sports Classic.
Things would get even worse when the Cats opened SEC play 0-1 with a loss at Missouri.
Kentucky seemingly bounced back once again, defeating then 12-1 LSU but, with the benefit of hindsight, it's clear the Tigers were merely the product of an easy non-conference schedule and not a legitimate contender.
It was at that point the Wildcats hit a new low point, being demolished in Tuscaloosa by eventual No. 1 overall seed Alabama before losing its 28-game home winning streak against South Carolina.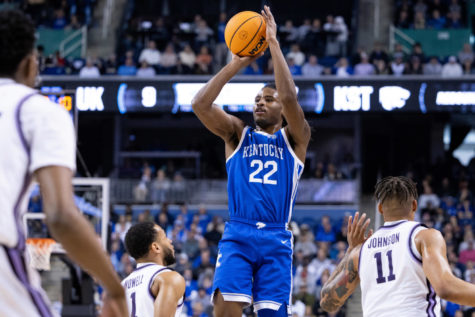 Somehow, just when things seemed to be at their lowest, Kentucky rebounded, defeating then No. 5 Tennessee in Knoxville, Tennessee, before going on a four-game SEC win streak that included wins over Vanderbilt and Texas A&M.
While Kentucky continued to beat the teams it should, conquering Florida and Ole Miss, but suffered two more losses at home against Kansas and Arkansas.
Then, just as things seemed to be going better, Kentucky suffered its second worse loss of the season, losing at Georgia.
Somehow though, the Cats refused to be phased by the loss, picking up back-to-back wins over Mississippi State and Tennessee before picking up two more wins to sweep Florida and blow out Auburn.
Things would take yet another downward turn when Vanderbilt marched into Lexington and spoiled Kentucky's senior day, but Kentucky once again bounced back, getting revenge on Arkansas in Fayetteville.
Heading into the SEC Tournament, hopes were high after the win in Arkansas, but things were not meant to be as Kentucky suffered a second loss to Vanderbilt in its first game of the tournament.
With expectations once again low heading into the NCAA Tournament, Kentucky proceeded to once again defy the odds and pick up its first NCAA Tournament win since 2019, defeating the Providence Friars and former Kentucky Wildcat Bryce Hopkins.
Then, heading into Sunday's second round matchup many Kentucky fans made a devastating mistake: feeling hopeful heading into the matchup.
With that mistake in the books, Kentucky promptly lost to the other Wildcats from K-State, ending its 2022-23 season with the same question in fans minds that had been there all season: what just happened?
Unfortunately for Kentucky fans, with the season now in the rearview, there is no true explanation for the Wildcats' season and why things were never able to click for a team with such high ambitions.
With head coach John Calipari seeming to suggest that it's possible all six Kentucky seniors will leave, it's possible that the team will go into the history books with one of the worst labels a team can have: wasted potential.