At the buzzer: No. 3 Kansas State defeats Kentucky mens basketball 75-69 in NCAA Tournament Round of 32
Kentucky mens basketball was defeated 75-69 by No. 3 Kansas State in the NCAA Tournament Round of 32 on Sunday.
The Wildcats entered the matchup just days after securing their first NCAA Tournament win since 2019, defeating No. 11 Providence 61-53. Kansas State, on the other hand, earned its way to the second round with a win over No. 14 Montana State.
Starting things off with a starting lineup of Antonio Reeves, Cason Wallace, Jacob Toppin, Chris Livingston and Oscar Tshiebwe, Kentucky prepared to face off against K-State's five that consisted of Markquis Nowell, Cam Carter, Desi Sills, Keyontae Johnson and Nae'Qwan Tomlin.
It would be the Kentucky Wildcats who won the opening tipoff but the Kansas State Wildcats who scored first as Carter made a layup after a flurry of misses by both teams. Not to be outdone, Tshiebwe quickly scored at the other end to even things up.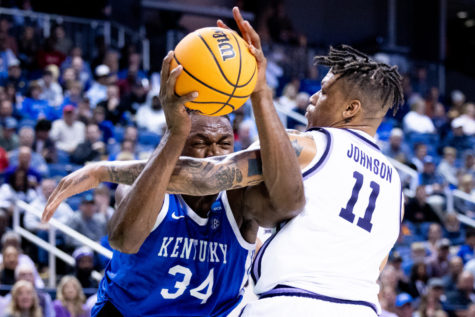 Both teams would continue to struggle on offense with the score standing at 6-3 after over four minutes of play. Kansas State started the game 1-6 while Kentucky started 3-10.
Kentucky would manage to increase that figure to 6-16 from the field with Tshiebwe taking over the early part of the game, boasting half of Kentucky's point total after eight and a half minutes played.
Kentucky would continue to hold a lead as the first half seemed to breeze by, though it nearly suffered a major setback with under ten minutes left to play as Wallace exited the game after appearing shaken up. The freshman point guard twisted his leg and, after falling to the ground, was hit in the head by his own teammate inadvertently. Despite that, Wallace was able to return to the game after only a brief stint on the bench.
With under five minutes left to play in the first UK boasted a 22-19 lead, though both teams were shooting 35% or worse from the field.
Kansas State continued to fight though, finally claiming the lead with under four minutes left to play and slamming down a dunk to end the first half with a 29-26 lead. Kentucky was ahead for over 14 minutes in the first half of action but would be forced to start the second half down by three.
Tshiebwe led all scorers in the first half with 11 points, which he complemented with 11 rebounds, followed on Kentucky by Cason Wallace, who had six.
As a team Kentucky shot just 29% from the field in the first half while Kansas State shot 41%.
Coming out in the second half it was Kansas State who quickly scored first when Tomlin hit a layup. Not to be deterred, Wallace scored on the other end and, after a steal, hit another layup, drawing a foul in the process. Wallace would connect on the free throw to tie the game and, after Livingston hit a layup, the Wildcats of Kentucky took their first lead of the second half.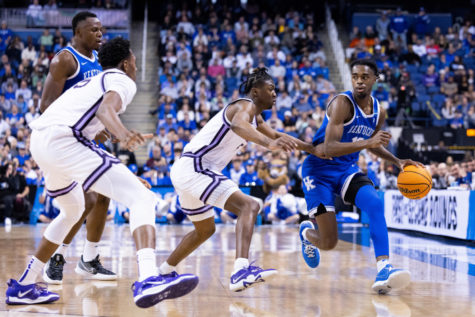 The Wildcats would score again, this time courtesy of Tshiebwe, to extend their lead to four points and force a Kansas State timeout.
Kentucky would continue its run out of the timeout, extending the scoring run to 13-0 before Kansas State managed to score its first field goal of the half.
K-State would battle back though, with Nowell draining the team's first 3-pointer of the night to tie the game at 39.
Both teams would continue on, seemingly locked in a stalemate, with the game being tied at 43 with just under 12 minutes left to play.
Kansas State would soon surge ahead, taking a 47-43 lead after a 6-0 scoring run, forcing Kentucky head coach John Calipari to call a timeout.
The game would continue to come down to the wire, with Kentucky holding a one-point lead with just over three minutes left to play.
In the end, Kansas State finding its 3-point game would be the difference maker, as critical threes down the stretch gave K-State an insurmountable lead.
Kentucky was led on offense by Tshiebwe, who scored 25 points, complemented by 18 rebounds, followed by Wallace (21) and Livingston (11).
The defeat ends Kentucky's 2022-23 season in the Round of 32. With the season concluded, Kentucky will move into the offseason phase of the year before returning to action in November.