Kentucky softball rises to No. 14 in week five of USA Softball Top 25
Kentucky softball (16-5-1) reached the top 15 in the USA Softball Top 25 as it stood alone at 14 after being tied with now No. 20 Baylor at 16 in week four.
The rise in rank comes with the Wildcats' ongoing five-game win streak with wins over the UIC Flames and the Dayton Flyers, with the team also sweeping its first SEC series against Missouri.
The Wildcats were placed at No. 17 in preseason polls and have not dropped below No. 20 the entire season, with their lowest ranking being No. 18 in week three of the USA Softball Top 25.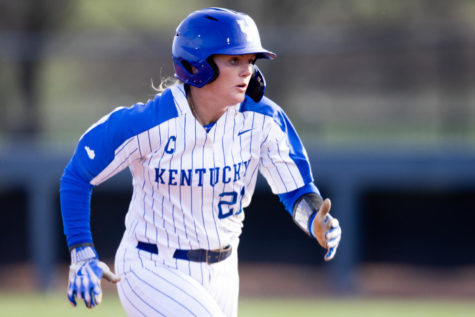 Eight other SEC teams also placed in the top 25 with Tennessee rising from No. 5 to find itself tied for No. 4 with the Clemson Tigers. 
Arkansas fell from No. 7 to No. 12 after dropping two games to lose its first SEC series against No. 21 Texas A&M.  
Alabama also fell from No. 9 to No. 13 after losing three of its four games in the 2023 Bevo Classic.
Florida rose from No. 12 to No. 11 after winning four of the five games it played in the 2023 Bubly Invitational.
LSU jumped four spots from No. 14 to No. 10 after winning nine of its last 10 games with the only loss coming in its first SEC series against South Carolina, which LSU ultimately won 2-1.
Georgia also saw improvement from week four as it jumped from No. 18 to No. 17 after winning its first SEC series 2-1 against No. 22 Auburn. 
The Wildcats will look to improve on their No. 14 ranking as they will take on Saint Louis on March 14 before they take part in the 2023 John Crop Classic on March 18. 
A full list of the rankings can be seen below: 
Oklahoma Sooners (20-1) 

Oklahoma State Cowboys (20-2) 

UCLA Bruins (25-2) 
T4. Clemson Tigers (25-1)  
T4. Tennessee Volunteers (20-1) 
Florida State Seminoles (21-5) 

Stanford Cardinal (22-2) 

Washington Huskies (20-4) 

Texas Longhorns (21-4-1) 

LSU Tigers (21-1) 

Florida Gators (19-4) 

Arkansas Razorbacks (20-6) 

Alabama Crimson Tide (20-6) 

Kentucky Wildcats (16-5-1) 

Virginia Tech Hokies (19-5) 

Duke Blue Devils (20-5) 

Georgia Bulldogs (20-6) 

Arizona Wildcats (17-7) 

Oregon Ducks (17-6) 

Baylor Bears (18-4) 

Texas A&M Aggies (16-7) 

Auburn Tigers (21-5) 

Louisiana Ragin' Cajuns (18-9) 

Northwestern Wildcats (9-7) 

Utah Utes (19-4) 
Others receiving votes: 
Arizona State (35), Maryland (22), Missouri (19), Wichita State (9), California (8), Texas State (8), UCF (5), Mississippi State (2), Central Arkansas (2).