Late home run fuels comeback win for Kentucky softball
Kentucky softball (13-5-1) defeated the Dayton Flyers (6-9) by a score of 5-4 on Wednesday night in the team's home opener.
Kennedy Sullivan made her second start of the year for Kentucky in the pitcher's circle as sophomore Emma Schutter stepped into the batter's box to leadoff for Dayton.
Schutter walked on five pitches before Kara Gunter drove the ball off of Sullivan's glove for a base hit.
Dayton's Alyssa Cacini stepped in and promptly hit a three-run home run to left center field to give Dayton an early 3-0 lead.
The homer would wrap up the scoring in the first inning as the Wildcats failed to capitalize in their turn in the batter's box.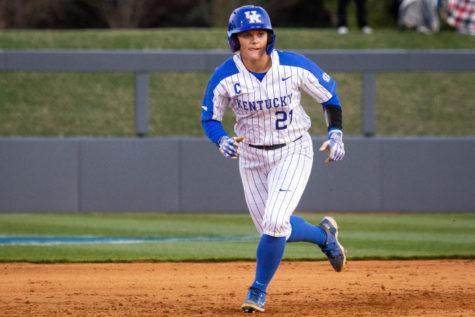 Kentucky made an early pitching change, putting Alexia Lacatena in the circle to start the second inning. Lacatena would allow no runs or hits in her first inning of pitching.
Kentucky came up to hit in the second inning with Jenna Blanton and Margaret Tobias each singling in their at-bats, giving Kayla Kowalik the opportunity to bring a runner in for the Cats' first run of the day with a single into left field that drove in Blanton, shortening the Dayton lead to two.
Dayton was unable to extend its lead in the third inning before Kentucky cut it down further with Rylea Smith hitting a ball to the second baseman, driving in Erin Coffel, who had hit a double earlier in the inning. 
When the dust had settled in the third inning Kentucky had shortened Dayton's lead to just one run. 
Kentucky made another pitching change, subbing in junior Stephanie Schoonover at the top of the fourth inning, with the ace allowing no runs. 
The score remained 3-2 until the sixth inning when Nico Papavasiliou drove in Katie Reeg to increase the Flyers' lead back to two.
Kentucky came out in the bottom of the sixth inning swinging, getting two runners on base with two outs.
With two runners on base, Erin Coffel stepped up to plate for the Cats and hit a pivotal home run to left center field, giving Kentucky a 5-4 lead heading into the final inning.
With the top of the seventh do-or-die for Dayton, Kentucky recorded two quick outs before, with a 1-2 count, Schoonover struck out Maddie Kapsimalis to earn the Cats their 13th win of the season.
Kentucky softball returns to action on March 10 in Columbia, Missouri, against the Missouri Tigers.