No. 16 Softball sweeps doubleheader against No. 23 Mizzou to open SEC play with undefeated weekend
Kentucky Softball traveled to Missouri this weekend to open SEC play, sweeping a double header on Sunday to finish the weekend 3-0.
Kentucky completed the sweep without allowing a single run all series for the second time in program history against an SEC school, with the Wildcats last accomplishing the feat in 2016 against LSU.
The pitching performances were highlighted by star Stephanie Schoonover and sophomore Alexia Lacatena, who combined to throw 30 strikeouts and only allowed 14 hits all series. 
The Kentucky defense also did not commit an error throughout the entire series.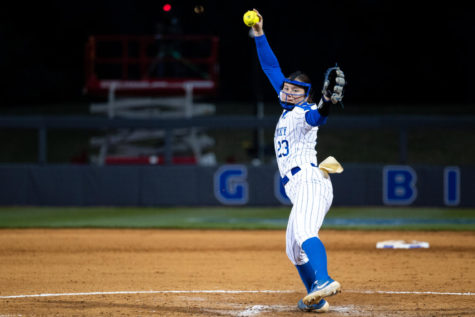 The first game of the doubleheader saw both teams go scoreless for six innings until Kennedy Sullivan hit a two-run double that batted in Erin Coffel and Vanessa Nesby for Kentucky.
In the seventh inning, Coffel hit one up center field for two more runs, making the score 4-0, before Sullivan rounded out the scoring with an RBI to make the final score 5-0.  
It was Lacatena who held things together in the circle for game one, striking out five batters with no walks.
In the second game of the day senior Rylea Smith went 3-4 at the plate with three RBIs.
Starting things off quickly in the top of the first, Kayla Kowalik and Nesby both hit singles that were followed by a sac fly from Coffel before a single RBI from Smith rounded out scoring for the first inning and brought the score to 3-0.
Later, Smith hit her second RBI up right field, which was followed by Coffel's second sac fly of the game to send home Hallie Mitchell and make the score 6-0.
Earning the highlight play of the game, freshman Jenna Blanton made a diving catch in midfield that would eventually be nominated for the night's SportsCenter Top 10. 
Schoonover finished an impressive performance for the series by throwing seven strikeouts to finish the weekend with a total of 25.  
With Sunday's wins, the Cats managed to shut out the Tigers for the first time in program history for an entire series and kicked off conference play 3-0.
The Wildcats return to action on Tuesday, March 14, at Saint Louis with the game set to begin at 5 p.m. EST.