Kentucky womens basketball prepares for must-win game against Texas A&M
Kentucky women's basketball will look to earn just its third SEC win of the season when it travels to face off against the Texas A&M Aggies on Thursday, Feb. 23. 
Following a brutal five game SEC losing streak for the Wildcats, Kentucky will take the floor Thursday night against the Aggies to avoid sitting in last place in the SEC standings with just one other game left in the regular season. 
The Wildcats sit at a 10-16 overall record with a 2-12 record in conference play, while Texas A&M currently sits at 6-18 with a 1-13 conference record. 
Amidst Kentucky's losing streak, injuries have dampened the roster considerably. Starting point guard Maddie Scherr has missed the last two games due to illness. Scherr is the team's leader in rebounds, assists, and blocks per game, truly a large missing piece for Kentucky. 
Along with her absence, the Wildcats will also be without Ajae Petty who is day-to day with an ankle injury, and Nyah Leveretter who tore her ACL against Vanderbilt. Both Petty and Leveretter had contributed well as of late in a shorter rotation for the Wildcats in light of the team's injuries. 
Leading the charge for Kentucky on Thursday will be senior point guard Robyn Benton, who leads the Wildcats in scoring this season averaging 16.5 points per game, with 2.5 rebounds, 2.1 assists, and 1.9 steals per game shooting 38.3% from the floor.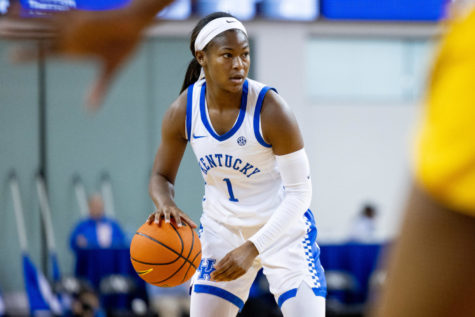 Without Maddie Scherr, sophomore guard Jada Walker will take over as Kentucky's secondary ball handler. Walker serves as the Cats second highest leading scorer averaging 12.8 points, three rebounds, and 2.8 assists while shooting 40.8% from the field. Walker also leads the team in steals per game with 2.5.
Blair Green rounds out Kentucky's backcourt averaging 8.2 points, 2.5 rebounds, and one assist while shooting 38.2% from the floor, while forward Adebola Adeyeye contributes 4.6 points, 4.5 rebounds, one steal and a block per game while shooting 56.2% from the field. 
Looking at Texas A&M, the Aggies are led by Janiah Barker, who has been the team's leading scorer all season, averaging 12.3 points, 6.1 rebounds, 1.1 steals, and 1.1 blocks per game while shooting 44.8% from the floor. 
Following right behind Barker is Sahara Jones, who is averaging 8.6 points, 5.1 rebounds, and 1.4 assists per game along with a steal and a block, while shooting 38.6% from the field. 
Aaliyah Patty and Kay Kay Green are two notable complementary role players for the Aggies. Patty leads the team in rebounds and blocks with 7.3 boards and 1.1 blocks per game, as well as a steal while averaging 7.9 points on 39.9% shooting. Green leads Texas A&M in assists and steals, averaging 7.3 points, 2.1 rebounds, 2.7 assists, and 1.2 steals per game while shooting 37.6% from the field. 
With only two games remaining in the regular season and a strikingly sub-par record, the Kentucky Wildcats will need to climb their way out of a massive hole through the postseason if they have any hope of salvaging this year's ambitions. 
However, a win against Texas A&M may slightly alter the bottom seeding of the SEC in favor of the Wildcats, so every victory counts. 
Kentucky and Texas A&M are set to tip off in Reed Arena in College Station, Texas on Thursday, Feb. 23 at 7 p.m. EST. The game can be streamed live on the SEC Network.