Kentucky womens basketball seeks third SEC win as postseason draws near
Kentucky women's basketball will look to earn its third SEC win of the season when it travels to face off against the Vanderbilt Commodores on Sunday, Feb. 19.
The game will be Kentucky's second road game in a week following its 74-52 road loss to Ole Miss on Monday and its 50-40 loss to Georgia on Thursday inside Memorial Coliseum. 
Overall, Kentucky has struggled since the start of conference play and will be taking the court against the Commodores with a 10-15 overall record and a 2-11 conference record. Additionally, the Wildcats have lost 14 of their last 17 games and are in desperate need of a win as the postseason draws near.
Unfortunately for the Wildcats, their usual stars this season, Robyn Benton and Maddie Scherr, both missed the Cats' most recent matchup against Georgia. Benton missed with an ankle injury while Scherr had an illness. 
With the uncertainty of Benton and Scherr's availability in Sunday's matchup, Jada Walker, Blair Green and company will fill in as primary ball handlers and playmakers for the Wildcats just as they did against the Bulldogs.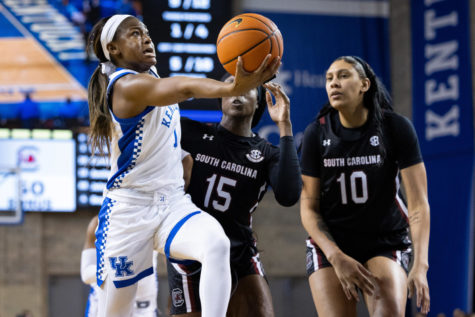 Walker is currently averaging 13 points, three rebounds and 2.9 assists, leading the team in steals per game with 2.4 while shooting 41.8% from the floor. As for Green, the veteran is averaging 8.1 points and 2.6 rebounds per game, shooting 37.5% from the field. 
Looking at Vanderbilt, the Commodores currently sit at 11-16 overall with a 2-11 conference record, being in a similar boat as Kentucky.
The Commodores are led by Ciaja Harbison, who has been the team's leading scorer all season, averaging 19.3 points, three rebounds, 4.4 assists and 2.4 steals while shooting 39.6% from the field. 
Following right behind Harbison is Marnelle Garraud, who is shooting 40.4% from the 3-point line and averaging 13.9 points and 3.3 assists per game.
Complementing both Garraud and Harbison is Sacha Washington, who averages 10.7 points and 7.1 rebounds per game, shooting 45.4% from the field. 
Over the last few games Kentucky's bench has seen increased opportunities in the absence of Benton and Scherr. Ajae Petty, Kennedy Cambridge, Adebola Adeyeye and plenty of others will be leaned upon to step up against the Commodores on Sunday. 
If Scherr and Benton's medical situations carry on further into the rest of the season, the matchup against Vanderbilt could be a glimpse into the future of this program heading into the SEC Tournament.
With the season quickly drawing to a close, the Kentucky Wildcats are desperately in need of a win after a grueling stretch of conference play to improve their seeding as they head into the conference tournament.
Kentucky and Vanderbilt are set to tip off in Nashville, Tennessee, on Sunday, Feb. 19, at 3 p.m. EST. The game can be streamed live on the SEC Network.